8th gen Intel Core desktop processors launched for gamers, creators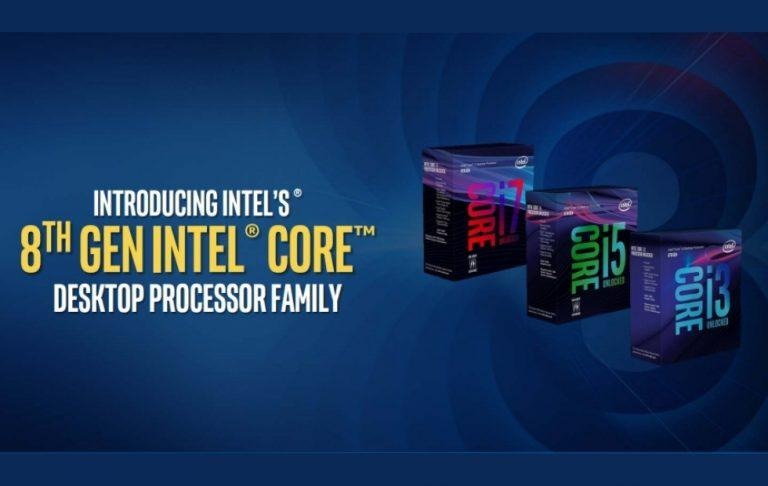 Smartphones and tablets may have cannibalized a large chunk of the PC market, but there is still one segment where the venerable desktop remains unchallenged: gaming and content creation. Unsurprisingly, Intel is working overtime to cater to these user groups, as can be clearly seen in its launched of its new generation of desktop processors. Billed as being designed for what's coming next, the new 8th gen Core i7, i5, and down to the i3 are being marketed with higher frame rates, more immersive experiences, and more control over performance.
Browsing the web, keeping tabs on social media, and even watching Netflix in 4K can all sufficiently be addressed by smartphones, let alone tablets. But when you're craving for higher quality graphics or the muscle to actually produce that 4K content, you really have no choice but to sit down in front of a laptop. Or better yet, a desktop.
While Intel's new Coffee Lake processors won't be able to directly help with the graphics processing, you'll want a dedicated NVIDIA or ATI for that, the chip makers is pushing the new processors as the perfect pair for those hulking cards. In fact, is boasts that the new Core i7-8700K is its best gaming chip ever. Its claims of 25% more frame rate while playing Gears of War 4 is somewhat backed by Intel's move from 4 cores, 8 threads in the 7th gen family to 6 cores, 12 threads this year.
That increase in cores trickles down even to the less endowed lines. For the first time, the Core i5 processors are getting upgraded from four cores to six. While the Core i3 processors aren't getting that many, it does double the number of cores from last gen's two to the 8th gen's four cores. With this, Intel is making the desktop processor race about the numbers game of cores once more.
Intel is also launching a new Z370 chipset platform in order to support the new hexa-core processors. As with any new Intel generation, there will also be unlocked "K" series that will allow hardcore users to better overclock their rigs. Prices for the new Intel 8th gen processors start at $117 for the 4 core, 4 thread Intel Core i3-8100, all the way up to $359 for a 6 core, 12 thread unlocked Core i7-8700K. Sales start on October 5.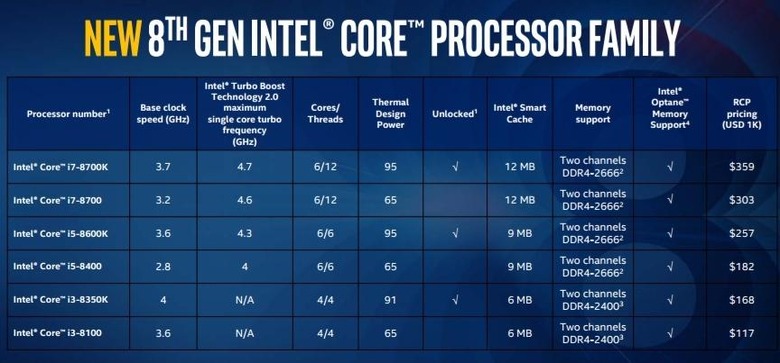 SOURCE: Intel