Why You Need To Use A Smart Thermostat This Summer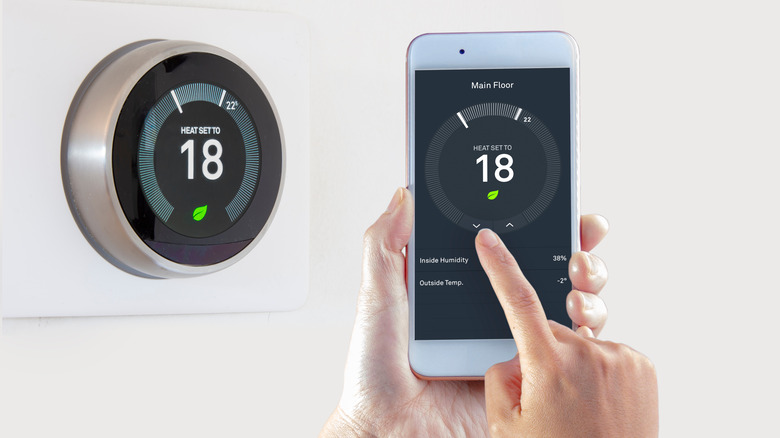 oasisamuel/Shutterstock
For savvy homeowners, purchasing a smart thermostat is a good investment and arguably the best way to cut down on the amount of energy you use — and thus, save money. It is especially cost-effective during long, hot summer days when energy consumption is through the roof. With almost everyone looking for ways to spend less money on bills, these thermostats offer a way for people to save more. It comes as no surprise that they are the second most popular smart device purchase among Americans — even surpassing smart tech devices such as lighting, kitchen appliances, and doorbells (via ValuePenguin).
They have other benefits too. Smart thermostats can track your energy usage so that you can see the times you are using the most energy and how much it costs. This data can be used to pinpoint the times you use energy the most and see how you can adjust (via Airquip).
Saves energy and money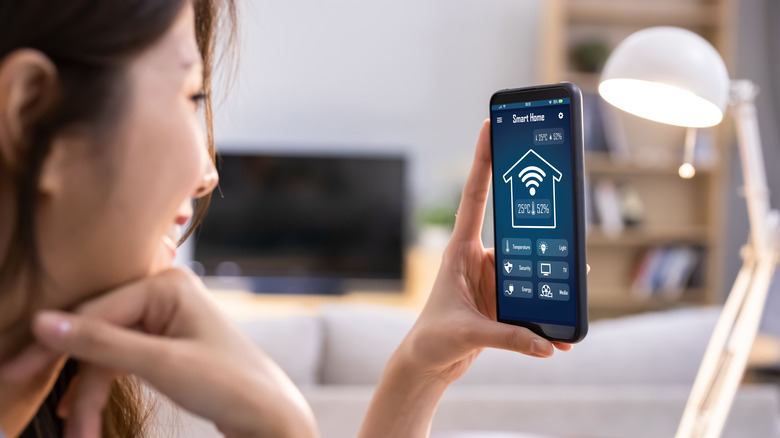 aslysun/Shutterstock
You may be stunned to know that the average US household spends around $2,000 per year on energy bills. Most of which will go towards paying for heating and cooling your home — during the hot summer months and chilly winters. For many homeowners, it is the largest, single source of energy consumption in their homes.
That's why a smart thermostat comes in handy when you need to slash energy usage and save money. With regular thermostats, you have to manually set the temperature, then constantly adjust, it whenever you want it to be warmer or cooler. But, a smart thermostat is different. It is able to learn your routine and schedules and uses the information to program itself to change the temperatures at the right time. Many of them come with motion sensors that can detect if you're home and use geofencing technology that allows the device to track your location. So they can regulate temperature efficiently.
Use it remotely, anywhere...anytime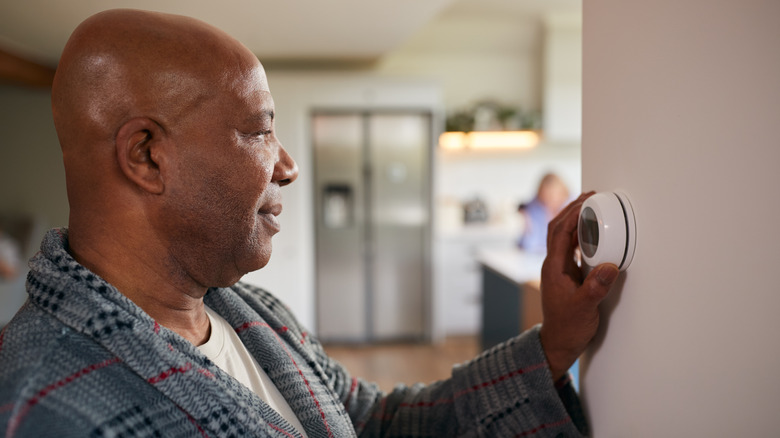 Monkey Business Images/Shutterstock
Convenience is another reason why using a smart thermostat this summer is a good idea. Like other smart devices of its kind, it is designed to be controlled remotely using remote apps that can be used anywhere (via Bentley's). With just a few taps, you are able to schedule heating and cooling times, monitor your home from threats of carbon monoxide and smoke, and adjust settings whenever you want if you need to.
They are perfect for the times when you want to come to a cool house after a long day or want the house to be warmer for the times you will be away from home. All you need to do is create your own schedule, so you can set the temperatures to exactly how you want it to feel, at the times you want, and let the thermostat work its automation magic.
Easy-to-install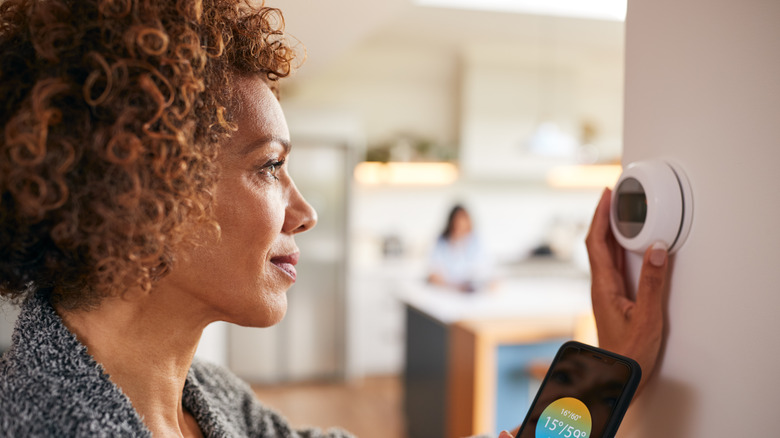 Monkey Business Images/Shutterstock
While it is true that installing a smart thermostat by yourself is as easy as many manufacturers claim, there is one caveat that homeowners should watch out for. Your home needs to have the correct wiring for it to work properly, so you don't have to worry about unexpected hitches.
All wi-fi thermostats should have a C-wire or common wire before you install them. A C-wire provides uninterrupted power to your thermostat by connecting it to the heating and cooling systems in your home (via Honeywell Home). They are inexpensive and usually cost around $35. If your home is less than 40 years old, chances are you have one installed already and it should not be a problem.
According to estimates, one-third of customers prefer to go the DIY route and install it themselves. But, if you don't have time to figure it out, or just rather not do it, you can hire an electrician to wire it.