Yottamaster 10-In-1 Thunderbolt 3 Dock And SSD Enclosure Review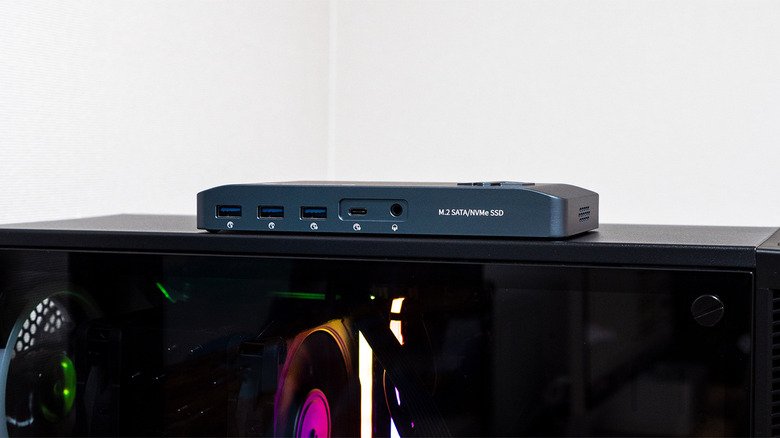 Ewdison Then/SlashGear
The ubiquity of USB-C and Thunderbolt 3, although a bit confusing, has given rise to dozens of hubs and docks over the past few years. Apple's short-lived attempt to go all out on these standard ports was particularly instrumental in products that tried to give those ports back to users. Even if your desktop or laptop has enough of the right ports, however, there might still be a desire for a dock, especially when you need to connect a slew of peripherals that your computer can't handle. 
Almost every Thunderbolt dock these days has a gimmick and, consequently, an Achilles' heel. Some cram a lot of ports at the cost of stability, while others include extraneous features in exchange for usability. We took Yottamaster's newest Thunderbolt 3 Dock for a spin to check if its whopping ten ports and built-in SSD slots cause it to crash and burn or rise to the top above all others.
Design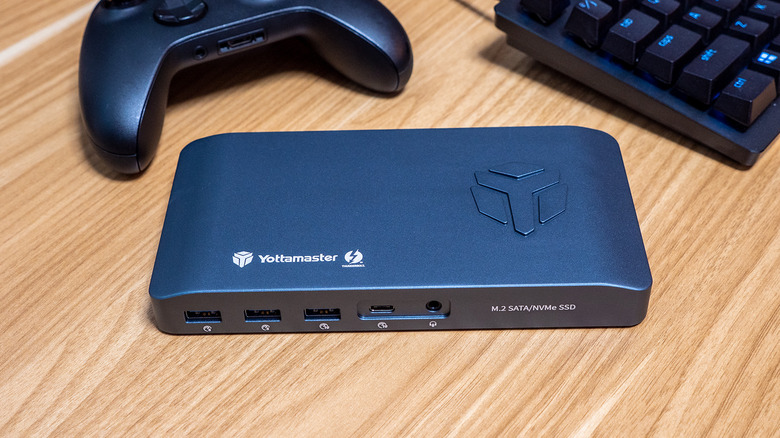 Ewdison Then/SlashGear
Some Thunderbolt docks try to be discreet and inconspicuous, but those can afford to do so by skimping on features. The Yottamaster 10-in-1 Thunderbolt 3 Hub is definitely not part of that group, with a large body that calls attention to itself. It's not gigantic, but you will surely want to reserve some space for it on your desk. 
You'll also need to make provisions for its large 120W power brick that drives this dock, but fortunately, that can be placed out of sight. Cable management will be an important part of the docked life, and this is the first place where we hit a bit of a snag. Yottamaster ships the dock with a 0.5m (1.5ft) Thunderbolt 3 cable that is extremely short for convenience. Sure, you can always grab a longer standards-compliant cable, but that's an additional purchase for an already pricey piece of kit.
The Yottamaster 10-in-1 TB3 Dock is fortunately not flashy while still expressing itself in its design. It has very minimal branding, with its name printed on the top as well as a few labels beneath the ports. The raised Yottamaster logo is the most visually interesting aspect of the dock's design and gives it a particular flair that could appeal to gamers and sci-fi aficionados. 
The dock's aluminum body isn't just for show and is one of the reasons why it doesn't run hot, despite all that's going on inside and all the power and data that goes through the box. There are four rubber feet underneath the dock, ensuring that it won't slide on slippery surfaces, despite its all-metal texture.
Ports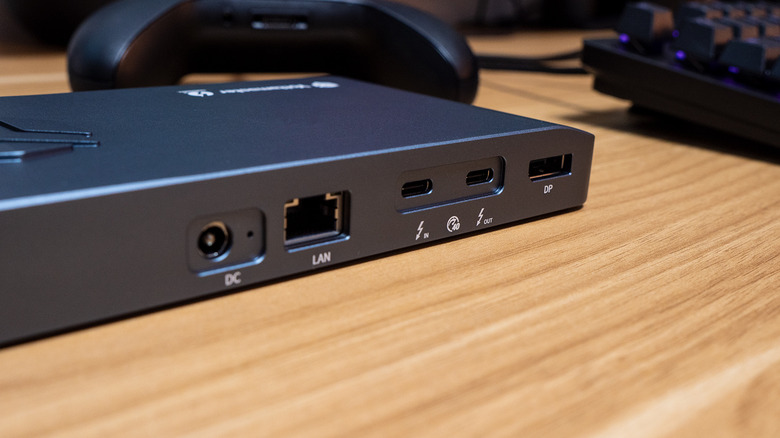 Ewdison Then/SlashGear
Yottamaster advertises the dock as a 10-in-1 hub but, to be frank, that's a bit of a misdirection. One of those ten is the power port, which other brands don't always count. For all intents and purposes, there are really only nine ports available for use, which could be more than enough for most users. You can power laptops and monitors, charge phones, and connect peripherals without missing a beat. You won't even have to connect an external drive because it has one built-in, which we will get to later.
The ports are split into two groups on the front and back of the dock, prioritizing cable management over appearances. The back is the ports that you will most likely use for more stationary connections, like a DisplayPort cable or driving an 8K monitor, a downstream Thunderbolt 3 port that can run 5K/8K 60Hz displays, an upstream Thunderbolt 3 that can charge laptops with 60W of power, and a Gigabit Ethernet port. Although the dock can handle single monitors without a problem, the Yottamaster Thunderbolt 3 hub really shines when it comes to dual displays. Utilizing both the Thunderbolt 3 and DisplayPort ports, you can have two 4K 60Hz monitors connected to your laptop at the same time.
The front of the dock has the ports for more transient devices like peripherals or phones. An old-school 3.5mm headphone jack is present if your laptop or desktop doesn't have one, alongside a single 10Gbps USB-C port. There are three USB-A Gen 2 ports on the front as well, with varying speeds but the same 5V/1.5A output. Each of these ports is clearly marked, so there's no mistaking one for the other.
M.2 SSD Enclosure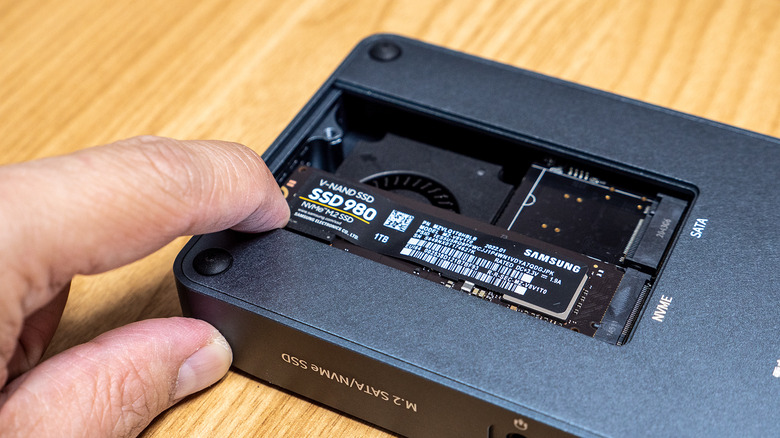 Ewdison Then/SlashGear
In some ways, the nine usable ports of this Thunderbolt 3 dock sound disappointing, but Terrmaster makes up for it with a special feature you rarely find in other docks. In essence, this dock is also an M.2 SSD Enclosure, giving you an extra port for external data storage. This makes the dock an excellent choice for multimedia workers and even gamers, actually anyone who is always in need of high-speed external storage.
The dock has two SSD slots, but each is designed only for one kind of M.2 SSD. One slot is exclusively marked for NVMe, and the other is for SATA. Each slot can support up to 4TB SSDs, so you can have a total of 8TB if you go all out. Installing these SSDs does require a screwdriver, but it's something you won't often be doing anyway.
Performance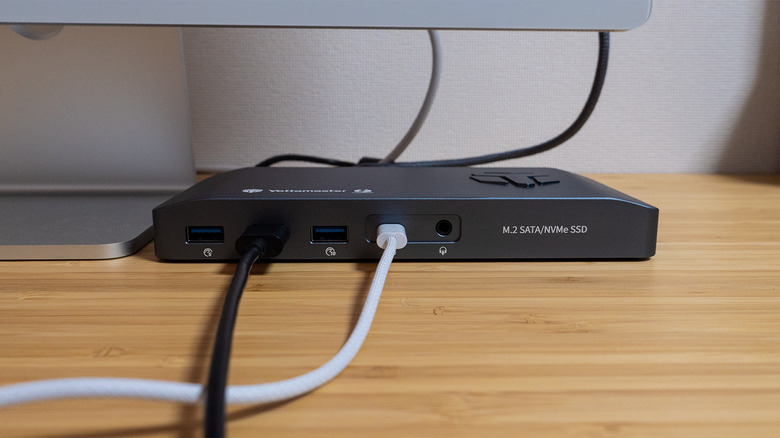 Ewdison Then/SlashGear
With 120W of input, the Yottamaster Thunderbolt 3 dock isn't lacking in power to drive all those ports as well as the two M.2 SSDs inside. The lone USB-C port supports 15W of output, while all the USB-A ports are capped at 7.5W, which is good enough for most USB devices. The downstream TB3 also dishes out 15W, allowing it to daisy chain up to 6 Thunderbolt 3 or USB-C devices. If there's one nitpick we have in all of this is the 60W output of the upstream Thunderbolt 3. That might be enough to charge most laptops, but the newer crop of power-hungry workstations might not be as lucky. It will work fine today, but it's not exactly a future-proof investment if you ever find yourself in the market for a more powerful laptop.
As is the case with many high-power, high-speed electronics in enclosed spaces, Thunderbolt 3 docks generate quite a bit of heat. While some boxes can make do with passive cooling through vents and metal bodies, Yottamaster adds a little extra, with an emphasis on "little." The dock features a tiny fan right underneath the SSD sticks (with the dock turned upside down). Despite its size, it actually gets the job done without problems. The dock does get a bit warm after a few hours of use, but not beyond reasonable expectations and numbers.
The one drawback of having a fan, even a small one, is the sound it makes. Thanks to that size, it's not as loud as a laptop or desktop fan, but it's still pretty audible, especially if you're in a silent room. There's no way to turn off that fan, so that will be something you'll have to take into consideration before you decide on making this investment.
Final Take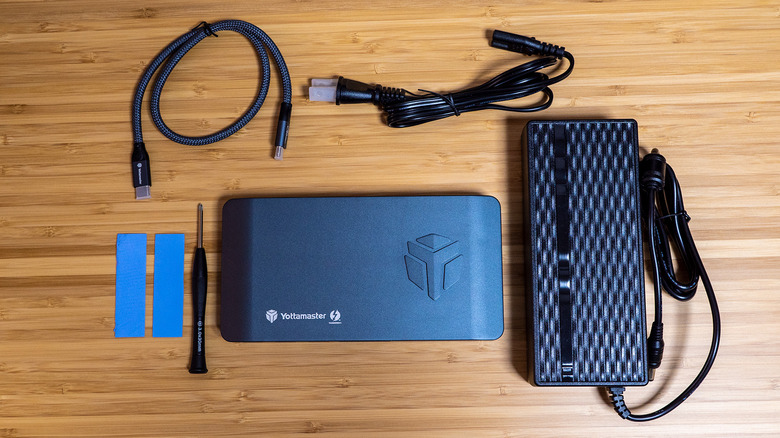 Ewdison Then/SlashGear
In the final analysis, the Yottamaster 10-in-1 Thunderbolt 3 Dock is an investment and a rather pricey one at that. The $300 price tag isn't exactly inexpensive, but you do get more than just a dock compared to others of that same price tag. You might also have to consider the total cost of ownership, though, as you might find yourself having to buy a longer Thunderbolt cable if you can't dig up one in your trove. You'll also have to invest in SSD sticks to take full advantage of the dock; otherwise, you might be better off with more affordable options.
At the same time, however, it's a product worth investing in because you are getting your money's worth. Being able to power two monitors off your laptop and still have plenty of ports for your other peripherals while also serving as your external storage for work and play. With an attractive design and satisfactory performance, the Yottamaster Thunderbolt 3 Dock and M.2 SSD Enclosure lets you create a formidable battle-station, whether at home or even in the office.