Huge GameStop PS5 Restock Incoming: What To Know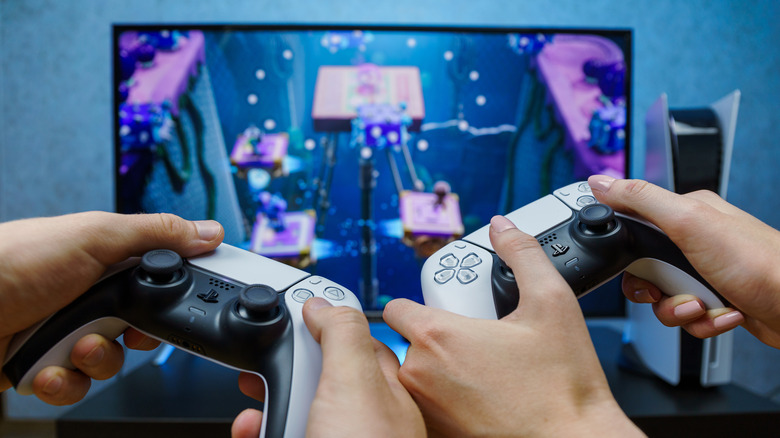 Rokas Tenys/Shutterstock
If you've been itching to get your hands on a PlayStation 5 but have had no luck finding one in stock, your time has finally come, as GameStop has a huge restocking event coming up. Starting on May 28, 2022, nearly all GameStop stores will be selling new PlayStation 5 bundles. Seeing as PS5 continues to be tricky to get your hands on, visiting your local GameStop might just be the thing that nets you that elusive console. Before you make the effort, there are a couple of things you need to be aware of before you head out to stand in line.
First and foremost, not every GameStop will receive a fresh batch of PlayStation consoles. Stores in Guam, Hawaii, and Alaska are not participating in the promotion. You can see the full map of GameStop shops on its official website to double-check whether visiting your local store is going to be worthwhile. It seems that this time around, the event is in-store only, which means that the consoles will be sold exclusively in brick-and-mortar locations. Shopping online won't net you a PS5.
Another thing to consider is that the consoles are arriving as part of a "bundle," as per the official GameStop announcement. GameStop hasn't spilled details on the prices or contents of these bundles just yet, but if Twitter leaks are anything to go by, there might be several bundles to choose from.
What else will you get in a PS5 Bundle?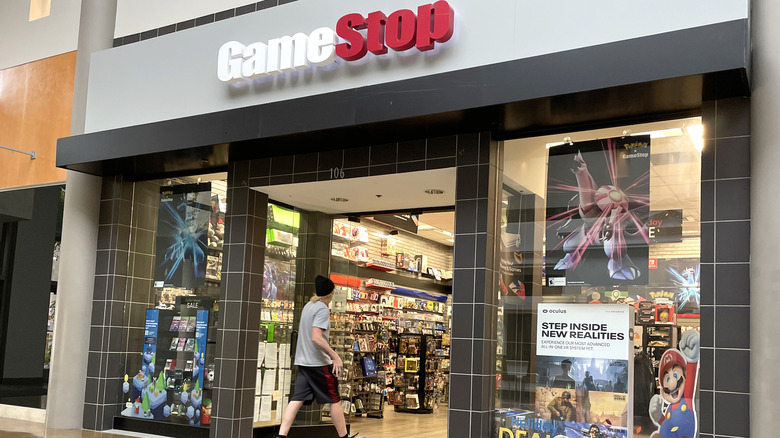 Justin Sullivan/Getty Images
VideoGameDeals on Twitter shared several possible bundle combinations for the upcoming sale. Keep in mind, however, that this is just a leak and could prove to be untrue. Provided it checks out, the tweet mentions three primary bundles, five alternate bundles, and two "all-digital console bundles." The primary bundles, aside from the PS5 console, are rumored to come with a DualSense controller, "Gran Turismo 7," a PS5 Pulse 3D wireless headset, and either "MLB The Show 22," "Ratchet & Clank: Rift Apart," "Ghost of Tsushima Director's Cut," or $10 credit for PlayStation Network purchases. 
The alternate bundles seem to contain mostly the same games alongside the Pulse 3D headset and DualSense controller, alongside $70 or $50 GameStop gift cards. The last bundle is referred to as having "All Digital Currency," including a PS5 console as well as $175 worth of PlayStation Network credit, 12 months of PlayStation Plus, and a $50 GameStop gift card. Lastly, the all-digital console bundles are much the same as the "Currency" option. They bring some digital goodies (such as PlayStation Network credit or PlayStation Plus), but one also comes with a charging station, controller, and wireless headset. All in all, it would appear that there will be a lot to choose from.
The bundles are certainly fun, but there is no telling how much the price of the console will be affected. In general, buying things in a bundle always makes for a better deal, but if you were hoping to get your new PlayStation 5 at MSRP, you will likely need to come prepared to spend a couple more hundred dollars to get these goodies. 
GameStop will only sell the PS5 bundles to PowerUp Pro members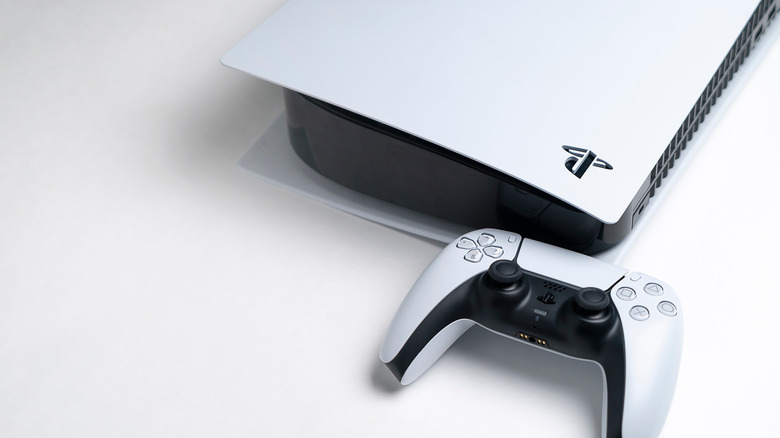 mkfilm/Shutterstock
This brings us to the last point: you will need to spend money before you even try to buy your console because the sales event is limited to GameStop PowerUp Rewards Pro members.
GameStop, much like several other retailers, locks some of its juiciest sale events behind a paywall, and the May 28 PlayStation event is no exception. Without the yearly subscription, you won't be able to buy the console even if you happen to be in the store and find it up for sale. Fortunately, the PowerUp membership is not too expensive — it costs $14.99 per year. This is much less controversial than what Best Buy did earlier this year when it locked new graphics card sales behind a $200 yearly membership. Be that as it may, you'll still have to be ready, and considering that some stores may have a lot of competition for the PlayStation 5 consoles, it's best to subscribe ahead of time if you want to. You can do it directly on GameStop's website. 
Aside from gaining access to the upcoming PS5 event, the membership nets you a few other benefits. GameStop promises that any further new drops, such as consoles, collectibles, and graphics cards, will first be made available to subscribers. You also get a $5 monthly reward to spend at GameStop and signing up nets you an additional $10. Considering that PlayStation 5 consoles are still difficult to get, for many gamers, spending an extra $15 will probably be a price worth paying.