Whatever Happened To The 12-Year-Old NFT Millionaire?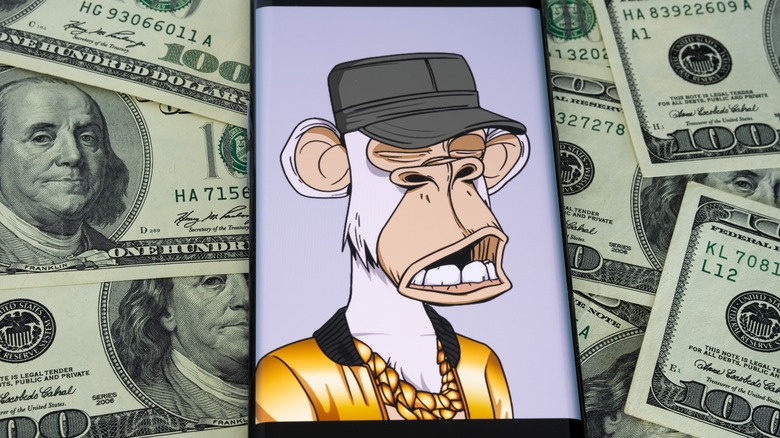 mundissima/Shutterstock
In case you've never given it any thought, here's a fun little tidbit of information — there are children out there who are richer than any of us will ever be. For some this is true regardless of a child's own accomplishments. After all, many are born into wealth. For those kids, the best birthday present for their so-called "Sweet 16" is nothing short of a Lamborghini, but this is just the fortune of their parents that they simply get to benefit from. But what if we told you that there's a 12-year-old out there who managed to build a $1 million fortune all on his own? His name is Benyamin Ahmed, and at the age of twelve, he released his own NFT (non-fungible token) collection that blew up beyond all expectations.
If you're not a cryptocurrency and NFT whiz, NFTs are digital assets that are often represented in the form of an image, in-game content, videos, or music. They reside on the blockchain, which is a kind of digital ledger that records all transactions made with cryptocurrency. NFTs are decentralized, meaning that their value is controlled by the community and not any larger organization. As such, if both the seller and the buyer agree that an NFT is worth a certain amount, it is worth exactly that much — even if the price seems ridiculous to those who are not familiar with the scene. If you want to learn more about NFTs, check out our handy guide, and we have one about blockchains, too.
12-year-old child prodigy with insane programming skills
You might think: How does a 12-year-old from London fit into the world of cryptocurrencies and NFTs? Don't all 12-year-olds spend their time playing video games and doing their homework? It appears that, at least in the case of Benyamin Ahmed, age is not a barrier to entry at all. The young prodigy released a collection called "Weird Whales," and his life certainly changed from there. He learned about NFTs and cryptocurrencies by accident and he applied his already existing programming knowledge in order to create his own series of NFTs, which launched in June 2021.
Ahmed started learning coding at the age of five, so by age twelve, he was more proficient at writing code than a lot of adults. He taught himself how to generate pixelated images of whales with various hats and additions, and then, he generated a total of 3,350 to be put into a collection. Once "Weird Whales" went viral on Twitter, the pricing for these NFTs skyrocketed, with some whales being sold for the equivalent of $20,000 apiece. In total, collections that Ahmed worked on traded for over $15 million, while Ahmed himself managed to amass over $1 million worth of cryptocurrency as of early 2022. He told the New York Post in an interview that he doesn't even have a traditional bank account if he should ever want to convert his crypto riches.
Ahmed works alongside experts from Marvel
You'd think that building a fortune off of one project would be enough, but Benyamin Ahmed doesn't rest on his laurels. He became a recognized name in the NFT space and had amassed a whopping 33,000 followers on Twitter as of May 2022. Unfortunately, his Twitter account was recently deleted, with little indication as to why. Visiting the page for his old handle – @ObiWanBenobi – returns a mostly blank page that simply says, "This account doesn't exist."
Of course, even without direct confirmation of why Benyamin's account was deleted, we can take an educated guess. Twitter's terms of service require that users be at least 13 years old before opening a Twitter account, and despite having more cash on hand than many adults, Benyamin isn't quite old enough to meet that requirement. It's worth noting that the Weird Whales Twitter account is still active, and as of the end of May 2022, it was reaching out to Twitter Support for assistance in unlocking Benyamin's account. Regardless of why he was locked out of his account, it seems Benyamin has not left Twitter willingly.
However, it's not just the cryptocurrency scene that takes notice of Ahmed — he has been invited to speak at Pembroke College, Oxford University. Since the university was founded in 1624, Ahmed remains the youngest lecturer to date. Right now, according to a recent interview, he is involved in a project where he is a "Web 3.0 Advisor." The project employs a lot of actual adults, including people who worked for Marvel and CBS. Ahmed and his colleagues are said to be working on NFT movies and TV shows. One thing is for sure — the young programmer seems to have a bright future ahead.