Apple Is One Step Closer To Making Foldable Displays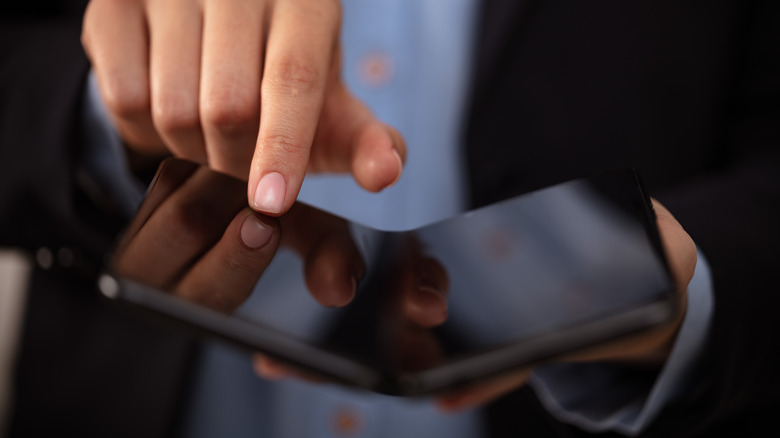 ra2 studio/Shutterstock
Apple has a lot to offer with its various products, ranging from the ultra-fast Mac Studio to the fairly affordable iPhone SE. However, there is one way in which Apple still falls behind its competitors: foldable displays, or rather, the lack thereof. That's not much of an issue, seeing as foldables are still a bit of a novelty and aren't exactly cheap, so the demand for them is somewhat limited. On the other hand, as the technology develops further, it makes perfect sense for Apple to want to jump on the foldable bandwagon in order to, one day, release such devices too. To that end, today's news about the future of the Apple foldables is a bit of a mixed bag.
The first bit of news comes from well-known Apple analyst, Ming-Chi Kuo. Kuo has recently started sharing his insights on Twitter, keeping the rumor mill going with his latest predictions. While Kuo's analysis is usually fairly accurate, his latest tweet is a revision to an earlier prediction. He used to think that Apple would launch a foldable iPhone as early as 2024, but now, that date seems to have been pushed back — and Kuo is no longer certain that the iPhone will be the first Apple product to receive that groundbreaking update.
According to Ming-Chi Kuo, Apple may be planning to launch its first foldable product no earlier than 2025, but his wording implies that it could be significantly later than that. The product type has also gotten considerably more interesting. Kuo mentions a "foldable iPad or a hybrid of iPad and iPhone." That sounds exciting, but to whom will Apple turn to achieve the foldable display finesse it requires for any such futuristic hybrid device?
Apple may have found the solution to foldable tech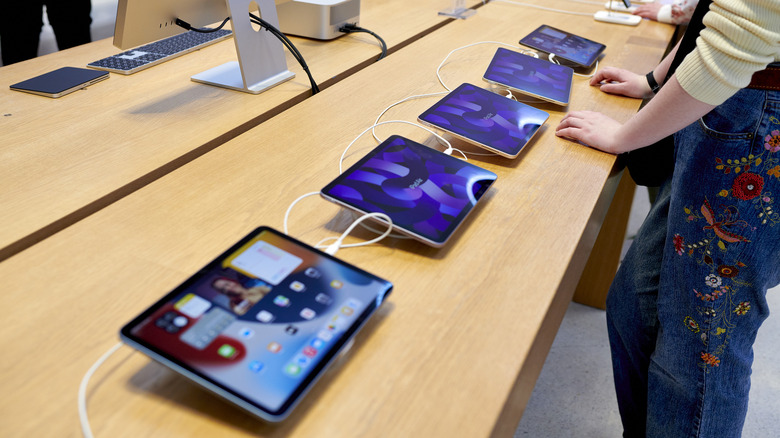 Bloomberg/Getty Images
There's more to the subject than what Kuo reports, and the extra information comes from TheElec. According to the publication, Apple has begun the development of an OLED panel without a polarizer, which would be a great step toward producing foldable screens. Removing the polarizer allows for the manufacturing of screens that are thinner, and as a result, more optimal for folding purposes. TheElec cites anonymous sources with these claims, but considering the various rumors that imply Apple may be working on a foldable, this adds up quite neatly.
Using a polarizer in a screen panel has its pros and cons. In terms of pros, screens with polarizers typically have better visibility than those without. This comes in handy when you use your screen outside and you're dealing with sunlight — many smartphones and tablets can't quite keep up with ultra-bright surroundings, leaving you to squint and try to find some shade. On the other hand, polarizers also decrease the maximum brightness of a display. As TheElec points out, one common manufacturer workaround is to increase device power consumption. However, you can only push the power limits so far until it's excessive. 
How long will consumers need to wait?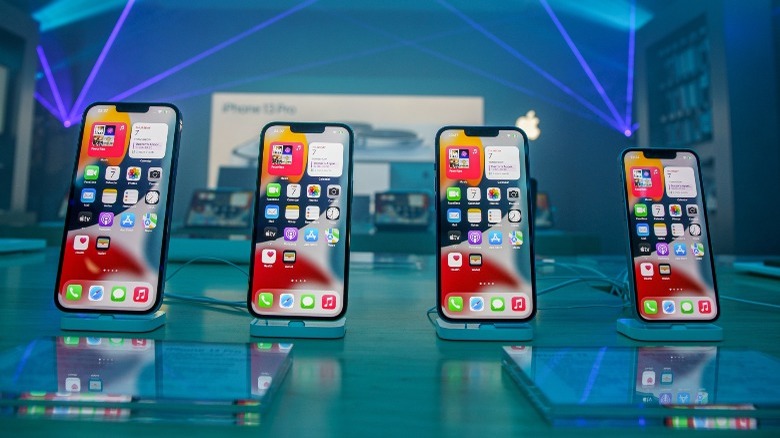 Rokas Tenys/Shutterstock
If Apple is indeed ditching the polarizer in order to create thinner, perhaps more flexible screens, it would follow that Apple is indeed in the process of creating a foldable display for a future device.
As Ming-Chi Kuo suggests, we know Apple takes its time whenever a new feature or technology is being prepared for a hardware product. While Apple's first device with a foldable display is more than likely still a few years away, competitors continue to iterate with hard-hitting hero devices like the Samsung Galaxy Z Fold 3. It'll be interesting to see how Apple hits the market with a device that's ready to differentiate itself from the devices that have already been established in consumers' minds.