2022 LG Gram Laptops Bring Power In A Slim And Lightweight Package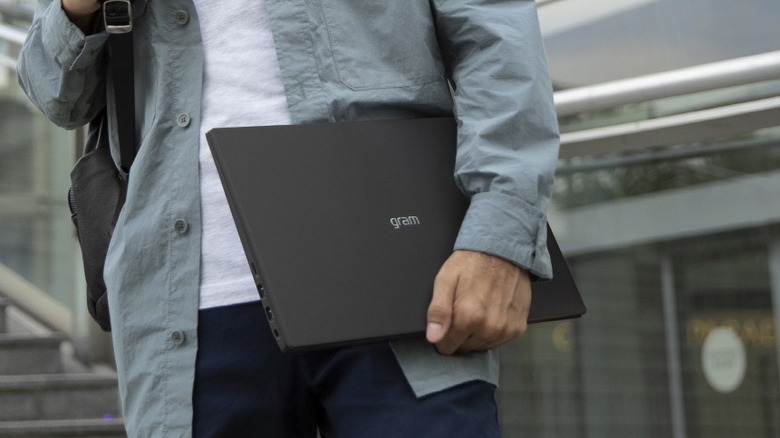 LG
Laptops are called such because they were designed to be usable even without a table present, setting them apart from desktop computers. Many modern laptops are heavy and run hot, however, making them too uncomfortable for use on one's lap. LG has been trying to change that with its gram family of portable computers, which has received an update for 2022. The latest LG gram lineup is bringing more power to users, though perhaps at the expense of straying a bit too far from what the laptop's name is supposed to convey.
Of course, an LG gram laptop doesn't weigh a gram, but it is a more marketable name than something like "LG kilo." The laptop's claim to fame was its light weight at less than 2.2 pounds, but that hasn't technically been the case since 2019. That said, this laptop family still boasts some of the lightest frames on the market despite the sizes available in the lineup.
In a press release on April 26, LG introduced its 2022 gram series with six new models, among other devices . The typical laptop form factor comes in 14-inch, 15-inch, 16-inch, and 17-inch sizes, while the two 2-in-1 convertibles only have 14-inch and 16-inch options. Realizing that one monitor might not be enough even for laptop users, LG is launching the new +view for LG gram portable monitor, a 16-inch display that connects via a single USB-C cable. LG says this portable monitor is a perfect partner for 16-inch LG gram laptops to create a seamless 32:10 digital workspace.
Power on your lap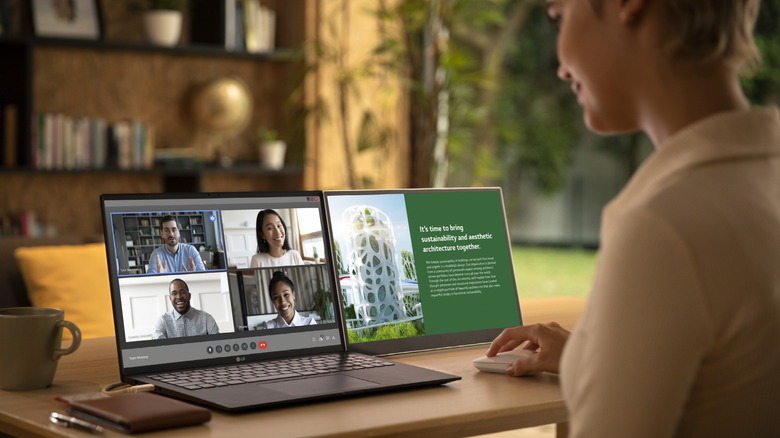 LG
All three laptops are powered by 12th-gen Intel Core processors and can support up to 32GB of fast LPDDR5 RAM. Of course, they have different configurations, but most of them sport WQXGA (2560x1600) or WUXGA (1920x1200) screens. The lone exception is the LG gram 15, which gets a measly FHD (1920x1080) resolution. The two 2-in-1 models naturally have touch screens that are compatible with Wacom AES 2.0 styluses like LG's own Stylus Pen.
As far as performance is concerned, the 16-inch and 17-inch models are the most notable because of the option to add NVIDIA RTX 2050 graphics with 4GB of GDDR6 memory. This makes these laptops even better for tasks like video processing and maybe even a bit of gaming on the side, at the expense of some higher thermals. As for the weight, only the LG gram 14 actually meets the "gram" requirement at 999 grams, while the heaviest tops out at about 2.3 pounds.
LG is unsurprisingly pushing these new 2022 gram laptops for workers on the go, especially with the new AI-powered "LG Glance by Mirametrix" security feature. This addition will automatically lock the screen when the user steps away and will blur content and warn the user if it notices someone peeking over their shoulder. The same technology allows users to simply glance at a second monitor in order to move the cursor there, saving them a bit of muscle work in the process. The new models will arrive starting in Q2 2022, but prices haven't yet been revealed.