This High-Tech Home Mirror Is Like Your Personal Gym Trainer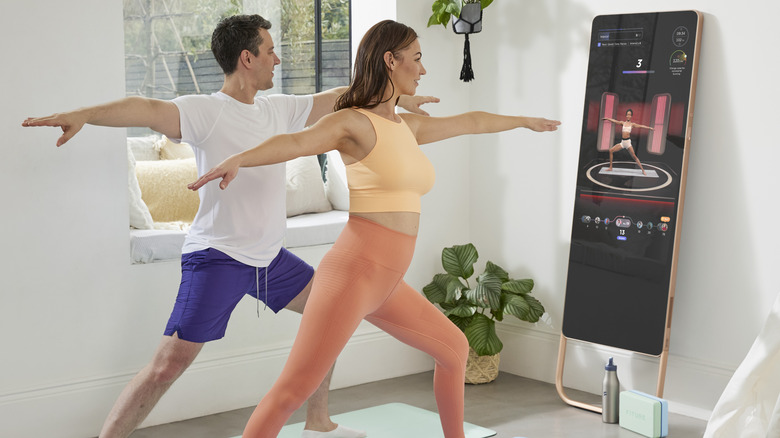 FITURE
Home fitness went through many iterations and technological advancements over the past decade, many of which came to light during the COVID-19 pandemic. Many people have decided to continue working out at home using something like virtual reality or Apple Fitness+ instead of heading back to public gyms that may not be ventilated well enough to prevent the spread of COVID-19.
On April 26, FITURE announced in a press release its new home fitness device called the Interactive Fitness Mirror, which continues the aforementioned trend of tech companies connecting smart technology to physical fitness. It's not too different from other guided home workouts that involve a digital trainer demonstrating an exercise, wherein the user needs to follow along in order to get the maximum benefit, but FITURE advertises its mirror as being more reactive than any regular guided video workout.
Using something called a "Motion Engine," which is a proprietary motion-capture-based technology, the FITURE mirror can supposedly offer real-time feedback based on how you move during your workout. FITURE claims that its "industry-first" AI-powered fitness movement library can guide users through over 1,000 different types of exercise routines, including HIIT and cardio fitness.
How the FITURE mirror differentiates itself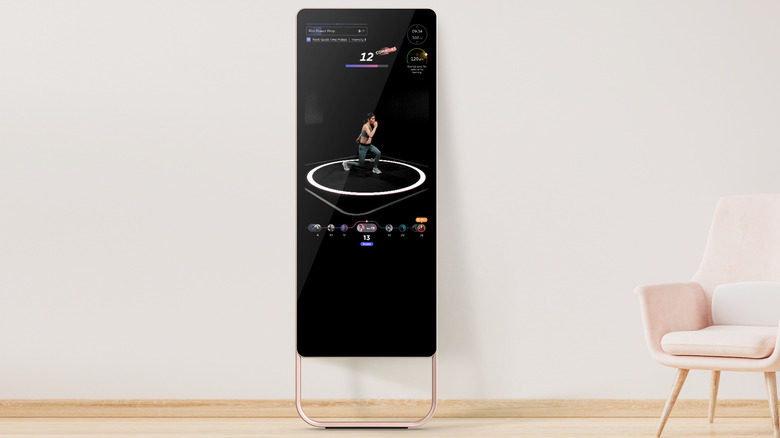 FITURE
Fans of VR fitness have long since been treated to high-tech, expert-guided workouts in the form of "Supernatural" or even "FitXR". Likewise, fans of Apple Fitness+, iFIT, or even Nike+ already understand the benefits of structured workout routines that augment other forms of activity like running and weight-lifting. It sounds like FITURE's Interactive Fitness Mirror does something totally different than both of those styles of exercise, potentially filling in a niche of its own.
After the 1.6-inch-thick, 43-inch mirror is set up in your home, you'll need to connect it to the FITURE app on any compatible smartphone. Once that's all set — and after you pay the $39 monthly subscription fee to activate your account — you can finally get started working out in your home. The FITURE mirror is advertised to be able to sync up with heart rate data from any heart rate monitor or smartwatch, as well. FITURE noted in its press release that the life-sized instructors displayed on-screen are meant to mimic your movements, and you can even high-five them if you want to. As the service is advertised, up to seven members of a single household will be able to set up a profile on one account. The Interactive Fitness Mirror is available to purchase from the FITURE website for $1,495, though the currently free delivery and installation may only last for a limited time. After that, FITURE says it could cost up to $250.