Hertz Wants Up To 65,000 Polestar EVs For Its Rental Fleet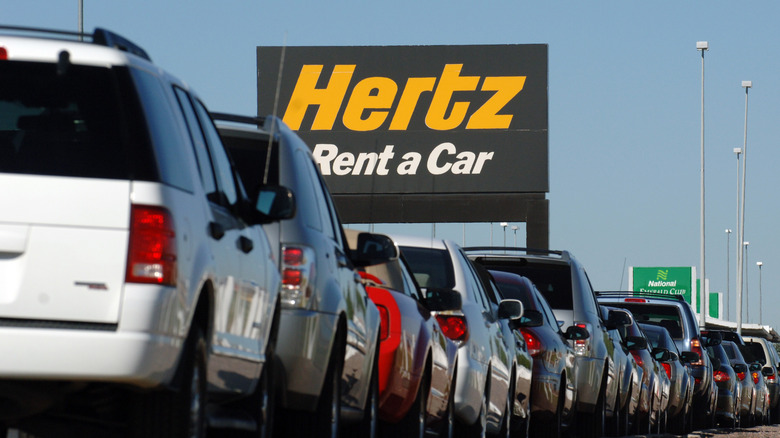 Bloomberg/Getty Images
Hertz, a Florida-based car rental company that operates both within and outside of the U.S., has just announced a partnership with Polestar, a Swedish electric vehicle automaker. The collaboration brings with it very exciting prospects, as Hertz plans to buy up to 65,000 EVs from Polestar over the course of five years. This decision is part of Hertz's plan to expand its EV range and its focus on electrification, a move that was already made clear by the company's inclusion of Tesla vehicles.
Polestar, owned by Volvo (and thus, by Geely), much like Tesla, produces premium-quality cars. Although the company's headquarters are based in Gothenburg, Sweden, the vehicles are produced in China. Hertz, meanwhile, scarcely needs an introduction — the company is responsible for car rentals and sales in 160 countries. Therefore, this partnership is very much a collaboration between two established brands that will result in a massive influx of EVs in Hertz's lineup.
Polestar has seen rapid growth over the last couple of years. The Swedish carmaker sold 29,000 cars in 2021, noting a 185% growth over the previous year. The company also managed to expand its reach from 10 to 19 countries. According to an interview with Polestar CEO Thomas Ingenlath (via Automotive News), the plan is for Polestar to sell 65,000 cars in 2022 and continue the expansion, so undoubtedly, the deal with Hertz is going to help the carmaker hit that stretch goal.
When will Polestar EVs be available at Hertz?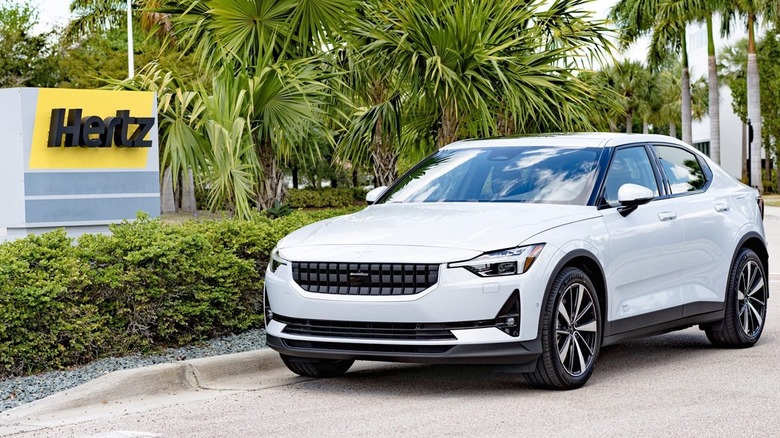 VanderWolf Images/Shutterstock
Polestar has a modest lineup of just two cars, the Polestar 1 and Polestar 2, and Hertz plans to order the latter. The fully electric vehicle is Android-based, has a wide range of Google apps built-in, and starts at an MSRP of $38,400. Polestar promises that the car can deliver up to 270 miles on a single charge and up to 408 horsepower. Design-wise, the vehicle is sleek and elegant, clearly following the latest trends that Tesla also sets and follows. The model has a panoramic roof and it can tow up to 2000 pounds, so while it is elegant, it's not at all delicate.
Aside from the $38,400 basic variant, Polestar also offers a long-range dual-motor car for $49,900 and a long-range single motor for $45,900. Fortunately, once the cars make it to Hertz's lineup, you will be able to rent them and won't have to spend that much in order to take one for a ride. Hertz will introduce Polestar 2 to its car rentals starting in spring 2022 in Europe and in late 2022 for North America.
After a tough 2020 when Hertz filed for bankruptcy, the company has mostly seen growth and prosperity. As of July 1, 2021, Hertz is out of bankruptcy, and it continues to invest in new vehicles. In October 2021, Hertz bought 100,000 Teslas. Considering the massive investment in Elon Musk's electric vehicles, the partnership with Polestar is equal parts promising and not at all surprising.