The Big Problem People Have With Trump's Truth Social App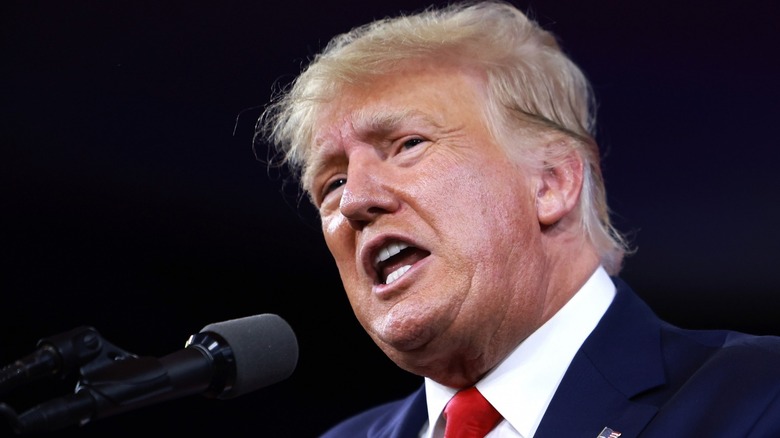 Joe Raedle/Getty
After former President Donald Trump was banned from Twitter — a social media platform where he was very active and had a large following — he announced the formation of a new media company called Trump Media & Technology Group. That company's first product is a new social media network called Truth Social, which claims to be a "big tent" platform "without discriminating against political ideology." Months after the announcement of Truth Social in October 2021, the social media network launched on February 21st, 2022. For a lot of prospective users, there's just one problem: they can't start using it yet.
Despite being out for more than a month, Truth Social still seems to be in the process of rolling out. In a new report, the BBC details the struggles the social media platform has faced, with many users being placed onto waitlists while Trump himself remains mostly quiet on the platform. Add to that a limited number of supported platforms and it becomes clear that Truth's launch has been slow at best and clumsy at worst.
While the BBC notes that Truth Social was one of the most downloaded apps on the iOS App Store the day it launched, it has since fallen out of the App Store's most popular list. At the moment, Truth is also only available on iOS — navigating to the Truth Social website simply shows a splash screen with a download link for the iOS version, while the Android link is grayed out with the words "coming soon." So, not only is the social media network seemingly impossible to access on the web, but the Android version also isn't live yet either.
Truth Social users made to wait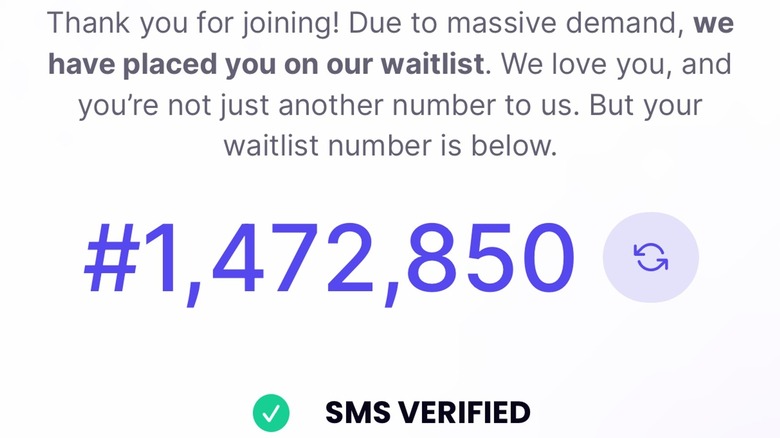 SlashGear/Eric Abent
Platform support has been one roadblock to joining Truth Social, but those with an iOS device in their pocket are finding another one when they attempt to sign up: waiting lists. According to the BBC, attempting to sign up for Truth Social put them in a waiting queue at position 1,419,631. My own attempts to sign up as I wrote this article landed me at 1,472,850 in the queue, so it seems that things aren't getting better. The verification email was sent immediately, though, so at least I didn't have to wait around for that to show up.
To make matters worse, those who have managed to gain access to the app are finding there isn't very much content there, the BBC reports. Even Trump — the person most of these people are likely signing up to follow — has only posted one "truth" and nothing in the month since. Joshua Tucker, director for New York University's Center for Social Media and Politics characterized the launch as a "disaster," while an anonymous contact described as a "Republican ally" of Trump said, "Nobody seems to know what's going on." Perhaps that will change when Trump starts using the platform — Tucker thinks that will be his last chance to drum up some buzz for it — but for now, Truth Social seems to be DOA for a lot of people who were once excited to use it.