Alphabet-Owned Wing Begins Drone Delivery Service In A New State This Week
Drone deliveries were supposed to be the next big thing to revolutionize the e-commerce sector in the U.S. However, almost a decade after Amazon CEO Jeff Bezos first proposed the idea, the hype surrounding deliveries by flying robots remains unfulfilled. Apart from encountering regulatory roadblocks, the global pandemic has also slowed down the deployment process to a crawl. That is not to say that companies have stopped trying. Two years after Alphabet-owned drone delivery company Wing began its first drone delivery service in Charlottesville, Virginia, it has added Texas to its list of drone delivery markets. The company confirmed that it would start drone delivery operations in select areas in the Dallas-Fort Worth area beginning April 7. In a statement, Wing CTO Adam Woodworth said it would begin drone deliveries using its quadcopter drones in the towns of Frisco and Little Elm — both located within the aforementioned metro area.
Wing said it would use a local Walgreens store as the staging area for its drones. The initial plans are to fly health and wellness products to citizens in the neighborhood. In addition to Walgreens, customers in the area will also be able to order ice cream from Blue Bell Creameries, prescription pet medications from Easyvet, and first aid kits from exas Health.
Not everyone can enjoy Wing delivery from day one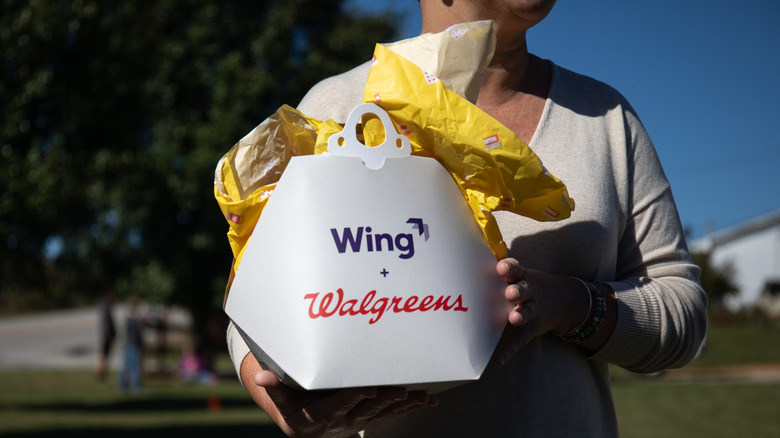 Bloomberg/Getty Images
Not everyone living in Frisco and Little Elm will be eligible to use Wing's drone delivery service from day one. The company said it would pilot test the service with a select batch of consumers in neighborhoods where they intend to roll out the services first. Wing says it is doing this to ensure people have a good first experience with drone delivery. Once this phase is over, the company intends to expand the scope of delivery further, and customers will be provided instructions on how to check their addresses for drone delivery eligibility. Interestingly, Wing is taking these precautions even though the company has been testing its drone delivery service in the Dallas area for over a year now.
According to The Verge, Wing will deploy custom-made drones from small shipping containers parked near the participating stores. Once the stores receive an order from a qualified customer, a store employee will take the items outside the store and place them inside a box attached to the drone. It's then the job of Wing's drone pilots to remotely operate the drone and safely deliver the products to the correct address.
How Wing's drone delivery works
Note that Wing has developed custom software that calculates a safe route from the launch site to the final destination and generates a custom flight plan for each delivery. This software takes into account several safety considerations and even regulatory restrictions before the final flight path is uploaded to the drone. Wing's drones can climb to a height of 130 feet and travel at almost 70 mph. Once the drone reaches the drop location, it slows down and hovers at a safe height above the ground, and lowers the package, placing it gently at a predetermined dropping location. Wing confirms that no human interaction is necessary during the delivery process.
Even though its drone delivery service in Texas will only be its second commercial drone delivery service in the U.S., Wing has been making progress in other regions of the world, including fairly large drone delivery services in Finland and Australia. The Australian town of Logan, located in Brisbane, has been a great success, with the company recently completing 50,000 drone deliveries in the region.