Hot Hatch Alert: Toyota GR Corolla Revealed And You're Right To Be Excited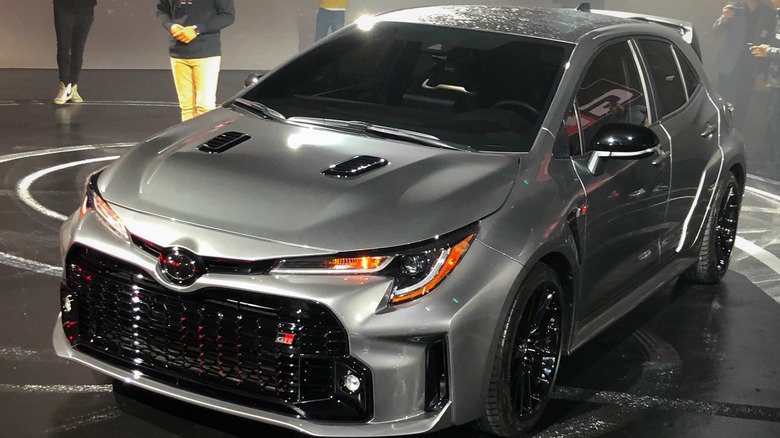 Alex Kalogiannis
Good news for fans of all things Gazoo Racing, as Toyota's first ever GR Corolla made its debut today, on the eve of this year's Formula Drift street race in Long Beach, CA. Toyota has been steadily building its performance-oriented GR lineup, with recent hits like the revitalized Supra, a second-gen GR 86 and a GR Yaris. The latter, sadly, isn't available in the US, leaving North American hot hatch enthusiasts longing from afar. It's understandable, given the niche demand of hatchbacks compared to the current trend of SUV dominance, but it still hurts.
Thankfully, that changes today. The 2023 GR Corolla houses a 1.3-liter three-cylinder engine that features direct injection and is turbocharged to deliver an output of 300 horsepower and 273 pound-feet of torque. Peak torque is available between 3000 and 5,500 rpm, with max power on tap at the 6,500 mark. Power is sent to all fours wheels by way of a six-speed manual, the exclusive transmission available for the GR Corolla. 
While the Corolla Hatchback XSE had been a pleasant surprise for enthusiasts looking to scratch that particular itch, its sporty nature was more playful than performance powerhouse. The GR Corolla, in comparison, is lighter, wider and far more aggressive. It sure looks fun, but it also means business.
Ready to race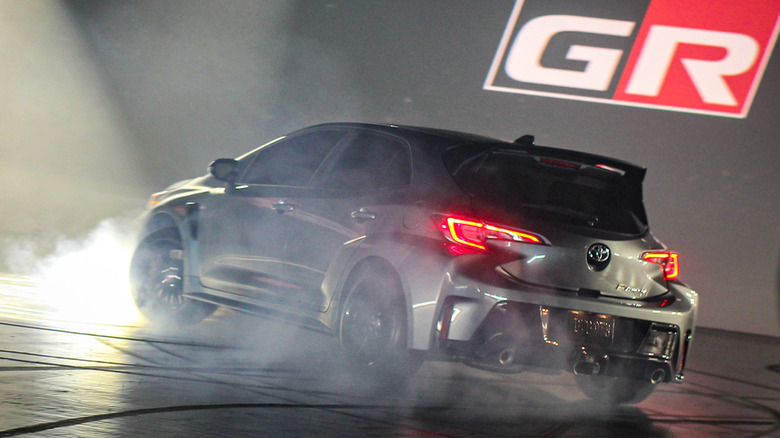 Alex Kalogiannis
Like the rest of the GR cars, the call to produce the GR Corolla for the North American market came from up top, specifically from Toyota Motor Corporation's president, Akio Toyoda. To the great fortune of enthusiasts everywhere, Toyoda-san is quite the driver and race enthusiast himself. Development of the car involved frequent testing by Toyoda and his team of drivers on a multitude of Japan's most revered circuits including Suzuka, Tsukuba Circuit and Fuji Speedway. They went beyond the track, too, testing the car in the rally conditions that inspired it.
Its engine should be familiar for those lusting after the GR Yaris. It's the same power plant, but boosted for more power. A three-piece muffler further increases output by providing improved exhaust efficiency. Motorsport-developed multi-oil jet piston cooling, large-diameter exhaust valves and a part-machined intake port all play a part in giving the compact engine lots of grunt.
A six-speed manual is the only gearbox available for the GR Corolla, keeping it in line with this motorsport roots. Still, those concerned about not being able to row gears like a professional rally driver can rest easy, as the transmission is capable of automatic rev-matching.
All-wheel drive with settings for more fun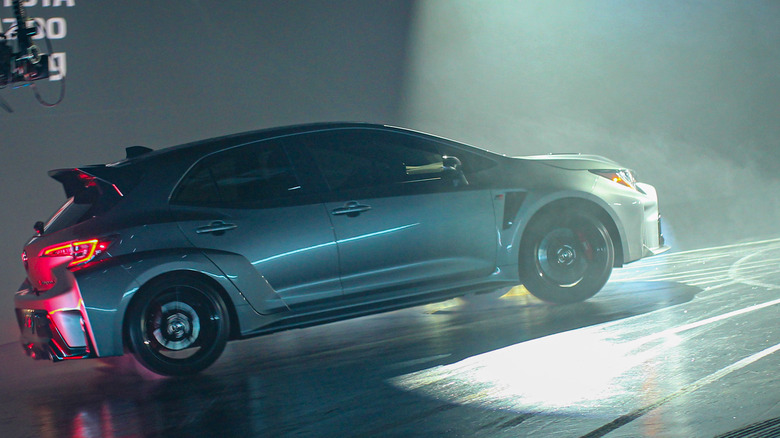 Alex Kalogiannis
Power goes to all four wheels by way of an adjustable AWD system. Standard mode gives the GR Corolla a 60:40 front/rear power split, but sport mode rebalances it to 30:70. For more stability, an even 50:50 split option is also present. Front and rear Torsen limited-slip differentials distribute torque to the sides that need it the most.
All of this is built atop a wide, rigid platform based off of the GA-C architecture used by the standard Corolla and CH-R, among other Toyota vehicles. A MacPherson-type strut is found up front while the rear uses a multi-link double-wishbone suspension setup. The GR Corolla rides on 18-inch gloss black 15-spoke alloy wheels, shoed with Michelin Pilot Sport 4 tires. These wheels house a brake system composed of fixed-caliper disc brakes with 14 x 1.1-inch ventilated and slotted rotors outfitted with 4-piston aluminum calipers up front. In the rear, you'll find 11.7-in. x 0.7-in. ventilated rotors with 2-piston aluminum fixed-caliper disc brakes.
Build for speed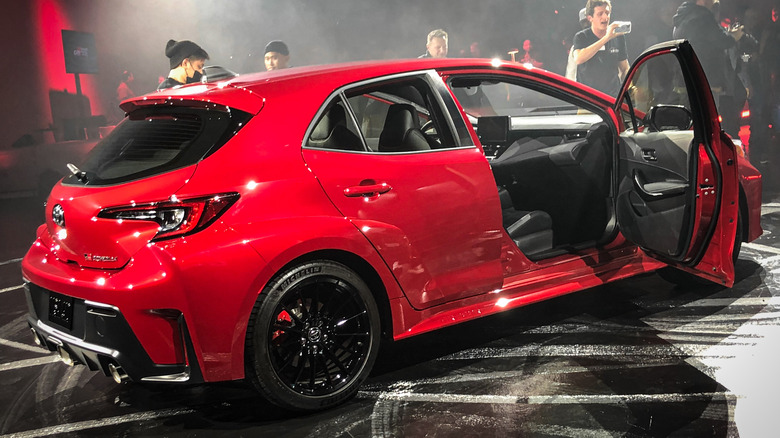 Alex Kalogiannis
The body of the GR Corolla was engineered with weight reduction in mind as well as improved airflow, without sacrificing things like safety and rigidity. The Circuit Edition is constructed with a forged carbon sheet molding compound, the replacement lowering the Corolla's center of gravity while remaining stiff. An aluminum hood and front door panels lighten the load further, and high tensile steel throughout keeps the GR Corolla's occupants safe in the event of an incident.
The GR Corolla's nose ascends to a tapering roof line. Wind flow is directed onto the rear spoiler to generate extra downforce. As with rally cars, the shaping of the front and rear canards and GR- Four stamped lower rockers efficiently channel airflow down the sides of the vehicle. Hood, fender, and rear bumper ducts, and a flat underfloor reduce drag, add downforce, and improve stability. Let's not overlook the monster front grille at the business end, either.
A driver-focused cabin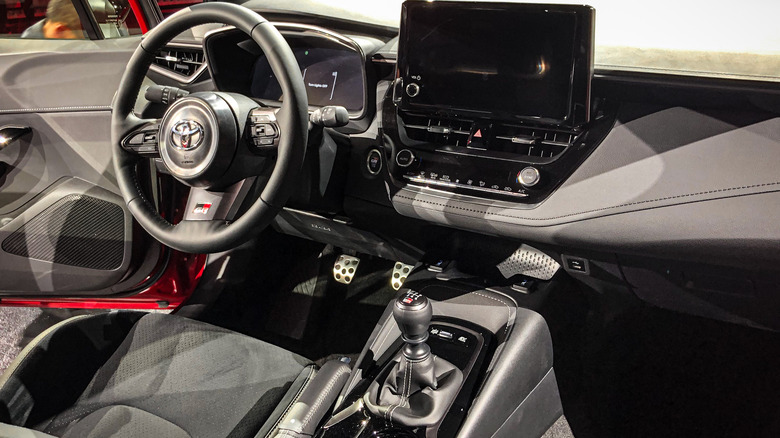 Alex Kalogiannis
Inside, drivers will find a 12.3-inch color screen that displays 4WD mode, turbo pressure, gear position indicator, and a tachometer. A shortened shift lever makes for shorter strokes for quick action, enhancing the GR Corolla's performance qualities. 6-way adjustable sport seats are covered in suede with synthetic leather accents, as well as sporty red touches throughout for that maximum go-fast feel.
Tech-wise, the GR Corolla will include an 8-inch touchscreen that's part of the Toyota Multimedia system. This tech comes packaged with cloud-based navigation, and intelligent voice commands that can adjust things from the HVAC to the radio. Toyota's Safety Sense 3.0 (TSS 3.0) system will also come standard.
The most important details are still to come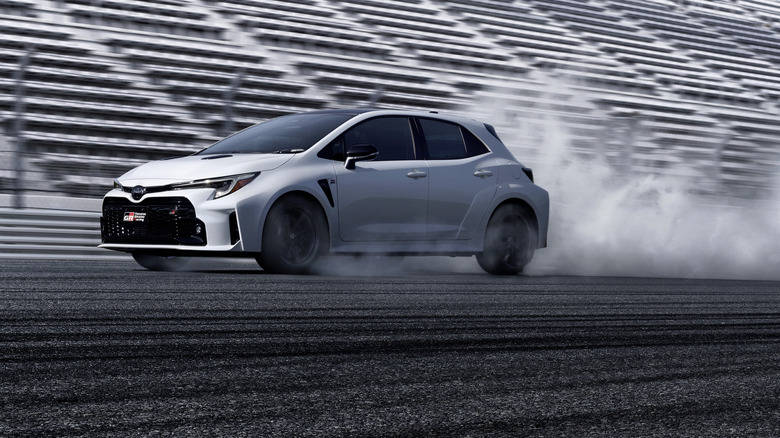 Toyota
The 2023 GR Corolla will come in two editions, Core and Circuit. The former will be available later this year and will include a color keyed roof with rear lip spoiler, GR-Four stamped side rockers, and wide-fender flares. On the inside, seating for five will come with GR-branded fabric sport seats. Circuit Edition GR Corollas will be limited in number, and includes bits like the forged carbon fiber roof, vented bulge hood, and a sporty rear spoiler.
Pricing and availability of both trims will be announced later this year, so we'll have to stick to our Toyota hot hatch fantasies for now. All the same, at least there's light at the end of that particular tunnel.