New World's Massive Heart Of Madness Update Arrives This Week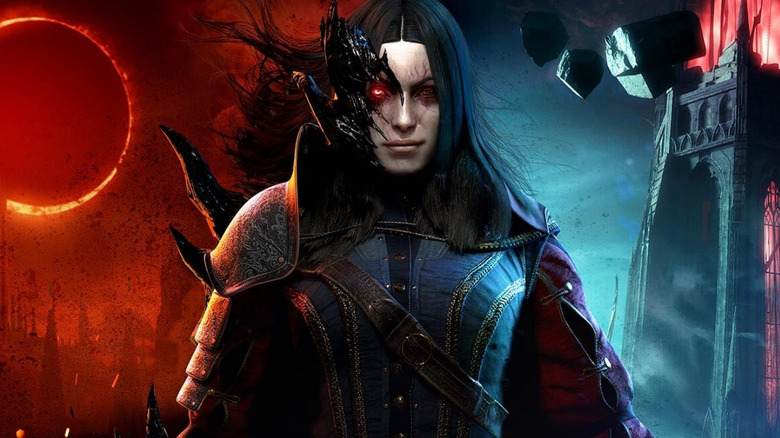 Amazon Games
Amazon's MMO "New World" is a game that launched with some issues, but a major update called Heart of Madness may go a long way toward fixing those problems. The update was slated to go live today, but unfortunately for players, the Heart of Madness release has been delayed until tomorrow morning. According to the official "New World" Twitter account, Amazon discovered a bug late in the testing process, and since that bug has to be fixed before the update can roll out, we're not getting it until tomorrow.
When the Heart of Madness update does arrive, it'll add a lot of new content to the game in addition to fixing some issues related to progression. Chief among the new content is a new endgame expedition (otherwise known as a dungeon for you MMO fans who haven't played "New World"), a new weapon, and several new things to find in the open world. While players will want to dig into Amazon's patch notes — which are so long they feel like they scroll forever — for all of the minor changes, we'll hit the highlights here.
New World's main story finally wraps up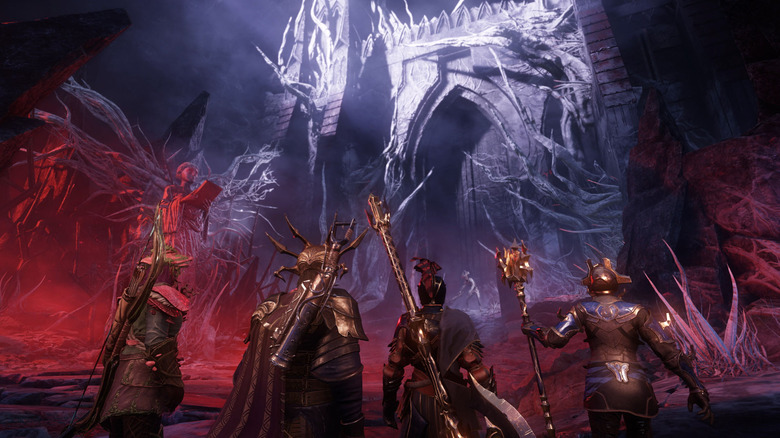 Amazon Games
Perhaps the biggest addition in the Heart of Madness update is the finale quest for the main "New World" storyline. Amazon says this quest will involve confronting Isabella at Shattered Mountain, which is where teams of 5 players will be able to dive into the new endgame expedition, dubbed "The Tempest's Heart." Players looking to complete this expedition should have gear scores between 550 and 570, so you need to be fairly well-equipped before diving into The Tempest's Heart and (presumably) taking on Isabella.
In addition to the new quest and expedition, we're getting a new weapon in the Blunderbuss. Something of the close-ranged counterpart to the Musket, the Blunderbuss scales with strength and intelligence and is the first weapon to do so. It has two weapon mastery trees, with one centered around doing damage up close and the other focused on dealing AoE damage at range.
Amazon is also adding several things to the open world that should make exploration more enjoyable or rewarding. For instance, each territory now has two easels hidden in it, and when players discover them, they'll be granted paintings of the scenic views to take home and hang in their houses. There are also several new characters and enemies to encounter, including Rafflebones the Loot Collector – a new mob that will spawn in every territory. Players only have 45 seconds to defeat him after encountering him, but if they do, they'll be granted a named weapon. Level 60 players will also get Obsidian Gypsum from killing him, along with 500 Umbral Shards when he's encountered in level 60+ zones.
Heart of Madness patch notes are seriously dense
Amazon Games
As we said at the outset, the patch notes for the Heart of Madness update are very, very dense. We can't possibly cover every change here, but there are some notable smaller changes that stick out to us. Storage chests, as an example, have had their capacities doubled, so players will soon be able to store more stuff in their homes. There is now no longer a gold cost associated with moving storage content between two different territories, which is a big change that players have been requesting since the game first came out.
Expeditions, meanwhile, will now only require one person at the entrance before the whole group can enter, so no longer do you need to wait for everyone in your group to show up at the expedition before you can begin. On top of all of this, the patch notes detail a number of bug fixes and general updates for most aspects of the game, so Heart of Madness is a major update in every sense of the phrase. Look for it to go live tomorrow morning, and don't be surprised if Heart of Madness manages to bring some lapsed players back to the game.