EcoFlow DELTA Max Portable Power Station Review: Charge It Your Way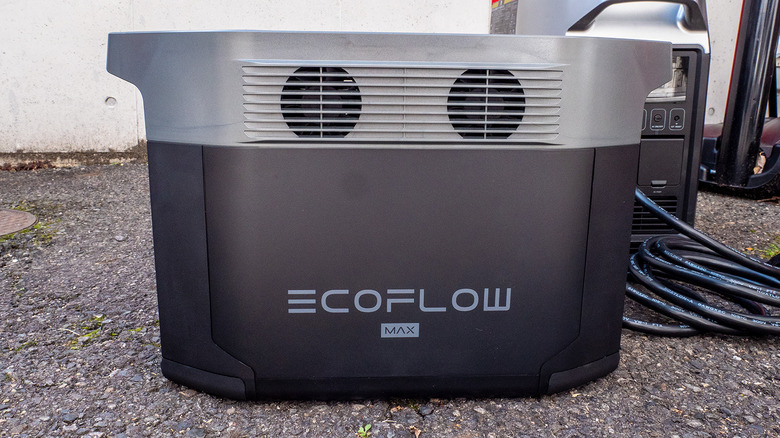 Ewdison Then/SlashGear
Modern society has become extremely dependent on consumer electronics, from smartphones to computers to refrigerators. This also means that society is more dependent on electric power than ever before, which is more evident during times when we don't have direct access to wall sockets. That's always the case when you're exploring the great outdoors, but it is even more critical during emergency situations, like power outages caused by acts of nature. 
The Delta Max is intended for use as a backup power supply at home or on the road. While it's large for activities like camping, if you own an RV or will be parked somewhere for a while, it's a viable solution — provided you have somewhere to charge the device.
A power bank might be enough to charge your phone once or twice, but your laptop and more important appliances will be out of luck. During those times, you'll need a larger portable power solution, in particular, one that supplies the needed wattage to drive essential equipment. That's why we took the EcoFlow DELTA Max for a spin to see if it meets expectations or if you're better off grabbing a rival.
The design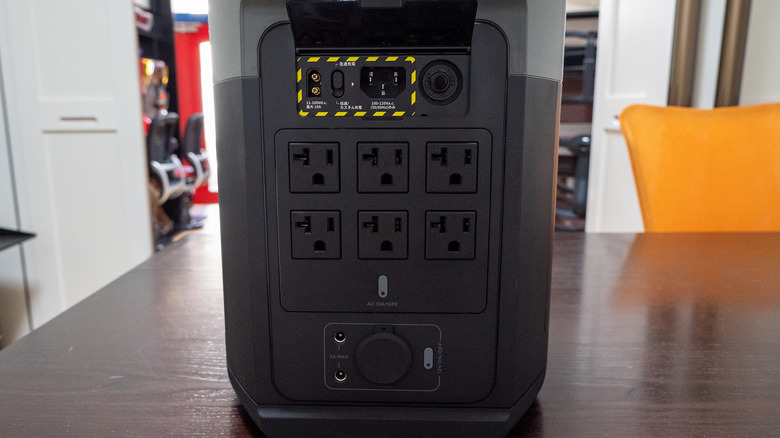 Ewdison Then/SlashGear
EcoFlow has settled on a standard design language for its two main product lines. The RIVER series prizes portability and is designed to be easy to carry with a single handle. The DELTA line, on the other hand, is the company's heavyweight, and their design makes that clear.
The EcoFlow Delta Max sits somewhere in between the more portable Delta Mini and the luggage-like Delta Pro that you have to roll around to move. The form and materials are exactly the same, with a cooler-like shape using rugged polymer materials for durability. There are two handles on opposite sides of the power station, though you'll have to reach wide to carry it by yourself, presuming you can even lift its 48lb weight on your own.
Just like its larger and smaller siblings, the Delta Max splits DC and AC ports into opposite sides, so you'll have cables coming out left and right (or front and back) if you'll be using both kinds of power output. There are plenty of those ports to go around, so you won't be wanting in the number of things you can plug into it. You won't, however, find any wireless charging options, which is rather disappointing given how the very flat top seems perfect for that purpose.
Power output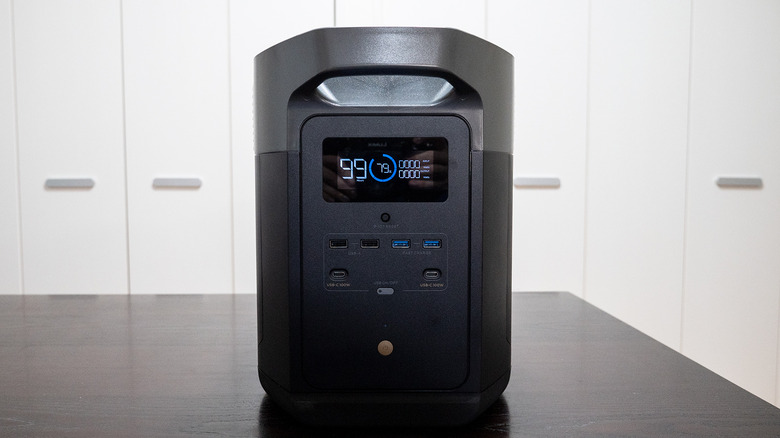 Ewdison Then/SlashGear
The EcoFlow Delta Max has a 2,016Wh NCM (Nickel, Cobalt, and Manganese) battery that can put out about 2,000W of power. As with any EcoFlow power station, there is an X-Boost function that lets you draw out even more, up to 3,400W. There's also a surge power that can handle spikes in wattage up to 5,000W. That last bit is important for powering refrigerators and air conditioning units that run on compressors.
Yes, that also does mean that the Delta Max can run more than just a cooler in an emergency, though you'll have to mind that the 2,400W AC output will be split among the six AC outlets. You can, however, daisy chain two other Delta Max power stations for a whopping total of 6,000Wh capacity. You'll be able to run a lot more appliances this way, which will be critical in an emergency. The device has an 800W solar input, great if you live in a sunny area (or will be bringing the device with you when you visit one.)
There is also plenty of room for your computers and phones when it comes to USB ports. There are four full-sized USB ports, two of which support 18W fast charging tech. The two USB-C ports support the full 100W Power Delivery standard per port, which means you can confidently charge your MacBook Pro without batting an eyelash. With this much power, a single Delta Max can charge laptops up to 30 times at least, and smartphones can be charged hundreds of times over.
The EcoFlow Delta Max has one special feature that makes it ideal for these emergency situations, too. It can be used as an emergency power backup that immediately kicks in when mains go down. Simply plug the Power Station into a wall socket and then plug your computer or appliance into the Delta Max and never worry about sudden power outages again.
Charging with the Ecoflow Smart Generator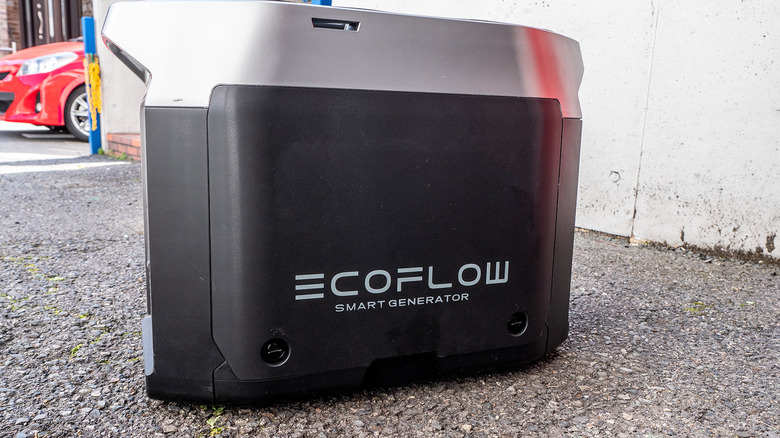 Ewdison Then/SlashGear
Of course, the power station will eventually run out of power and will have to be charged itself. Fortunately, the Delta Max also has a few tricks up its sleeve to reduce the time it needs to top up. Thanks to its rapid dual-charging feat, you can combine two power sources to charge the power station from zero to 80% in a little over an hour.
The Delta Max supports the usual assortment of charging options, including car, solar, and AC. EcoFlow, however, introduces something new to this set that also mixes things up a bit. The $1,399 EcoFlow Smart Generator can also charge the Delta Max or Delta Pro but, unlike the company's existing Smart Batteries, uses gasoline instead.
It might sound less eco-friendly than EcoFlow's power stations, but it's not supposed to be running all the time anyway. When connected to the Delta Max, it will immediately kick in once the power station's battery level gets too low, charging the power station without having to connect to mains. Once it reaches a sufficient level, however, the Smart Generator immediately shuts itself off.
The EcoFlow Delta Max has a large and bright LCD display on the front that provides information about the remaining battery charge, the output rate, as well as how much power is going into the power station. This same information can be seen on a mobile app, at least once you've connected the power station to your Wi-Fi network. The app can also let you control some functions of the Delta Max, like turning DC or AC output on or off remotely.
Final take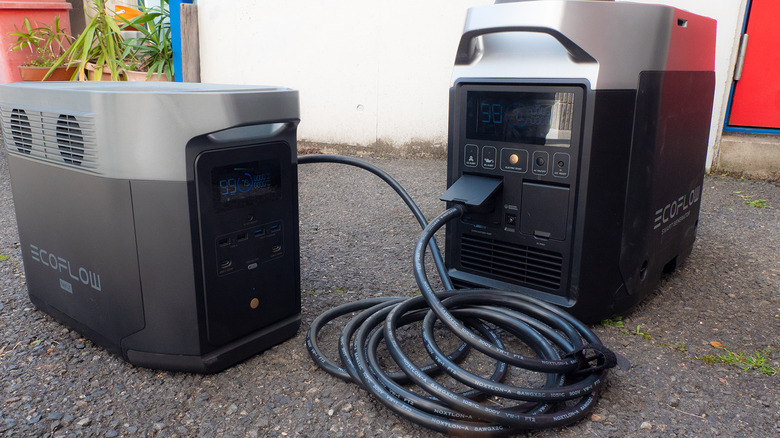 Ewdison Then/SlashGear
The EcoFlow Delta Max is a huge beast of a power station, but it isn't for nothing, even if it puts the "portable" part of its name into question. Its large battery capacity and equally large output effectively make up for its bulk and heft. Although it's still possible to move it around, this is a power station that seems to be intended to stay put most of the time. That's especially true when you consider that it can act as an emergency power supply in a snap.
The Delta Max definitely has enough ports for your devices, though it boggles the mind why the company still hasn't added wireless charging to any of its DELTA power stations. It's also not at all inexpensive, though it's a worthwhile investment if you live in an area with frequent power interruptions. 
The EcoFlow Delta Max goes for $2,099 (currently discounted for $1,899) for the 2000W power station, though there's also a 1600W option that sells for $1,799 (on sale for $1,599 at the time of writing). The new EcoFlow Smart Generator is still on pre-order but already has a $1,399 price tag slapped on it.