Latest Nintendo Switch System Update Adds A Super Useful Feature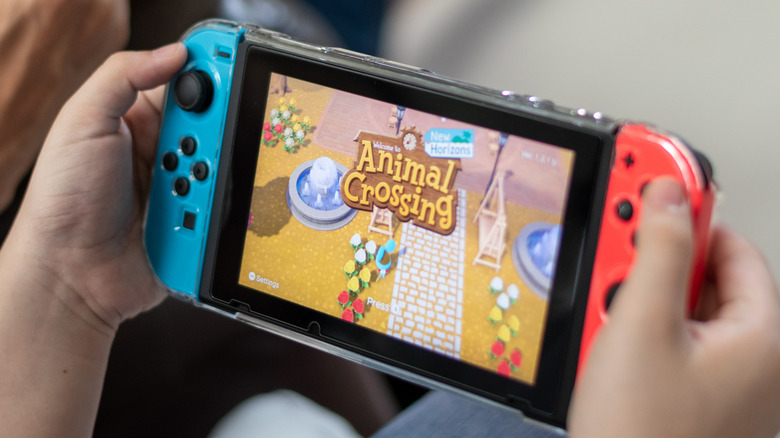 BlurryMe/Shutterstock
The Nintendo Switch has received a new software update that finally allows users to group their games, a feature that should have been there from the get-go. The feature is called Groups, and as the name makes it abundantly clear, it does just that. However, the button for accessing the "All Software" page will only appear if the number of items on the screen is more than 13 at any given time. And just in case there was any confusion, the update (v14.0.0) is available for the entire Switch family, which includes the original Switch, the Lite model, and the latest OLED screen refresh.
To create a Group, users need to swipe right on the home screen and find the All Software option. Now, tap the "L" button followed by selecting the "Create New Group" option from the popup window. Once there, select the "+" button to create the new folder. Users can select the desired games and add them to the group. Hit the "Next" button, choose a name for the group, and you're good to go. 
Nintendo notes that users can create up to 100 Groups and store up to 200 games in each group. Smartphone users who are into arranging their apps neatly into separate folders will be right at home with Nintendo's implementation on the Switch.
Update adds Bluetooth audio improvements, too
It's surprising Nintendo waited nearly half a decade to add this feature to its Switch consoles, though the company does have a history of moving slowly. While it is definitely great to have dedicated Groups for franchises like "Mario," "Zelda," and "Pokemon," many will still prefer the alphabetical order format to quickly find the titles they're looking for, especially if the library has a diverse mix of games across different franchises, developers, and genres.
In addition to Groups, the latest Nintendo Switch update also makes the process of audio adjustment more convenient. Users can now choose to tweak the volume of their Bluetooth earbuds using the console or via the controls provided on their audio gear. Additionally, the peak volume output for certain wireless audio devices has been increased. To ensure users' ears are not hit with a sudden blast of in-game music, the volume is kept at a low level by default when connecting a Bluetooth audio device for the first time.