Microsoft Made An $800 Webcam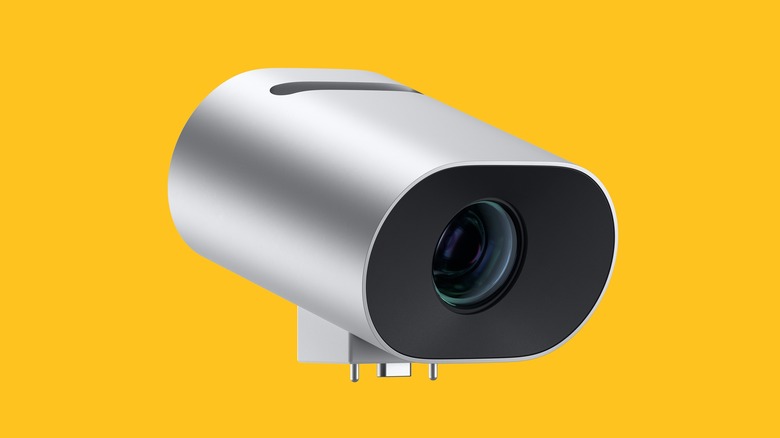 Microsoft
Microsoft has introduced a pricey new webcam for its enterprise customers: the Surface Hub 2 Smart Camera which is touted to be its first AI-driven camera hardware. Let's address the elephant in the room first — the asking price. Microsoft wants buyers to shell out $800 for its high-end webcam that is housed in a neat machined aluminum enclosure and relies on a magnetic placement system after pairing via a USB-C port. For that sum, Microsoft is promising a bunch of AI-powered tricks such as auto-framing, wide field of view, and enhanced low light performance.
The Surface Hub 2 Smart Camera is said to automatically adjust the frame when someone leaves a video call, or another person comes into the sensor's view, somewhat like Apple's Center Stage tech on iPads and Mac hardware. And if the person is interacting with on-screen content on a device like the Surface Hub, the frame will be accordingly adjusted for that scenario as well. Microsoft also claims to have solved some common webcam issues such as distortion, warping, or shallow depth of field during video calls with its new webcam. Plus, it can also automatically recognize a participant's pose and the lighting conditions to accordingly tweak the visibility aspect.
The Surface Hub 2 Smart Camera uses powerful AI algorithms
According to Microsoft's release, the pricey webcam is a 12-megapixel sensor with an impressive 136-degree field of view. For comparison, the iPhone 13 Pro Max's ultra-wide camera offers a 120-degree field of view. And based on the ambient lighting conditions, the webcam can adjust parameters such as exposure levels and white balance and minimize flickering. There's also a tilt-angle adaptation system in place to handle distortion. Microsoft says it can add new features down the road by upgrading the Surface Hub 2 Smart Camera's firmware via a Windows update.
Videos are captured in a 16:9 aspect ratio with a peak 1440p resolution, and there's a white indicator LED to show the activity status. The Surface Hub 2 Smart Camera comes equipped with 1GB of RAM, 8GB of onboard storage (not accessible to users though), Intel's Myriad X 2085 ISP, and an 18-core processor with a raw compute power of 1 TFLOPS. There are no physical buttons on the camera, but there's a large flap to cover the entire front glass for privacy. The webcam will be sold standalone for $800 starting today, and will also be bundled with the Surface Hub 2s (85-inch) that comes with an eye-watering $22,000 price tag.