Realme GT2 Pro Review: Flagship With A Conscience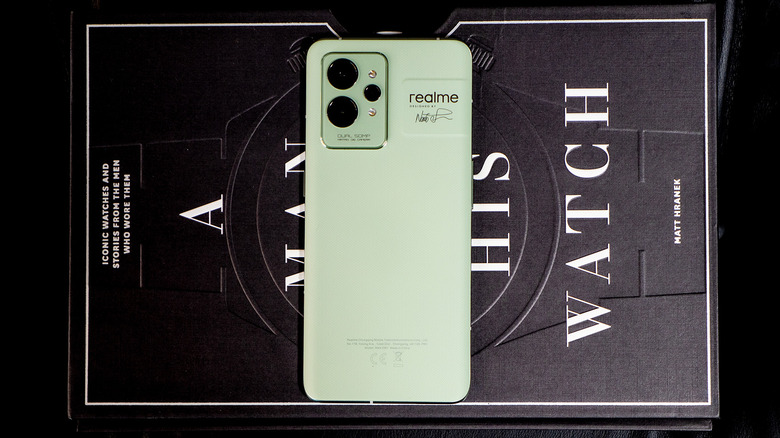 Ewdison Then/SlashGear
Not too long ago, we reviewed the Realme GT Pro Explorer Editions with their quirky back designs. Although they delivered flagship performance and features, the phones had a harder time standing out apart from their unusual back panels featuring vegan leather. The design, which takes inspiration from travel luggage, was intended to appeal to a crowd that was nostalgic for the days when traveling was unhampered and free. This year, Realme is using that same formula to target a different crowd, one that is more concerned about the impact our smartphone-centric lifestyles have on the environment.
Just like with the Explorer Editions, the Realme GT2 Pro is executing that idea in a way that is perhaps even more subtle this time around. But are the phone's unseen features enough to make it noticeable and sell well in a mainstream market, or will the Realme GT2 Pro's advocacy fall on deaf ears? Read on to find out from our review of the brand's newest flagship.
The design and feel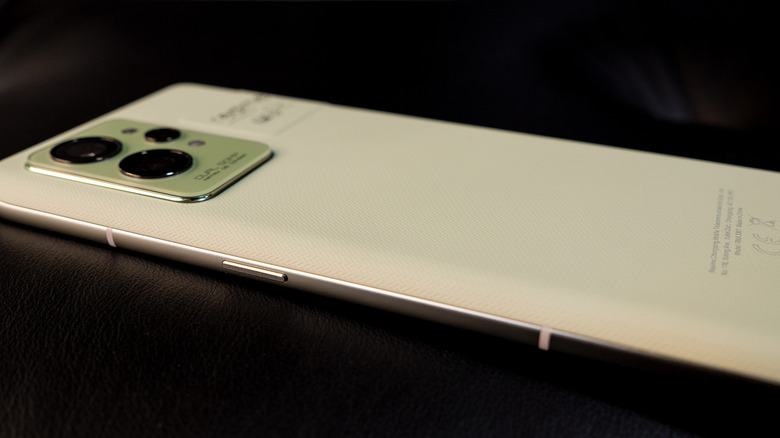 Ewdison Then/SlashGear
At first glance, you might think the Realme GT2 Pro is just like everything you've seen so far. The curved edges of the phone, in fact, are a design that hails from last year's models. Curiously, Realme opted to pair that with a flat display that we'll get to later. The effect is a bit of an asymmetrical design when looking at the phone from the top and bottom edges.
The GT2 Pro does have an interesting design on its back, at least if you get the Paper Green or Paper White versions. Just like with previous GT models, Realme enlisted the expertise of industrial designer Naoto Fukasawa to execute the idea for the Realme GT2, giving its Paper-themed models the appearance and texture of actual paper. The real significance of this design, however, is something no one will ever see.
That's why Realme is making a lot of noise about the shell for these two phones, the first of its kind to be made out of bio-based polymer. This material is claimed to produce 35.5% fewer carbon emissions or 63% less per kilogram, which is actually a lot considering how many of these phones will be manufactured during their lifetime. The other two finishes, Steel Black and Titanium Blue, are unfortunately made from the usual materials, but it's a big step forward for any major smartphone maker.
Realme's commitment to helping protect the environment doesn't end there. The company's Paper Tech Master design and packaging are said to reduce the use of plastic equivalent to 3.5 million plastic bottles. It still ships with a charging brick, though, the long-term environmental impact of which remains debatable.
Display and audio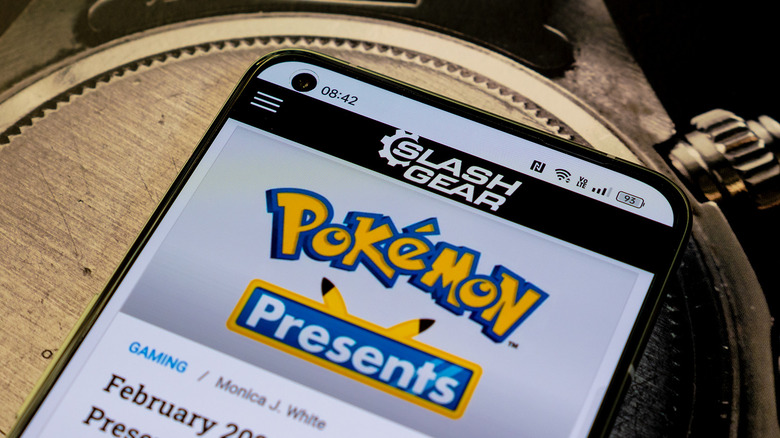 Ewdison Then/SlashGear
Realme's choice of screen for the GT2 Pro is a bit unusual but not disadvantageous. The company boasts having "The best android 2K AMOLED flat display with LTPO 2.0," and there is a smidgen of truth to that claim. The LTPO 2.0 AMOLED screens we've seen on the OPPO Find X5 Pro and the iQOO 9 Pro BMW Edition are both great as well, but they have curved edges. The Realme GT2 Pro, in contrast, is completely flat.
Some people prefer their screens to curve at the edges, but just as many find this to be annoying and less usable. Fortunately, there is no functionality lost with the flat 2K screen on this phone, and colors are just as vibrant and blacks just as deep. The panel supports variable refresh rates of up to 120Hz, but the phone's software can dial it down all to way to 1Hz to preserve the battery in some instances.
Audio output is also not a problem for the Realme GT2 Pro and its stereo speaker setup. Like many of its kind, the earpiece doubles as the second speaker rather than having a dedicated top-firing output. The result is very loud audio that does lack a bit of punch when it comes to bass. It can get the party started in a small, sparsely populated room but won't be the life of the party in the long run.
Performance and battery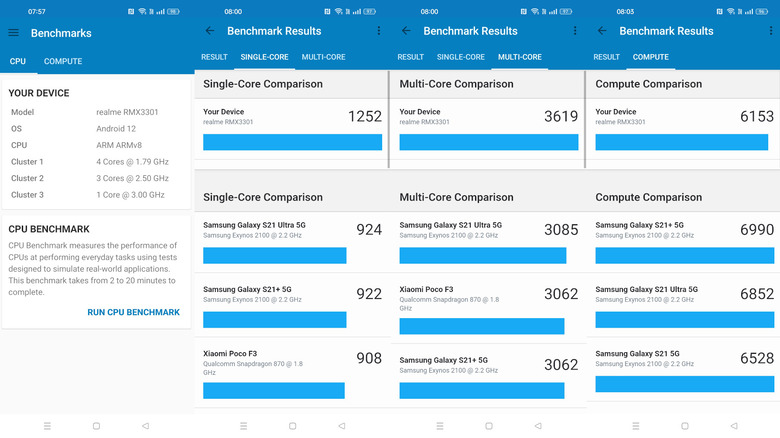 Ewdison Then/SlashGear
The Realme GT2 Pro brandishes the Snapdragon 8 Gen 1 like many of its contemporaries, but as we've seen, that alone isn't enough to win the race. These days, CPU throttling seems to be the name of the game, especially when thermal management causes the processor to under-perform or, at least, register lower scores.
Realme says it has inserted the largest stainless steel vapor cooling chamber any phone has ever seen. Along with its branded "Diamond Thermal Gel," the GT2 Pro should have some of the most efficient ways to dissipate heat. Synthetic benchmarks definitely suggest that the processor isn't throttled during those tests. In practice, few will probably notice small changes in performance, not even drop rates. Their fingers, however, might indeed feel the more comfortable temperatures.
The phone has a large 5,000mAh battery that seems to be the standard for flagships that aren't from Samsung. Compared to how its peers are trying to push insane charging speeds, Realme has only equipped the GT2 Pro with OPPO's 65W SuperVOOC charging. That's actually a safer middle ground to get the phone full in less than 40 minutes. Strangely, there is no wireless charging present.
Cameras and photography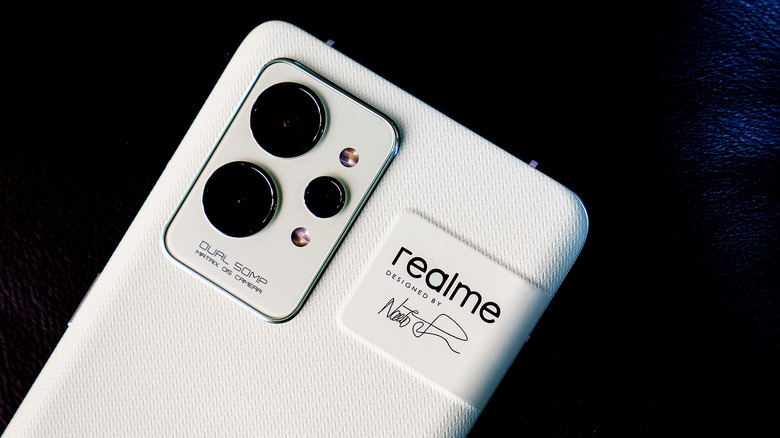 Ewdison Then/SlashGear
The Realme GT2 Pro has a triple camera system that boggles the mind a bit — though that's not to say it actually disappoints. In fact, the 50MP Sony IMX766 performs admirably, producing photos with bright colors and high levels of detail, even with indoor lighting. Night Mode does a decent job as well, almost comparable to more expensive phones with bigger sensors.
It's the other camera, the 50MP Samsung JN1 ultra-wide shooter, that's a bit odd, even if it also takes decent shots. It has a 150-degree FOV lens that we've also seen in the OnePlus 10 Pro and iQOO 9 Pro, though Realme claims it was there first. It opens the doors to pretty effects and modes like Fish Eye, but it also produces a bigger distortion for normal shots, even with AI correction.
There's also a 3MP macro camera with 40X magnification, a feature that few will probably appreciate and use after the novelty has worn off. The lack of a dedicated telephoto camera definitely hurts the phone's zoom performance and even affects bokeh simulation. There are quite a bit of depth estimation errors in portrait mode, and the blurring isn't that smooth.
Software and usability experience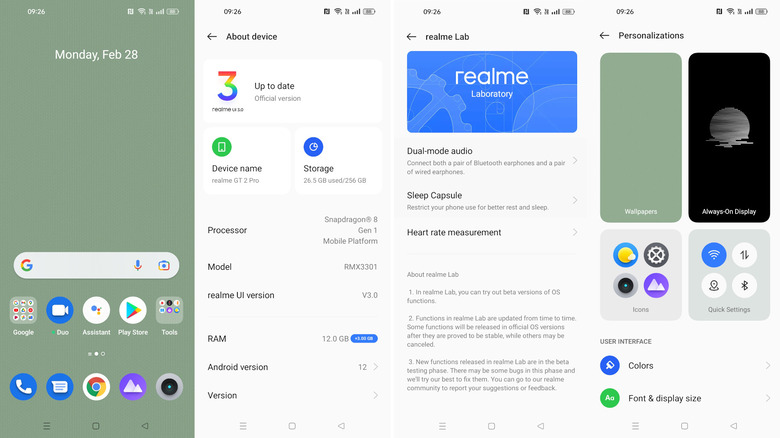 Ewdison Then/SlashGear
The Realme GT2 Pro runs Realme UI version 3, which is based on OPPO's ColorOS. Thankfully, it is already running Android 12, so that's one less worry off new owners' minds. The selection of pre-installed apps (read: bloatware) isn't that big, and the custom features that Realme adds are on the useful side.
If there is one wart on Realme UI's face, it is one that is hidden well until two years into the phone's lifetime. The company has officially stated that it isn't going above and beyond the standard two-year software support period for its devices. That may have been normal a few years ago, but many major brands are moving to at least three years of Android updates. Realme fancies itself as one of those big brands, but it has yet to step up to the plate in this particular aspect.
Final take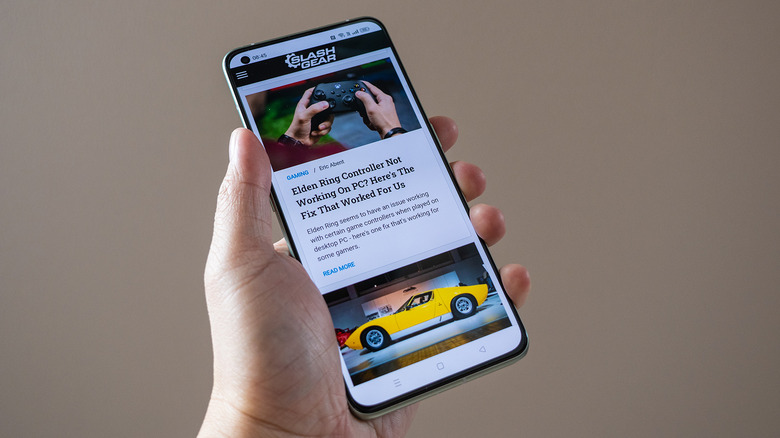 Ewdison Then/SlashGear
The Realme GT2 Pro deserves major props for its sustainability commitment. Its choice of a paper-themed design to express its new bio-based polymer shell is both tasteful and beautiful. Its performance in the hardware department is notable, though we wish it went with a telephoto camera instead of a gimmicky and pointless macro camera.
Unfortunately, the phone's strengths are subtle, and its design even more so. Unless you see the Paper White and Paper Green colors, you might pass it off as yet another early 2022 flagship phone. It's an unfair and unjust assessment for a phone that is boldly raising its voice in support of the environment, but, unfortunately, it needs to shout even louder to be heard and seen.