Microsoft Reportedly Considering Sequel To Fan-Favorite Fallout: New Vegas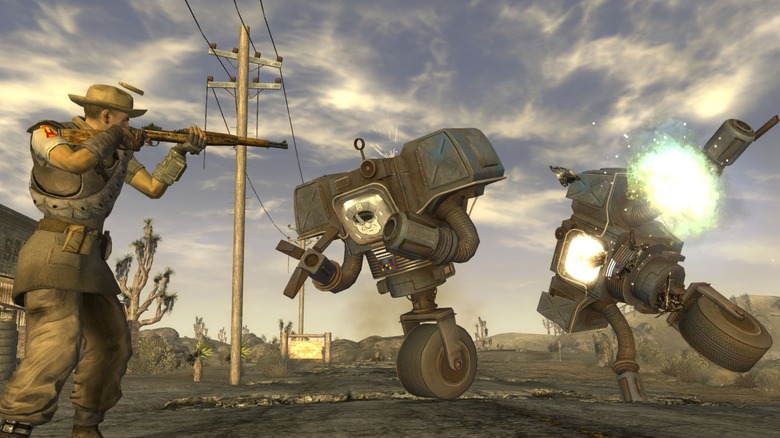 Bethesda/Steam
It's been some time since the last single-player "Fallout" game. "Fallout 4" was released way back in 2015, and with "Starfield" coming in November and "The Elder Scrolls VI" presumably next on the docket for Bethesda, it'll probably be quite some time until the next single-player "Fallout" title. However, the next "Fallout" game could be a doozy, as it's rumored that Microsoft is in early talks with Bethesda to create a sequel to "Fallout: New Vegas."
"Fallout: New Vegas" was a 2010 spin-off to the mainline "Fallout" series that was warmly received by its fanbase. Spend some time in places where "Fallout" is discussed (such as the series' dedicated subreddit), and it won't be long before someone brings up "Fallout: New Vegas" as a high point for the modern games in the franchise. It would appear Microsoft has taken notice of that fondness and is at least considering producing a sequel – something that wouldn't be very hard to pull off considering it now owns both the developer and publisher of "Fallout: New Vegas."
Is a Fallout: New Vegas sequel in the cards?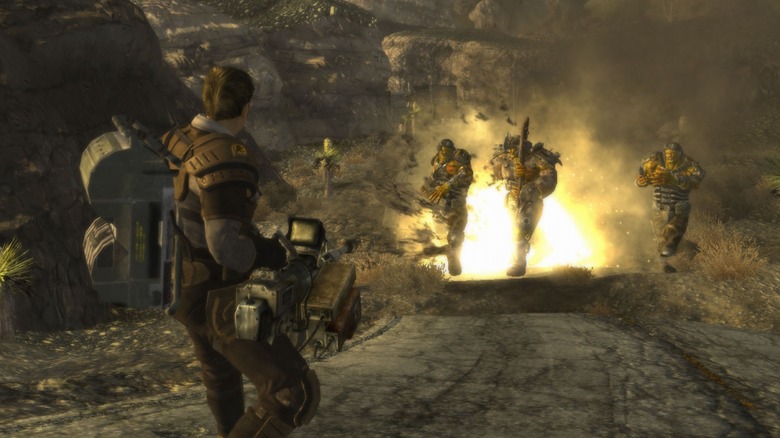 Bethesda/Steam
According to Jeff Grubb on his Giant Bomb show Grubbsnax, Microsoft has at least shown an interest in making a "Fallout: New Vegas 2." As transcribed by the folks at Video Games Chronicle, such talks are still early on, but they are reportedly happening.
"This is very early, but people have begun to have talks and say these words in sentences, and those words are 'Obsidian' and 'New Vegas 2'," Grubb reports. "We're talking years and years away. There's at least an interest and conversations happening about making something like that actually a reality. A lot of people at Microsoft think that this could work and there's a lot of interest to make it happen."
So, while it is possible, Grubb is trying to set the proper expectation here by saying that any talk about "New Vegas 2" is preliminary at this point. In other words, there's no guarantee that "Fallout: New Vegas 2" will actually happen, because for now, it sounds like the project hasn't even been greenlit yet.
Microsoft can make Fallout: New Vegas 2 happen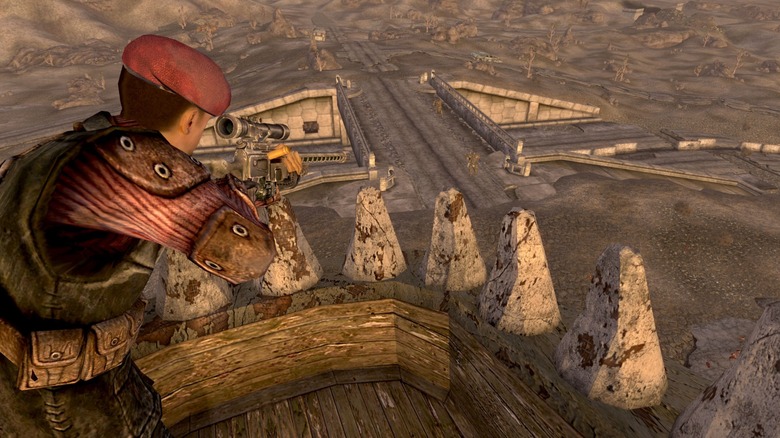 Bethesda/Steam
Of course, if Microsoft Gaming boss Phil Spencer decides that he wants "Fallout: New Vegas 2," he has all the pieces required to put the plan in motion. While "Fallout 3" and "Fallout 4" were both developed and published by Bethesda, "Fallout: New Vegas" was developed by Obsidian Entertainment. Microsoft acquired Obsidian in 2018 and bought Bethesda along with all of the other studios under the ZeniMax Media umbrella in 2021, meaning it owns the "Fallout" IP and the original developer and publisher of "Fallout: New Vegas."
We'll have to wait and see what happens, but if Microsoft does decide to pursue a sequel to "Fallout: New Vegas," it's probably going to be a long time before we hear of it. One has to imagine that right now Bethesda is mostly focused on getting "Starfield" out the door in November, and Bethesda has said in the past that "The Elder Scrolls VI" is next in line once "Starfield" is out. We'll let you know if Microsoft ever makes "Fallout: New Vegas 2" official, so stay tuned for more.