Review: Lenovo Legion Y540 Gaming Laptop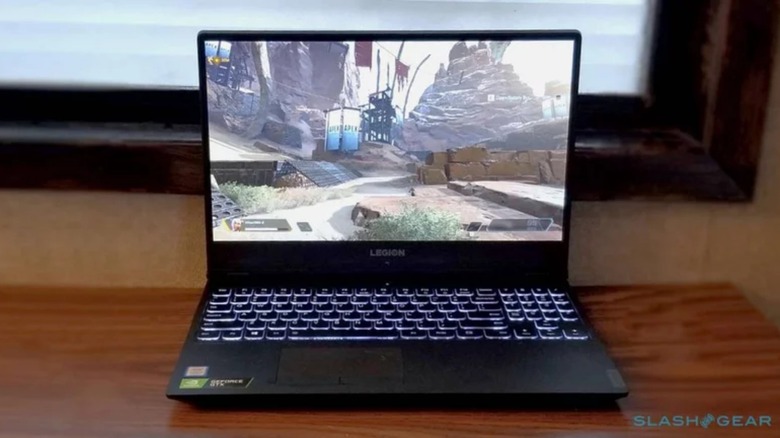 Lenovo is back with its new Legion Y540, a gaming laptop that offers the performance and features players want combined with a surprisingly light weight and mature design. The Legion Y540 is offered in 15-inch and 17-inch sizes with multiple configuration options and a low, relatively speaking, starting price. Will this model meet your needs? Read on to find out.
Hardware
Gaming laptops are generally known for two things: heavy weights and tacky designs. Lenovo avoided both of those issues with its Legion Y540, presenting players with a light and thin laptop — at least compared to many competing gaming machines — that features a solid black design blemished only by a subtle, but quite large, 'LEGION' logo. The laptop feels distinctly like plastic with a textured body and lid adorned with grooved rings.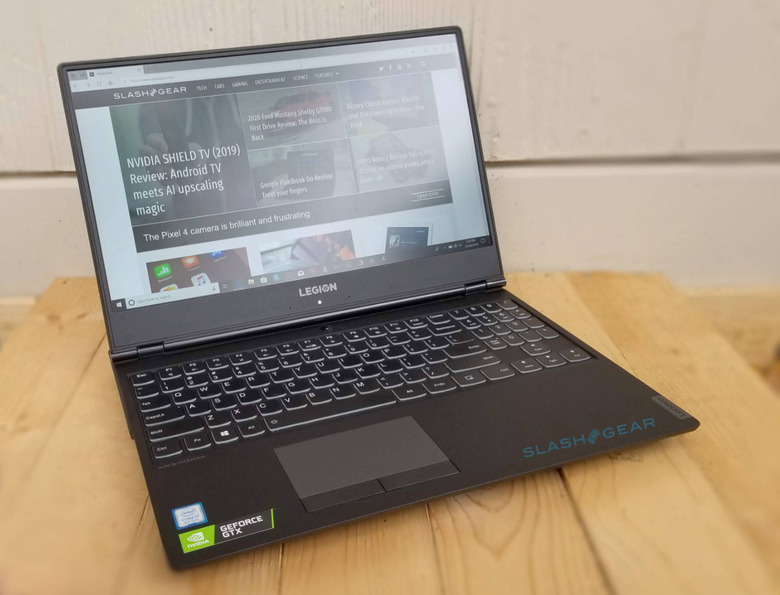 The Y540 is rectangular shaped, and though it is beefy compared to the average modern laptop, Lenovo's design does an excellent job of masking the girth. This is made possible, in part, by angling the bottom edges inward and jutting the rear port edge outward beyond the hinges. Complementing those elements are base and lid designs that make the closed laptop look like two stacked ultrabooks rather than one chunky gaming notebook.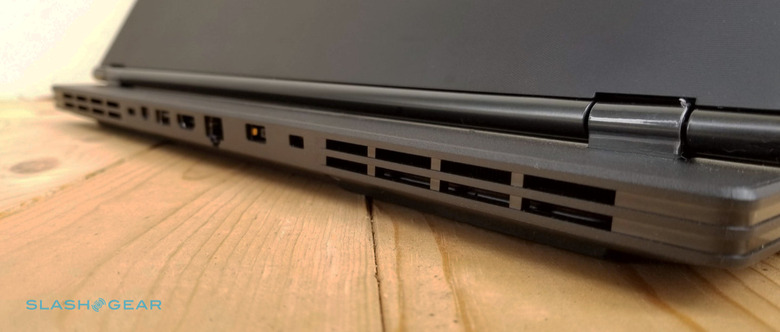 When open, users are greeted with a relatively minimalist design framing a matte display and thin bezels. The interior design resembles that of a workstation laptop; there are no colors to be found, which is a welcomed deviation from the gaudy bright colors and exaggerated designs found on too many gaming notebooks.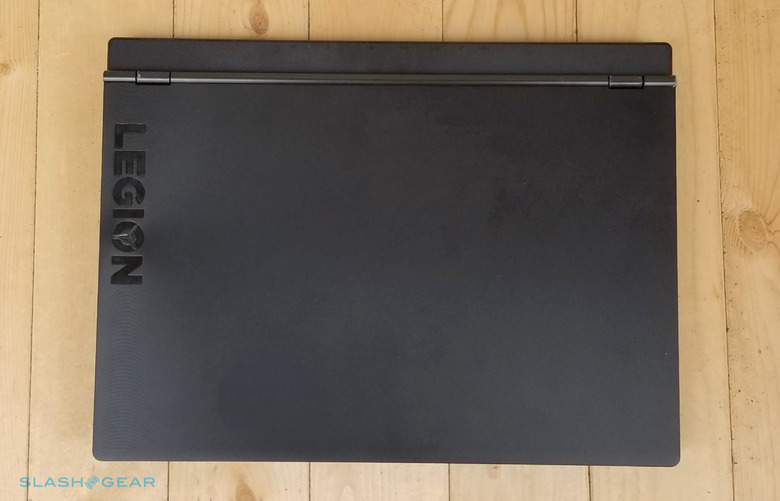 Another excellent design choice was placing nearly all of the laptop's ports on the rear edge, lining them up in a way that makes them readily accessible while keeping all of the cables out of the way behind the machine. It makes cable management quite a bit easier for players who like to keep a neat desk and ensures USB connectors don't get in the way of a mouse or other accessories. For times when convenience is needed, though, there are two USB-A ports on sides, one on each edge, plus the 3.5mm audio jack.

Anyone who has used one of Lenovo's previous gaming laptops released over the last few years will find the keyboard in the Y540 to be very familiar. It's not quite the same as what you get on the company's IdeaPads and ThinkPads, instead offering broad, flat keys with a sub-1ms response time that are topped with a dark coating and left bare around the edges. The keys are adequately firm while remaining nearly silent; the bare edges mean the backlight illumination can get very bright when needed.

The display, meanwhile, is very crisp and saturated; the matte coating eliminates glares that would otherwise potentially interfere with gameplay. Lenovo offers buyers multiple configuration options, so experiences will vary based on which panel is chosen.
There's the lower-end Full HD 60Hz anti-glare panel with 45% color gamut and only 250 nits brightness, which may be too dim for some users. Buyers who want colors that pop a bit more and higher max brightness can choose the 72% color gamut options with 300 nits brights and 60Hz and 144Hz refresh rates.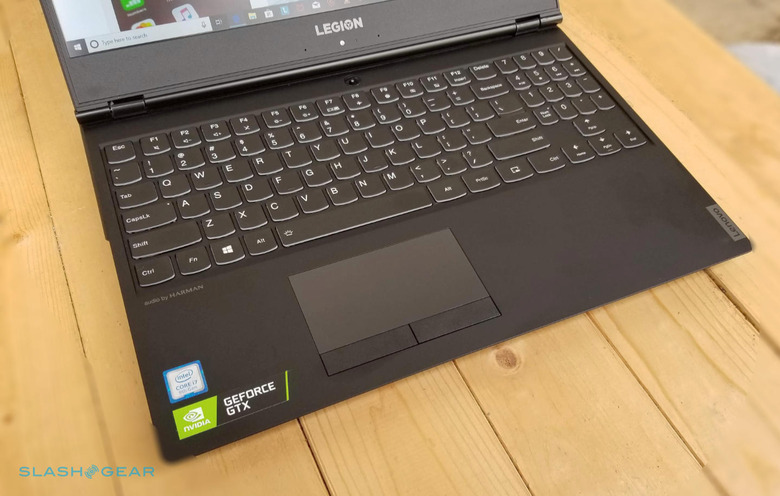 Similarly, Lenovo offers a number of other configuration options, including an Intel Core i5-9300H 2.4GHz and Core i7-9750H 2.6Ghz processor, up to 32GB of RAM, and three GPU options: the NVIDIA GeForce GTX 1650 4GB, GTX 1660 Ti 6GB, and RTX 2060 6GB. Different storage options are likewise available: users can choose an HDD + SSD dual-drive configuration if they'd like, plus there's a 2TB 5400 RPM hard drive option, 1TB 7200 RPM HDD, or up to a 1TB PCIe SSD.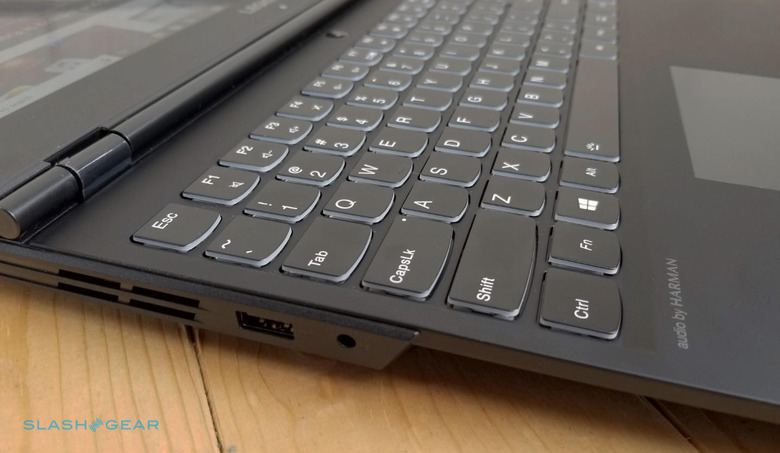 PORTS:

- 3 x USB 3.1 Gen 1

- Mini DisplayPort 1.4

- HDMI 2.0

- RJ45 Ethernet

- Kensington Wedge Lock slot

- 1 x USB 3.1 Gen 2 Type-C

- 3.5mm microphone/headphone combo

- NOVO hole

CONNECTIVITY: 802.11 AC (2 x 2) + Bluetooth 4.1

SIZE: 14.4" x 10.2" x 1.02"

WEIGHT: 5.1lbs
Software & Performance
As explained above, your experience with the laptop's performance will depend on configuration. Our review model features the Core i7 processor option alongside 16GB of RAM and the mid-tier GeForce GTX 1660 Ti 6GB GPU. We downloaded a couple of the most popular games to test on the Y540: Fortnite and Apex Legends, plus there were more than a few hours spent playing Rust.
Performance with this laptop was generally excellent, though there were some moments where the machine would hitch during aspects of running the game. The video that plays when one launches Apex Legends for the first time, for example, frequently stuttered during playback, including a few moments where the video entirely froze while the audio continued to play.
The experience during actual gameplay, however, was smooth and crisp. I was able to play Apex Legends with the various graphics settings set to "High" without any issues. The result was game quality akin to what I'd get when playing on the PlayStation 4 — keep in mind that our review unit didn't max out the hardware options, meaning buyers with an adequate enough budget can get superior performance.

As the PCMark 10 benchmarks show, the Legion Y540 (in the configuration of our review unit) just barely tips over the threshold needed for using a virtual reality headset like the Oculus Rift; it is a solid gaming machine, one capable of running your favorite PC games, but buyers should be reasonable with their expectations — if you're looking for stunning 4K graphics that leave gaming consoles in the dust, you'll need to level up to pricier options.
Battery
As expected, you're not going to squeeze many hours of battery life out of this beefy machine. Lenovo says users can expect up to five hours of runtime per charge, but that depends on how the model is being used, of course. If you're maxing out your game settings and playing at full brightness, you can expect a loud fan and warm base combined with a battery meter that dwindles within a couple of hours.
With more conservative use, users can indeed squeeze around four hours of runtime out of the Y540, but they should keep in mind that this is, first and foremost, a gaming laptop, not a workstation for getting things done away from the office (or, more precisely, when away from a power outlet).
Audio
Lenovo packed Harman Kardon speakers into the Y540 alongside Dolby Atmos for Gaming, giving players generally good audio quality for the times they're not interested in wearing a headset. The audio has decent bass and the highs are crisp enough to clearly hear spoken dialog, but the audio is overall a bit muddy. The audio experience while wearing a headset is excellent, assuming, of course, that a high-quality pair of earphones are used.
What we like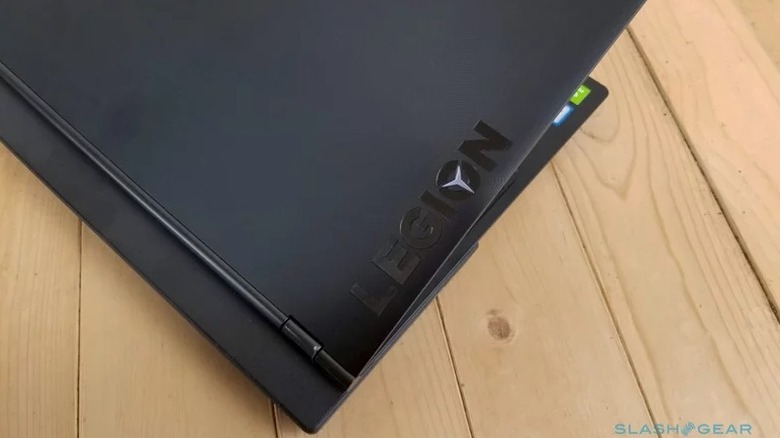 Looking for a simple summary of the Legion Y540's best features? Here's a TL;DR:
- The laptop's design makes it look relatively slim, especially when compared to its chunky gaming notebook counterparts. As well, the design is clean with a simple black color, interesting but non-flashy textures, and logical port arrangements. This is a welcomed deviation from the cheesy designs so many gaming laptops feature.
- Lenovo used its Legion Coldfront dual-channel thermal system to help keep the laptop cool. Though it does get very warm on the bottom with heavy use, it never gets hot. As well, with the use of 70 individual fan blades in each channel, Lenovo has managed to keep the laptop's fan noise to a notable minimum unless you're seriously taxing the system.
- The Y540's Dolby Atoms audio is joined by Sound Radar, an overlay that shows players where sounds are coming from for an improved experience.
- This Legion laptop comes with 15-inch and 17-inch display options, both with up to 300 nits brightness and a 144Hz refresh rate. Though the screen was a bit too dim for my tastes, the refresh rate was noticeable and welcomed. Beyond that, the display has very slim bezels and is joined by an effective anti-glare coating.
- Lenovo has given buyers a number of configuration options, including dual-drive configurations, GTX and RTX graphics cards, up to 32GB of memory, 60Hz and 144Hz display options, two different 9th-gen Intel Core processor options, and more. The model stays relatively affordable in its base configuration.
Wrap-up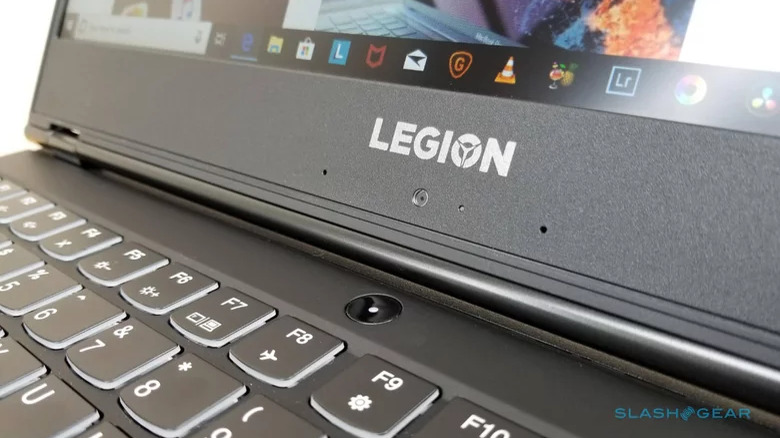 The Legion Y540 is a slim and lightweight, relatively speaking, gaming laptop that packs a sensible, mature, and ultimately still stylish design, narrow bezels, and several configuration options. Lenovo was careful to offer features and design elements that make sense for gamers — things like the anti-glare screen coating, rear-facing ports, enhanced cooling system, and software tools like Lenovo Vantage.
Though buyers seeking top-tier performance will need to upgrade to something more powerful, such as Lenovo's Legion desktops, the Y540 notebook meets the needs of anyone who wants portability, support for VR headsets, and the ability to take their games with them wherever they go. When combined with its $929 USD starting price, the Legion Y540 is an appealing option in a crowded market.