Intel P-Series And U-Series Round Out 2022 Core Mobile CPU Lineup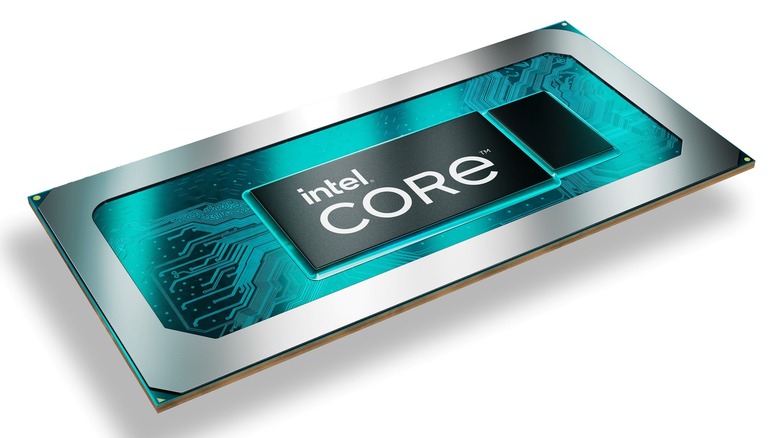 Intel
During CES 2022, Intel revealed the first of its 12th-gen laptop CPUs. That initial batch of announcements was centered on H-series CPUs — processors that were destined for the ever-important gaming notebook segment. As popular as PC gaming may be, that obviously isn't Intel's sole focus with its 12th-gen CPUs, but at the time we were told that more information about the P-series and U-series would be coming later. Fast forward to today and we finally have those details.
Intel has shared more about the P-series and U-series processors that will power thin and light laptops in 2022. These notebooks are generally split into two categories by Intel: performance thin and light machines, largely powered by the 28W P-Series, and modern thin and light models, which are the domain of the 15W and 9W U-series CPUs. Along with the "enthusiast" level 45W H-series processors we saw in January, these CPUs complete Intel's Core mobile processor lineup for the year. On top of the new reveals, the company also touched on the future of its Evo certification program.
Intel P-Series and U-Series mobile processors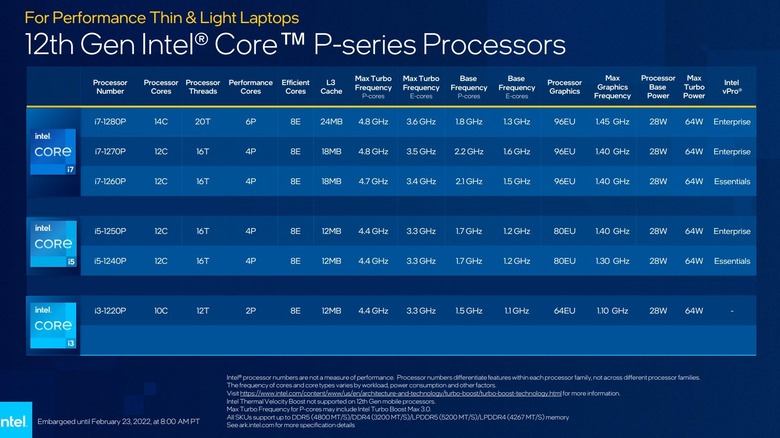 Intel
These P-series and U-series processors have a lot in common with the H-series processors revealed earlier this year, at least from an architecture standpoint. Like the H-series, P-series and U-series processors are built with the Intel 7 process and use a combination of performance and efficiency cores. In the top-end Core i7-1280P processor, for instance, we get 14 cores total — six performance and eight efficiency. The max turbo frequency of those performance and efficiency cores are 4.8 GHz and 3.6 GHz, respectively, while base clock speed comes in at 1.8 GHz and 1.3 GHz, respectively.
Most others CPUs in the P-series offer 12 cores total (4P, 8E), while the i3-1220P has 10 cores (2P, 8E). The 15W U-series lineup is headlined by the i7-1265U, a 10-core processor (2P, 8E) with a max turbo frequency of 4.8 GHz for those performance cores, while the 9W U-series tops out with the i7-1260U, another 10-core processor with a pair of performance cores and eight efficiency cores.
Intel envisions the P-series powering mainstream thin and light laptops, while 15W U-series processors might find their way into convertible laptops or 2-in-1 machines that don't need quite as much power. The 9W U-series, on the other hand, will power detachable and foldable machines like the ZenBook 17 Fold OLED from ASUS, which will use an i7-1250U. More than 250 laptops will use P-series and U-series CPUs this year, with the first ones launching in March.
Intel Evo expands beyond single screens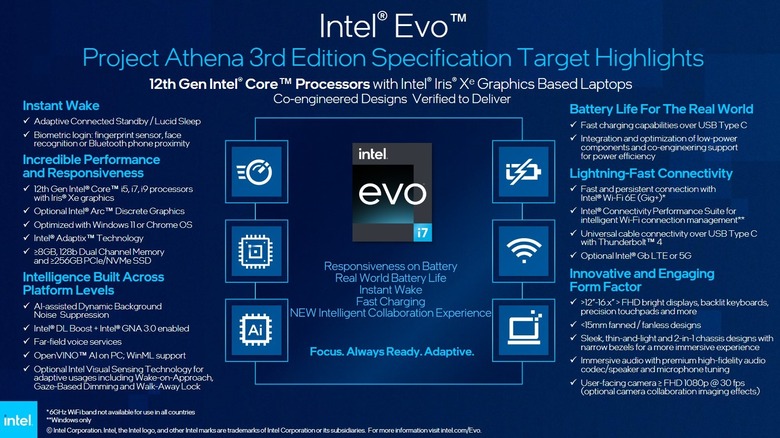 Intel
Intel also touched on its future plans for the Intel Evo certification program. While the vision for Intel Evo, Third Edition remains mostly the same as it was back at CES 2022, the company did reveal a couple of worthwhile morsels about the future of the program. First is that Intel will expand Intel Evo, Third Edition in Holiday 2022 to cover multi-device setups involving phones, tablets, and smartwatches. With this expanded focus, Intel essentially wants to make it easier to place and answer calls on your laptop, access photos and videos across devices, and unify the experience with a "seamless multi-device UX."
Intel also said that its Engineered for Intel Evo accessory program will be expanding this year as well, covering Thunderbolt and Bluetooth accessories. Certifying Thunderbolt docks to work with Evo devices is a clear focus there, but it also includes support for Thunderbolt monitors and external SSDs. On the Bluetooth side of things, Intel wants to certify devices that boast easy pairing and "seamless PC to phone switching," so we'll look forward to hearing more about those.
We'll also see Intel Evo cover foldable machines, though Intel previously signaled that expansion at CES. We'll let you know when Intel shares more details about these initiatives, but for now, look for thin and light notebooks with P-series and U-series processors to start launching next month.