AMD Ryzen 6000 H-Series CPUs Debut Today With A Familiar Laptop Partner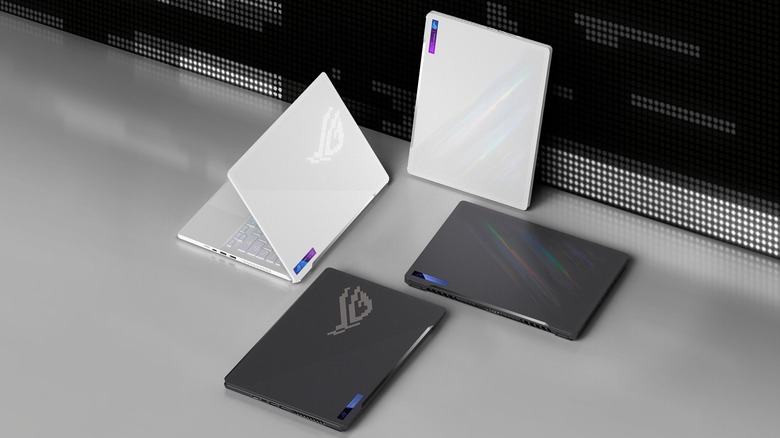 ASUS ROG
Back at CES in January, AMD announced its new Ryzen 6000 H-Series mobile processors. These CPUs are intended to power the thin and light gaming laptops we've seen rise in popularity over the years, and while AMD made some rather intriguing claims about performance when it revealed them, it didn't tell us when laptops featuring the CPUs would begin launching. Fast forward about a month-and-a-half later and now we're getting some answers on that front.
Not only are we learning today which laptops will be the first to get AMDs Ryzen 6000 H-Series processors, but we're also learning more about the mobile CPUs themselves by way of new benchmarks AMD has shared. Obviously, benchmarks only tell part of the story and we'll need to wait until these laptops are out in the wild and testable in real-world scenarios to get a good handle on performance. However, they'll at least give us a window into expected performance here at the beginning, when Ryzen 6000 H-series processors are first launching in new laptops.
Ryzen mobile CPUs and Zephyrus together again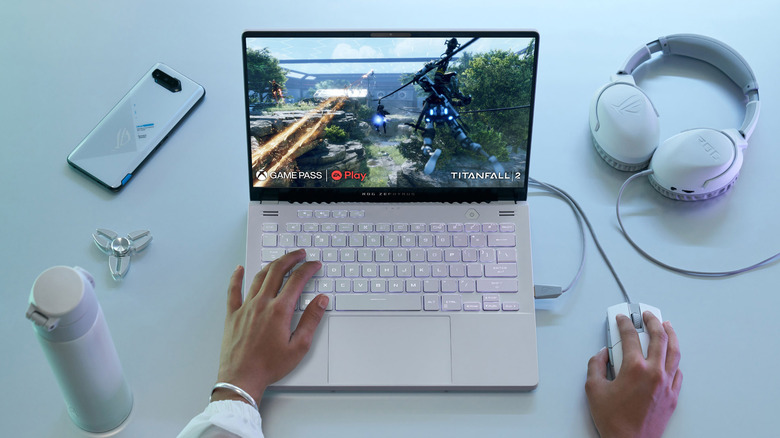 ASUS ROG
As The Verge reports today, the first laptop to get these Ryzen 6000 H-Series CPUs is none other than the new ASUS ROG Zephyrus G14. If you've been following the evolution of AMD's Ryzen mobile processors over the past couple of years, this isn't much of a surprise. The very first Zephyrus G14, which launched in 2020, had a Ryzen mobile processor at its core, as did the 2021 refresh of the machine. The Verge says that the new Zephyrus G14 is launching today, though with the continued parts shortage and the popularity of prior Zephyrus G14 models, it might be hard to find in short order.
The Verge also lists several other laptops that are destined to get Ryzen 6000 CPUs, including the Zephyrus G14's big brother, the ROG Zephyrus G15. Those two laptops will be joined by the Lenovo Legion 5 Pro, the 17-inch Alienware M17 R5 Ryzen Edition, and the Acer Nitro 5. We'll likely see other companies announce Ryzen 6000-based laptops of their own, but here at the start, the new series already has a fair amount of support.
AMD shares additional benchmarks, including Radeon 6800S GPU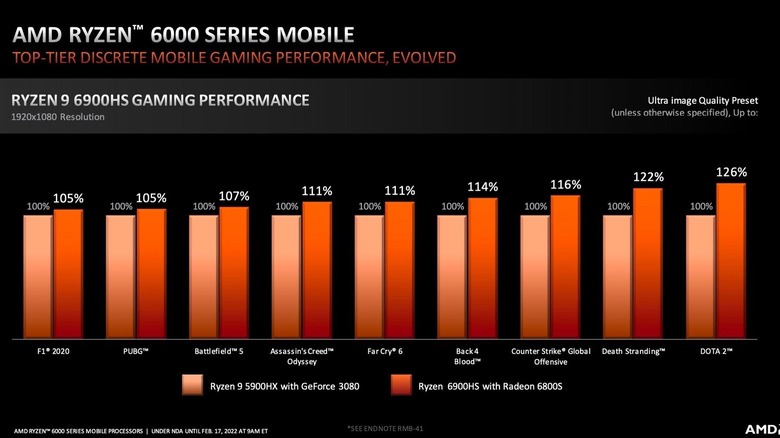 NotebookCheck/AMD
AMD also took the opportunity today to share additional benchmarks for the 6000 H-series CPUs. The folks over at NotebookCheck have published many of those benchmarks. Of particular note is a series that pairs the Ryzen 6900HS CPU with the Radeon 6800S GPU – which was also revealed at CES 2022 – and compares performance to a machine using a Ryzen 8 5900HX with a GeForce 3080. The results are somewhat favorable for the dual-AMD combo, which ranges from a 5% increase in performance in "F1 2020" to a 26% increase in performance in "Dota 2" (with all games set at ultra quality).
While that certainly isn't bad, there also isn't a huge leap in performance from generation to generation. Still, with the Zephyrus G14 sporting the Radeon 6800S in some configurations – a first for the product line – those performance increases might be nice to see for any prospective buyers.
At the end of the day, we'll need to see how these combos perform in real-world testing, because generally speaking these in-house benchmarks don't always give the clearest picture of performance. However, if you've been waiting for laptops featuring AMD's new Ryzen 6000 H-Series CPUs, it seems that the floodgates are about to open up, so to speak. In one of the slides NotebookCheck shared today, AMD says that we'll see the HX-Series and U-Series launch in March, so we'll keep our eyes peeled for more details on those.