Elden Ring PC Specifications Have Finally Been Revealed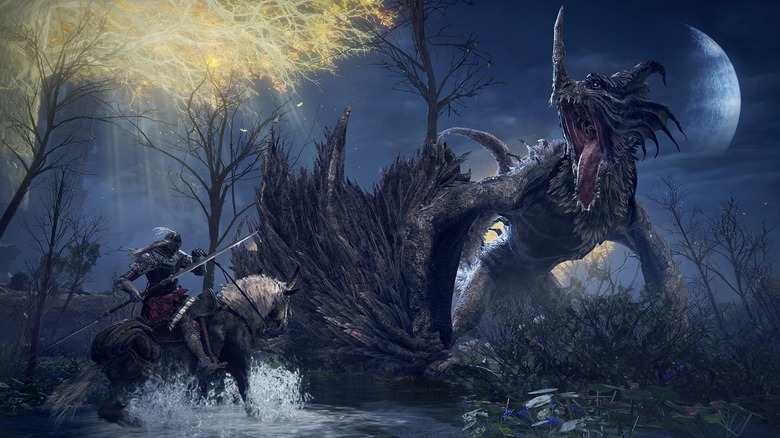 From Software/Steam
"Elden Ring" arrives later this month, and if you're planning on playing the game on PC, there's no doubt been one topic on your mind: the hardware requirements. Until now, Bandai Namco and From Software hadn't shared the minimum and recommended specifications for "Elden Ring," leaving gamers to speculate. The details have arrived just in time, as we're quickly closing in on the release day and people will soon need to decide which platform they're going to play the title on.
If you're looking to play "Elden Ring" on PC, today's specifications reveal tells us that you'll need a reasonably powerful rig to do so. Nothing too extreme, but those with GTX 900-series graphics cards from NVIDIA will find their rigs don't meet even the minimum recommended specifications. The same is true for those who are still rocking 8GB of RAM in their gaming rigs, as unfortunately, even the minimum requirements call for more than that.
Elden Ring minimum specifications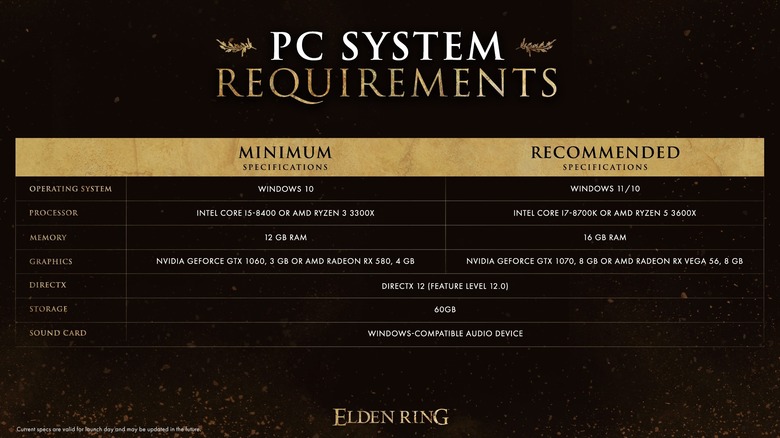 From Software/Twitter
While some developers like to go further than just minimum and recommended specs these days, From Software and Bandai Namco are keeping it old school. Minimum and recommended hardware can be found in the image above, courtesy of the "Elden Ring" Twitter account.
According to that image, the game requires at least Windows 10 for the operating system and either a Core i5-8400 or a Ryzen 3 3300X for the CPU. By now, those are fairly old processors, and older-gen Core i7 or Ryzen 5 processors will probably be suitable as well. On the graphics card front, you'll need an NVIDIA GeForce GTX 1060 3GB, an AMD Radeon RX 580 4GB, or better. You'll also need at least 12GB of RAM to run "Elden Ring," which will likely be a much more common sight as time goes on.
Elden Ring recommended specifications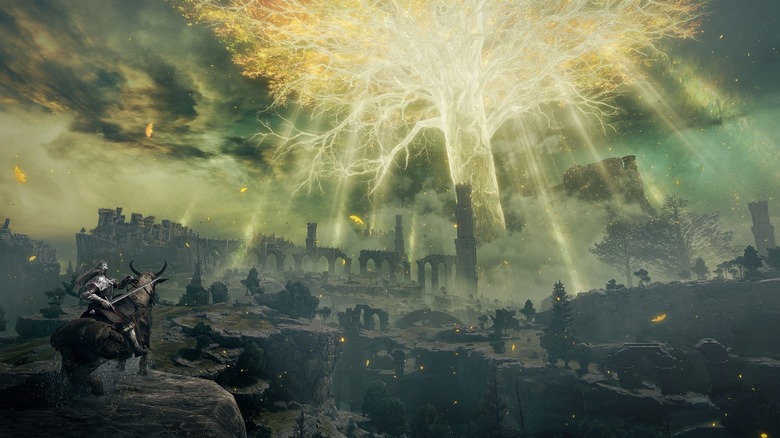 From Software/Steam
The specifications listed above are only the minimum required to run the game. If you want to experience the title the way From Software intended, you'll need to meet the recommended specifications, which are quite a bit higher. Here, you'll need an Intel Core i7-8700K, AMD Ryzen 5 3600X, or better for the CPU. The GPU needs to be at least a GTX 1070 8GB or Radeon RX Vega 56 8GB. To hit the recommended specs, you'll also need at least 16GB of RAM.
Regardless of the level you're trying to meet, your PC must be running DirectX 12 and have at least 60GB of free storage. You'll also need a Windows-compatible audio device, but that isn't exactly a hard requirement to meet these days.
So, there you have it: "Elden Ring's" minimum and recommended PC specifications. The game is out on Friday, February 25, so you've got just about a week-and-a-half to make any last-minute upgrades to your gaming rig – if, of course, you can actually find parts for it.