Study Finds A Few Minutes In VR Cuts COVID-19 Frontline Worker Stress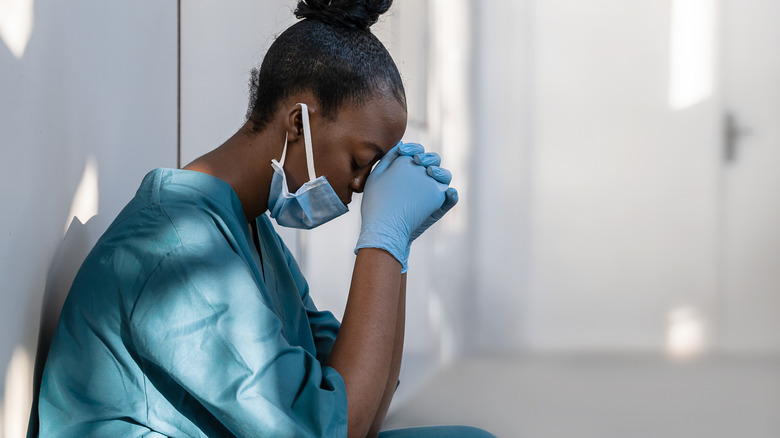 insta_photos/Shutterstock
The COVID-19 pandemic has had an enormous impact on the world, including the entire healthcare system. It's well known that frontline healthcare workers are stressed and carry a heavy mental burden alongside physical exhaustion. Researchers from Ohio teamed up to try and find a way to lower these stress levels, especially among those who work in COVID-19 wards and clinics. It turns out there may be a relatively cheap and easy way to help, and it involves using virtual reality headsets.
The team consisted of researchers from Ohio University's Game Research and Immersive Design Lab (GRID), the Heritage College of Osteopathic Medicine, and OhioHealth hospitals. This was the first time the GRID lab used virtual reality (VR) content for the purpose of mitigating stress, having previously focused on leveraging VR for educational purposes. The team published their findings in PLOS ONE Journal.
Many studies have emerged since the beginning of the pandemic, proving that frontline workers are immensely affected. Anxiety, depression, mental trauma, exhaustion, and burnout are all things that most healthcare workers have experienced in the past two years. According to the researchers from Ohio University, there is a way to offer these medical professionals a brief respite from their daily stress: spending three minutes in a beautiful, tranquil nature simulation.
VR experience simulates a lush, green forest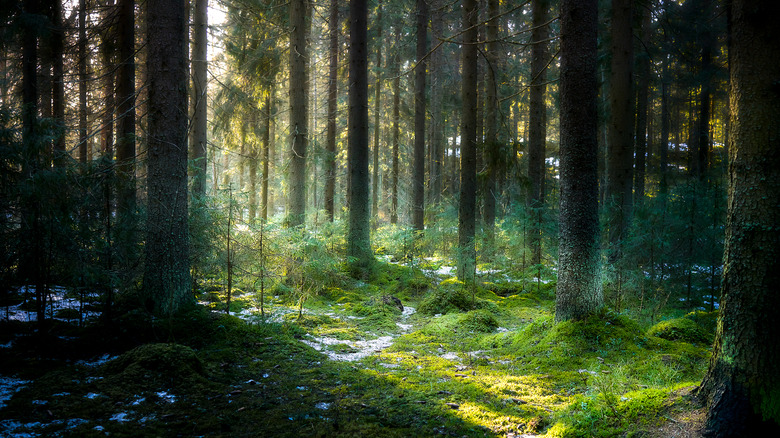 Andrei F/Shutterstock
In order to achieve the desired effect, GRID Lab teamed up with the Ohio Museum Complex in order to capture the footage needed for the three-minute simulation. The team filmed inside a nature preserve found in southeastern Ohio that is part of the museum complex. The area was lush, teeming with life, and most of all, tranquil. The filming was done in such a way that later allowed for a fully immersive VR experience, including walking around and looking in different directions.
The resulting video immerses viewers in the beauty of nature. It's not meant to be an exciting experience. Viewers can explore nature, listen to the chirping of birds, the wind, and just breathe — there are no voice actors or anything else that could disrupt the relaxation. It's a short experience, but according to the study, it has proven to be effective.
Once the virtual reality experience was ready to be tested, it was distributed amongst 102 volunteers. The sample included people working in three different COVID hospital units, and people of many different professions were involved, ranging from direct care providers to administrative staff. The stress levels were rated by the frontline workers in question and recorded both before and after viewing the tranquil video.
Researchers noted a significant drop in stress levels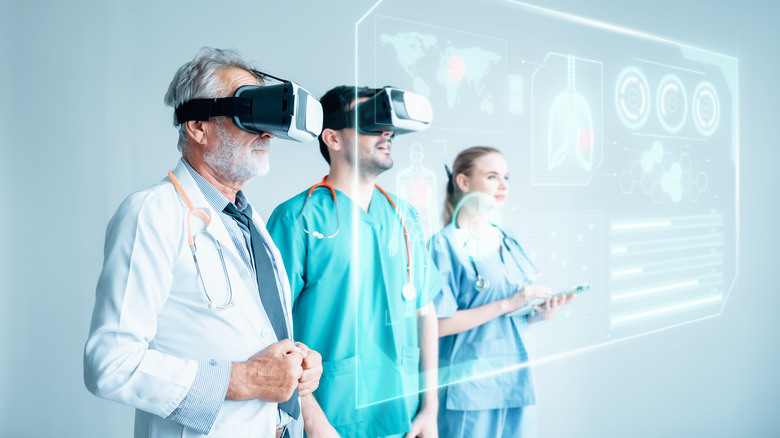 Maha Heang 245789/Shutterstock
The study's results were quite straightforward. Out of 102 individuals who participated in the study, 84 of whom worked in direct patient care, only 35 had prior experience with virtual reality. However, even those who were not familiar with the technology reported a drop in stress levels after experiencing GRID Labs Tranquil VR.
The volunteers were asked to rate their stress levels on a scale of 1 to 10 prior to and after the viewing. Before the three-minute video, the average stress level was rated at around 5.5. The drop after just three minutes was considerable, lowering to an average stress level of 3.3. Healthcare workers with the highest stress levels, rated above 6.8, reported an even bigger drop all the way down to an average of 3.9. These reports were consistent across genders, ages, and experience with VR or lack thereof.
The researchers concluded that using VR to bring a brief moment of relaxation to frontline workers could prove to be viable. It's a relatively inexpensive way to combat anxiety that can be achieved within the workplace. However, it's unclear at this time how long the effects last. The team admits more research is needed to determine whether viewing nature in VR will be helpful in lowering long-term stress levels.