5 Things you need to know about the 2017 Toyota Tundra TRD Pro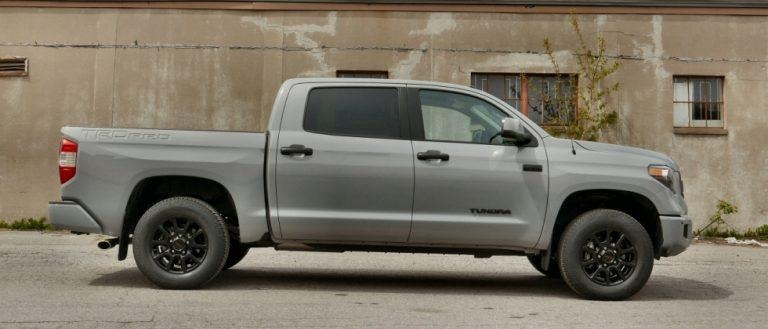 The 2017 Toyota Tundra TRD Pro seems prepped to bridge the gap between traditional, 'yeah, it's got four-wheel drive' pickup fare and hardcore desert-racing rides like the Ford F-150 Raptor. The full-size truck delivers when it comes to attitude, and it certainly boasts all the right upgrades to tackle extra-harsh terrain, but at the same time it maintains a veneer of civilization that makes it livable on a daily basis.
I spent a week behind the wheel of this trail-breaker and came away with 5 things you need to know about the 2017 Toyota TRD Pro.
1. Extra Gear For Bugging Out
The 2017 Toyota Tundra TRD Pro is designed to take extra licks off-road as compared to lesser versions of the full-size pickup. To that end, Toyota has added equipment such as TRD-customized dual internal piston Bilstein shocks with external reservoirs at all four corners (that provide an extra 2 inches of wheel travel up front and 1.25 at the rear), 32-inch knobby Michelin tires wrapped around 18-inch rims, and a bigger sway bar out back. These work together with 10.6 inches of ground clearance and a low-range four-wheel drive system to deliver formidable trail prowess, provided the path you pick doesn't get too narrow for the Tundra's long wheelbase (you can only order the truck in either double or crew four-door cab sizes).
2. Big Visual Impact Compared To Standard Tundra
The Tundra is already a truck with presence, but opting for the TRD Pro model adds significant flair to the overall presentation. My tester had been dipped in a handsome battleship gray that Toyota dubs 'Cement,' and it was a perfect complement to its slab-sided features, which were further set off by 'TRD PRO' emblazoned in raised lettering alongside each flank, as well as TUNDRA projecting from the tailgate like a fist coming at your face in a 3D movie. The pickup's unique TRD Pro rims, bold TOYOTA block letters across the blacked-out front grille, and power bulge in the hood complete the non-conformist uniform, and of course you get a whole whack of TRD Pro badges throughout the interior to make sure your passengers remain intimately familiar with where your off-road loyalties lie.
3. Good Power, Nice Sound, Decent Ride
Suspension, chassis, and cosmetic improvements round out the list of changes made to the 2017 Toyota Tundra TRD Pro, with virtually nothing else about the truck varying from what you'd find in a mid-range edition of the pickup's playbook. This is in most ways a good thing, because it means you can use the Tundra like a truck, rather than deal with compromised towing, hauling, or ride comfort issues. The vehicle's standard 381 horsepower, 5.7-liter V8 makes sweet music out of its TRD-stamped dual exhaust system, its six-speed automatic transmission is geared to spin the tires if you get on the gas a little too enthusiastically, and the suspension's off-road focus doesn't detract noticeably from on-road handling. The truck feels quick enough to be fun without overpowering the brakes or tires, and you can hitch up a trailer and haul just under 10,000 lbs if the mood should strike you.
4. Barebones Interior Feel
The interior of my Tundra TRD Pro was a bit of a puzzler. Standard leather buckets are nice, but it took me three days before I could locate the tiny heated seat buttons shoved up under the center of the dash. Similarly, navigation is present with the Entune touchscreen audio system, but there's no standard automatic climate control which means fiddling with big knobs to find the right temperature. It's a weird mix of gear, but it reflects the affordable, roughly $44k price point for the TRD Pro, which is more about breaking trail than worrying whether you're going to break a nail on the harder plastics in its cabin. If you're seeking comfort, you can snag a Tundra Limited for roughly the same coin and trade all that rugged gear for a smoother day-to-day.
5. A Bit Of A History Lesson
One other bit of bad news about the Toyota Tundra TRD Pro isn't specific to this model, but applies in general to the Tundra line-up as whole: it's getting a little old. More than a little, in fact, as Toyota hasn't really redesigned the truck since it first appeared back in 2007, opting instead for facelifts and feature updates over its decade-long existence. The lack of investment shows, particularly when compared against more modern full-size trucks from Ford, Ram, and GM. The Tundra is a 'good' truck, to be sure, but it's facing off against a pack of 'great' trucks which puts it in tough to dazzle in their company.