5 things you need to know about the 2017 Genesis G80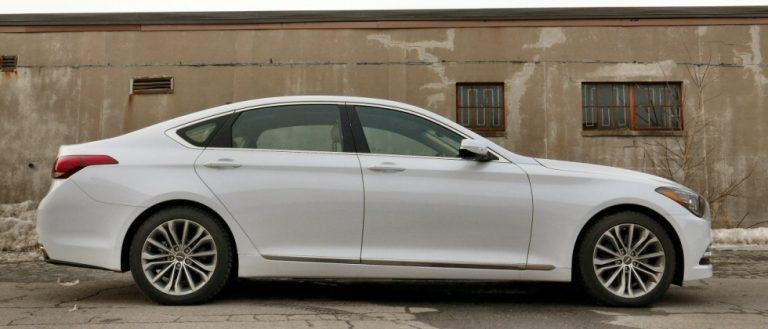 The 2017 Genesis G80 is part of the newly-minted luxury brand's one-two punch to shake up the premium segment. Positioned just under the long-wheelbase G90 sedan, the G80 represents an upgrade over last year's Hyundai Genesis four-door on which it is based.
Genesis is looking to take on the likes of Lexus, Audi, and BMW in terms of attracting customers, and it's betting big on a mix of high quality automobiles and a high end experience for its owners (including concierge service, lengthy warranties, and eventually it's own independent dealership system) to lure them in. The G80 is currently the thin end of the company's brand strategy wedge, but don't make the mistake of thinking that its position as the most affordable Genesis means any corners have been cut.
Check out these 5 things you need to know about the 2017 Genesis G80.
1. Build Quality Feels Exceptional
There's an old auto biz cliché that true luxury sedans have doors that close with the authority of a five-ton bank vault, and while that may no longer be the standard in an age where the word 'premium' encompasses a vast array of price points, it's certainly accurate when describing the Genesis G80. In fact, I regularly stopped to note just how surprising it was to encounter that sensation when exiting the G80, given its relatively affordable pricing (more on that later). Interior furnishings are of a similarly high quality. There are worse build quality targets to aim for than the W126 S-Class, and the G80 had me thinking back to that masterpiece more than once.
2. Engine Options Should Please Everyone
I spent a week with the 3.8-liter V6 version of the 2017 Genesis G80, but that model's 311 horsepower and 293 lb-ft of torque are but the tip of the iceberg when perusing the sedan's drivetrain choices. You can also upgrade to a 420 horsepower, 5.0-liter V8 that produces 383 lb-ft of twist, or my pick of the bunch, a 3.3-liter V6 that churns out an (underrated) 365 horses and 376 lb-ft of torque (available for the 2018 model year under the G80 Sport moniker). An eight-speed automatic is standard across the board, but if you want all-wheel drive you'll have to restrict yourself to the adequate, albeit not lightning-quick V6 outfitted to my tester.
3. Rear Seat Is Gigantic
The true test of a luxury sedan's mettle is often the cushiness of its rear accommodations, and while the G80 might no longer be the largest vehicle in the family – moving to the Genesis banner from Hyundai now makes it the penultimate wheelbase – it still offers a big (and heated) back seat. Taller riders might complain about headroom, but nobody in my posse had any problems with the swank way they were treated by the G80's clear concessions to chauffeured driving.
4. Features, Features, Features
The 2017 Genesis G80 is extremely well-equipped right out of the box, with features such as HID headlights, a rearview camera, dual automatic climate control, adaptive cruise control, heated leather seats (up front), Apple CarPlay, Android Auto, and a long list of active safety features showing as standard. If you want to add opulence it's easy enough to delve into the options sheet and come back with a panoramic sunroof, cooled seats, parking assistance, one of two larger touchscreen infotainment systems, a power trunk lid, upgraded audio, and a host of trim and seating accoutrements. It certainly compares well when contrasted with the more basic entry-level equipment from the German and Japanese sedans it vies against.
5. Pricing Is Quite Competitive
One of the most shocking aspects of the 2017 Genesis G80 is its sticker price. The base car starts at just a tick over $41,000, with the V8 model topping out at $54,550. This is significantly less expensive than the Lexus GS ($46k) and the Audi A6 ($47k), cars that also happen to be somewhat smaller than the G80's full-size dimensions. To get the gear that you do for such an affordable ask would be noteworthy in any segment, but to see it achieved with such a high level of quality and attention to detail is even more remarkable.