5 things you need to know about the 2017 Cadillac CTS-V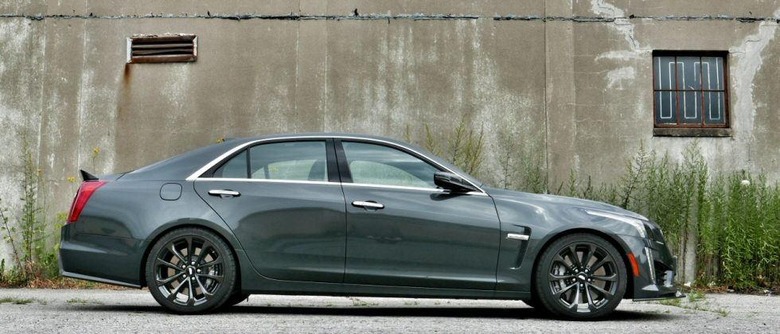 Say it ain't so: a week after I grudgingly returned my 2017 Cadillac CTS-V tester it was revealed that Cadillac will be nixing the ATS, CTS, and XTS automobiles entirely in favor of a single replacement sedan to be labeled the CT5. While the CT5 may get a high performance edition of its own one day, the current CTS-V marks the end of the line for one of the more unabashedly dominant sport sedans ever built. The third, and final generation of the Cadillac CTS-V is the most powerful and most refined of the three versions to have been unleashed on American asphalt, and it's a fitting swan song for a car that has continually pushed the limits of four-door performance. Check out these 5 things you need to know about the 2017 Cadillac CTS-V
1. Brutal Amounts Of Power, Perfectly Controlled
The 2017 Cadillac CTS-V is the most gifted sport sedan in its class by a significant margin, thanks to the decision to gift it with GM's supercharged 6.2-liter LT4 engine. This V8 lump – shared with the Chevrolet Corvette Z06 – generates 640 horsepower and 630 lb-ft of torque, numbers that are good enough to embarrass the outgoing BMW M5 (560 ponies) and even the all-new 2018 Mercedes-AMG E63 S (603 horses). Thanks to its larger frontal area, the Cadillac also manages to avoid the overheating issues that have plagued the Z06 since it was first introduced, giving you lap after lap of unfettered access to its gobs and gobs of output.
Cadillac has also elected to keep the CTS-V rear-wheel drive, a decision which manifests each and every time you floor the go-pedal and feel the business end of the car squirm and squat (even when rolling at highway speeds). And yet even with the car's Performance Traction Management system set to 'Race', with the eight-speed automatic transmission in charge there's really no moment where you run the risk of upending the Cadillac's fantastic balance. You're simply treated to incredible acceleration, with a factory-claimed 3.6 second launch to 60-mph and a quarter mile that disappears in under 12 seconds. Once it's time to bring the CTS-V back down to earth, Brembo binders clamp on to rotors the size of pizza platters and firmly anchor the car's velocity to the realities of your local speed limit.
The downside of having this much weaponized thrust constantly sitting under your right foot, egging you on to 'dip in' at every stoplight? Predictably horrendous fuel mileage: I recorded 18-mpg combined over a 700-mile road trip consisting of mostly highway driving.
2. Big Car, Big Cabin, Modest Weight
The Cadillac CTS-V is a legitimate family car, with enough room in the rear seat to accommodate full-size adults, and its generous cabin is no surprise given the eye-stretching nature of its long wheelbase (visually lengthened even further by the front splitter and rear wing of my test vehicle's Carbon Black Sport package). Surprisingly given its size, the V doesn't tip the scales with as much gusto as you might think: at just 4,129 lbs, the Cadillac finds itself in the unusual position of being one of the lightest cars in its class. Much of this is due to the modified Alpha platform that the CTS-V shares with the smaller ATS as well as Chevrolet's Camaro coupe, two other vehicles notable for shedding pounds in recent years.
3. Magnetic Ride Control Continues To Soar Above The Competition
By combining the 2017 CTS-V's low-mass design with GM's startling Magnetic Ride Control adaptive suspension, Cadillac has been able to make the large sedan feel lighter on its feet than one might expect. Able to change the car's damping to match road conditions and driver demands within milliseconds, the system offers exceptional capability when dealing with one corner after another on your favorite back road, or even the hard right-handers that litter Wisconsin's Road America race course where I had previously had the pleasure of flogging the CTS-V. More important, however, is the poise produced by this implementation of MagRide, meaning that the sedan delivers all of the above handling smarts without compromising daily driving comfort. That's a departure from the typically stiff-legged suspensions required to keep high-powered executive sedans on an even keel.
4. CUE Is Still In Beta
The 'Cadillac User Experience,' better known as CUE, has been a topic of derision almost since it was first introduced several years back. The CUE infotainment system and capacitive touch controls have drawn fire for being slow, difficult to use, and relatively unattractive as compared to what's on the docket from the competition. While I'd like to say the feature has gotten better with time, there are still issues that crop up even now that one should never have to deal with in a luxury car.
During my road trip in the CTS-V, for example, the CUE-based climate control system froze up, making it impossible to change temperatures or fan speed until I had shut the car off and turned it back on again – something I had to pull off of the highway to do. I had a similar experience three years ago while driving the ATS in which I had to initiated a CUE reset procedure at least five times over the course of a nine hour drive in order to continue using the radio. Similar problems, several years apart, do not impart much confidence in CUE's development.
5. Bargain-Priced Four-Door Supercar
Still, if wonky infotainment is the only real flaw of this four-door cruise missile with face-melting acceleration, then I'd have to believe most prospective buyers would be willing to overlook the occasional digital hiccup on their way to the Cadillac CTS-V's top speed of 200-mph. This rings even more true when examining the sedan's price: with a starting sticker of just $85,995, the CTS-V is significantly less costly than the roughly six-figure Mercedes-AMG E63 S, the previous-generation BMW M5 (still lingering on dealer lots), and the $113,000 Audi RS7. Each of these cars is not just more expensive, but also less powerful than the Cadillac, which double-underlines in smoking rubber stripes just how ridiculous the domestic supercar's market position truly is.