5 Things You Need To Know About Off-Roading In The 2017 Jeep Compass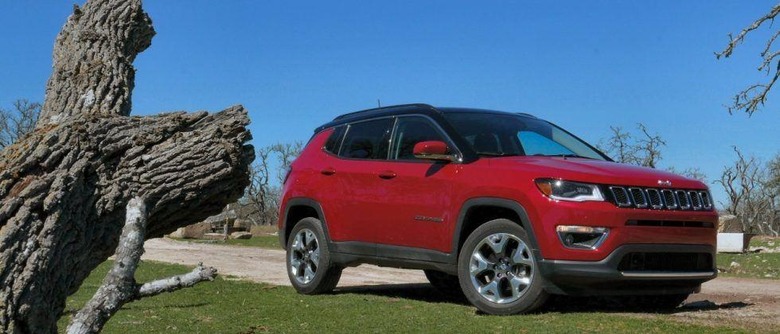 The 2017 Jeep Compass has been completely redesigned, and while it's primarily aimed at commuters looking to leverage its ample storage space, comfortable cabin, and available four-wheel drive, it can also deliver legitimate off-road capability worthy of the Jeep name. Check out these 5 things you need to know about off-roading the 2017 Jeep Compass.
1. All Jeep Compass Models Offer Excellent Ground Clearance
Even the two-wheel drive Jeep Compass comes with a respectable 7.8-inches of ground clearance, with the option of four-wheel drive adding another 0.4 inches on top of that number. It's no surprise that the Trailhawk model rides the tallest, however, with 8.5 inches of ground clearance available thanks to more aggressive tires and a suspension that has been designed to tackle rugged terrain.
2. The Jeep Compass Trailhawk Doubles Your Approach Angle
Thanks to differences in the design of its front fascia and bumper, selecting the Compass Trailhawk provides an approach angle to off-road obstacles of 30.3 degrees. This is double the more modest 15.8 degrees found with the entry-level Compass, and almost twice what the regular 4x4 edition of the SUV has to offer. The Trailhawk also delivers a breakover angle of 24.4 degrees and a departure angle of 33.6 degrees.
3. The Jeep Compass Offers Two 4x4 Systems
Most versions of the 2017 Jeep Compass feature the option of Jeep Active Drive, a four-wheel drive system that is completely automatic in its operation. Active Drive doesn't just work in an off-road setting but can also intervene on the road in order to help improve stability and performance while cornering, and when not needed it uses a power take-off system to disconnect the rear axle to boost fuel efficiency. The Compass Trailhawk introduces a new wrinkle with Jeep Active Drive Low, a 4x4 system that adds a unique 20:1 low-range gear suitable for crawling across difficult trails, through mud, or up hills.
4. The Jeep Compass Features The Selec-Terrain System
Every four-wheel drive equipped Jeep Compass comes standard with the Selec-Terrain system, which allows drivers to customize stability control, throttle sensitivity, traction control, transmission behavior, and 4x4 functionality based on the surface that must be traversed. Settings include Auto, Snow, and Sand/Mud, with the Trailhawk model gaining an additional Rock setting. Snow maintains a maximum 60/40 torque split front and rear while locking out first gear to enhance traction on launch, while Sand/Mud can send 100 percent of engine output to the rear axle should it be required. Auto constantly monitors driving conditions and shuttles power accordingly, only locking in four-wheel drive when necessary, and Rock is designed to help the Jeep Compass climb over obstacles and up treacherous inclines.
5. The Jeep Compass Offers Off-Road Cruise Control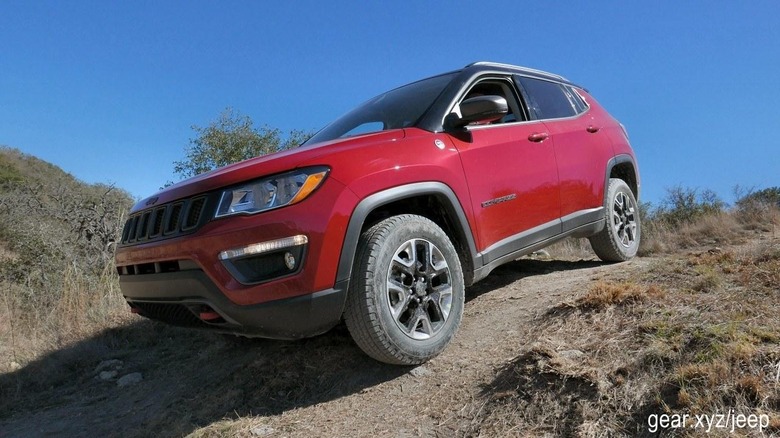 The Jeep Compass provides two unique methods for controlling your speed while trail driving. The first is hill descent control, a feature that lets drivers lock in a slow and steady pace that the Compass will maintain, despite the tug of gravity, by leveraging its anti-lock braking system. Hill ascent control offers essentially the same functionality, but instead provides measured forward progress when the Jeep is pointed uphill, or even moving across flat terrain. Each feature lets you focus on your steering inputs and picking the correct path rather than dealing with constant throttle and brake variations.