5 things you need to know about driving the 2017 Land Rover Discovery SUV off-road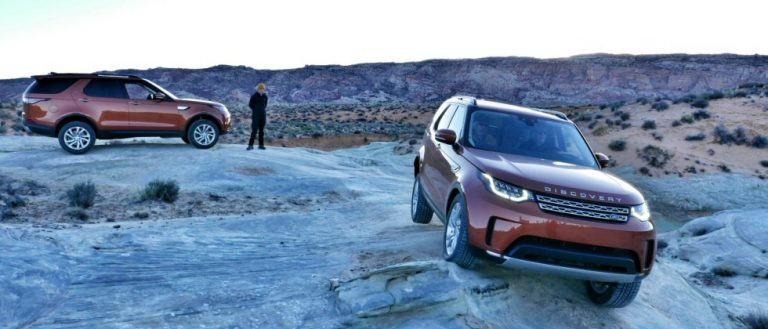 The 2017 Land Rover Discovery is more than just the latest family-friendly luxury SUV from the British brand. It also goes above and beyond when it comes to tackling off-road terrain that would have most other sport-utility vehicles in its class breaking out the maps to try to find a paved road around. That the Discovery is so effective on road and off, without compromising daily driving comfort, is an impressive accomplishment, and also a big part of what differentiates Land Rover from its rivals Mercedes-Benz, BMW, and Audi.
Let's take a look at 5 things you need to know about taking the 2017 Land Rover Discovery off-road.
1. Adjustable Air Suspension Offers Enhanced Ground Clearance
A lifted suspension system is one of the keys to scrambling over the rough stuff on the trail without worrying about damaging the undercarriage or getting hung up in deep snow, sand, or mud. The thing is, a tall-riding vehicle typically doesn't offer the kind of on-pavement handling or comfort that luxury buyers expect. For the new Land Rover Discovery, the solution was to stick with the company's adjustable air suspension system, which offers as much as 11.14 inches of ground clearance when set to its highest position. The four-corner air shocks also contribute to the 19.7 inches of wheel articulation (useful when climbing across uneven terrain), and nearly three feet of water fording capability.
2. Low Range Gearing Is Optional
All versions of the 2017 Land Rover Discovery come with full-time four-wheel drive, but those who are seeking an upgrade when it comes to off-road driving can opt for a two-speed transfer case. The low-range gearing is helpful for amplifying torque and getting out of tricky situations, and is better than relying solely on the single Torsen differential of the high range system. It's accessible as a 'shift-on-the-fly' design, too, which means you can swap in and out of four-wheel low at speeds of up to 37-mph.
3. Terrain Response 2 Takes Care Of The Details
Land Rover's Terrain Response 2 system – standard in the 2017 Discovery – takes a lot of the guesswork out of off-road driving by giving you five specific settings intended to customize the SUV's capabilities for the challenges it's facing. In addition to the 'auto' mode that is balanced to respond to changing conditions, there's 'grass, gravel, and snow,' 'mud and ruts,' 'sand,' and 'rock crawl.' Accessible via a dial on the center console, Terrain Response 2 affects things like torque split for the four-wheel drive system, suspension management, throttle response, braking, and stability and traction control so as to best parse the path ahead.
4. Low-End Turbodiesel Torque Helps On The Trail
Although a 340 horsepower, supercharged 3.0-liter V6 is standard with the 2017 Land Rover Discovery, for an extra $2,000 you can swap in a 3.0-liter turbodiesel V6 that drops to 254 ponies but boosts torque substantially to 443 lb-ft. The diesel engine is a benefit in off-road driving for three reasons: its reduced throttle sensitivity makes it easier to modulate wheel spin, its low-end torque delivery gives you the power you need almost immediately, and its better fuel efficiency lets you stray farther from civilization thanks to a boost in driving range.
5. All-Terrain Progress Control Takes Your Foot Off The Gas
For those just getting used to off-road driving, it can be overwhelming to have to deal with the small throttle adjustments, incremental steering inputs, and braking demands that come with slowly picking your way forward on a difficult trail. The Discovery's All-Terrain Progress Control system functions like off-road cruise control, letting you set a very low speed that the SUV will keep too while you focus on positioning the truck properly. It removes several crucial factors from the equation of not getting stuck, and simplifies things for rookies and experienced drivers alike.