43-inch LG 4K monitor crams four 1080p displays in one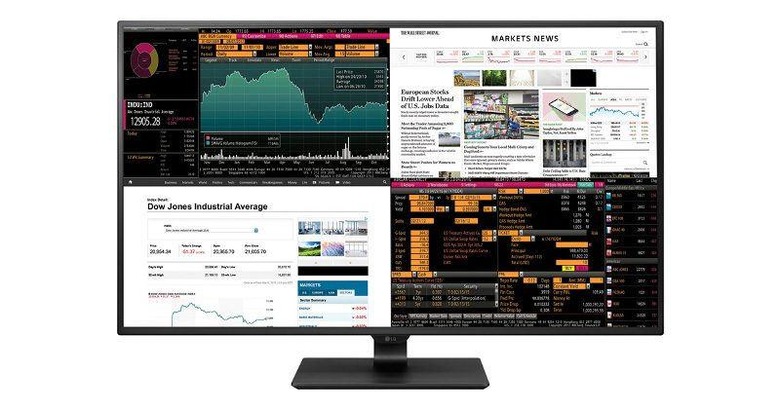 When you have a huge monitor, like 42.5 inches huge, you'll probably never run out of space. In fact, you might actually run out of content sooner instead. That might be a lot of wasted screen real estate, especially when you have a 4K resolution. The upcoming LG 43UD79-B solves that problem by allowing users to put up to four displays in a grid, with each display showing content from a different source.
Yes, the 43UD79-B is like what you'd get if you put four 21-inch 1080p monitors together. Except, of course, it looks nicer and comes in one complete package. A glance at the specs might make the LG monitor sound almost boring. 42.5 inches, 3840x2160 pixels, 60 Hz refresh rate, 1000:1 contrast ratio, 350 cd/m² brightness, just to name a few.
In truth, however, it is made for extreme multi-tasking. The monitor is loaded with input ports, including two HDMI 2.0 inputs, two HDMI 1.4 inputs, one DisplayPort, and one USB-C port that's actually capable of DisplayPort input as well. If that weren't enough, it has a built-in KVM switch that lets you control up to two computers.

What this means, in practice, is that you can get video input from up to four sources, be it computers, media players, or even a console, and comfortably see all of them at the same time. Well, as comfortably as you can view four screens simultaneously. And while the 60 Hz refresh rate might be atrocious to some gamers, the monitor makes up for it with features like Game Mode, Black Stabilizer, and AMD FreeSync.
And at the end of the day, when all the work, or gaming, is done, you can lean back, relax, and turn the monitor into a 4K TV, thanks to the two 10 W Harman Kardon speakers. The LG 43UD79-B 4K monitor launches in Japan on 19th May for 83,000 yen, roughly $742. International availability has not yet been announced.
SOURCE: LG