3rd Gen Echo Dot is out of stock and won't be back for a while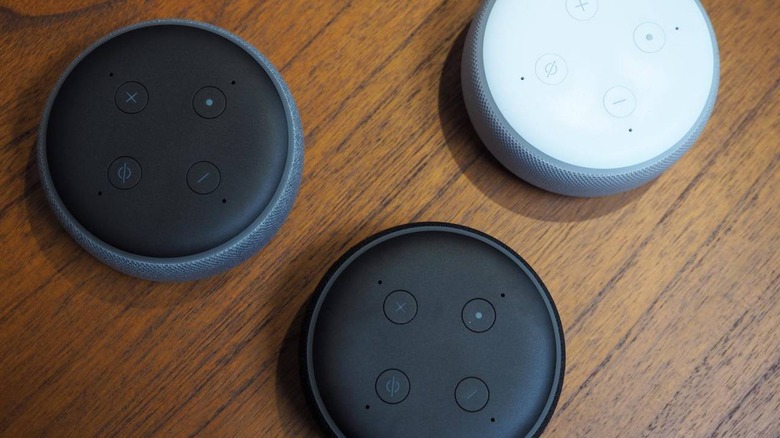 If Amazon's 3rd generation Echo Dot is on your short list of items to buy, it looks like you're going to be waiting a little while. It seems that the little smart speaker has encountered a bout of sudden popularity, as Amazon's stock is sold out. The worst of it is that the Echo Dot won't be back in stock for at least a couple of weeks.
If you take a look at Amazon's listing for the Echo Dot, you'll see that the Charcoal model won't be back in stock until February 21, which is a little more than two weeks away. It gets worse for the Heather Gray and Sandstone models, which won't start shipping out until March 4 and March 9, respectively.
Amazon told CNET that the response to the new Echo Dot, which launched in October, has been "incredibly positive," and said that it's working to replenish its stock. It didn't really give us any insight into why the smart speaker has suddenly sold out, but it doesn't just seem to be a problem with Amazon's stock, as Target and Best Buy are also showing that they're sold out.
In the case of Best Buy and Amazon, you can still place an order now and have it ship when new stock is available, but Target has seemingly closed online orders. There's also a chance of finding the Echo Dot in store at both Target and Best Buy, but those are obviously going to be harder to come by as available stock dwindles.
At this point, we'd recommend considering the 2nd generation Echo Dot if you're dead set on getting one as soon as possible, but with the arrival of the 3rd gen Dot, Amazon removed the older version from its store. We'll see if these stock issues get hammered out any sooner than Amazon is anticipating, but at this point, it looks like we'll be waiting until at least the end of February.