3M MPro120 Pocket Projector Review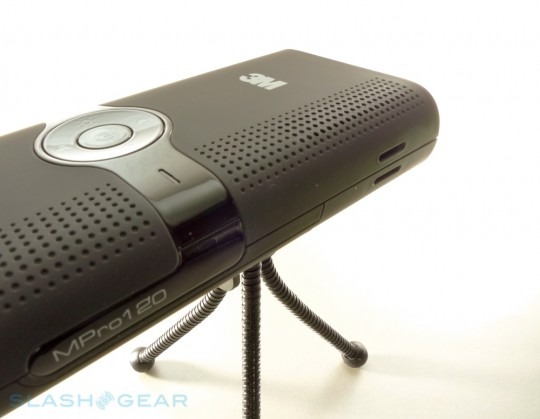 We've reviewed our fair share of pico-projectors here at SlashGear, and while they've often had impressive aspects to their performance, there's been nothing that pushed them out of "expensive toy" and into "must-have accessory". 3M are hoping that their latest model does just that: the 3M MPro120 is the company's second-generation attempt at the pico platform, using a new LCoS imager and four times the battery life. Can it earn a permanent place in our bag? Read on for the full SlashGear review.
Compared to the MPro110, its first-gen predecessor, the MPro120 is larger and better put together. It also gains a voice – in the shape of integrated stereo speakers – and a chunkier battery, promising around four hours of runtime versus the 110's measly single hour. In terms of design, the 120 is far more visually appealing, too, with a matte-finish plastic case bisected by a glossy button strip. Hardware controls include power, brightness, battery status and volume, together with a firm but not too tricky focus dial up front by the lens.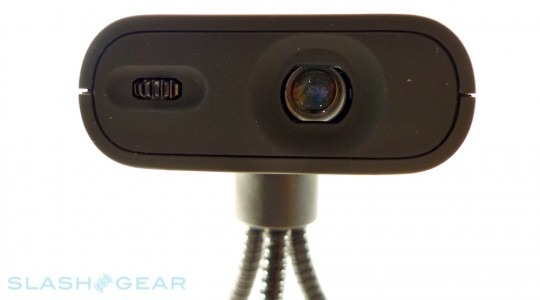 Underneath there's a standard tripod bush for use with either the included bendy-legged mini-tripod or your own, together with a neat flip-down stand that can be used for more impromptu setups where you just want to angle the MPro120 up slightly. On the back there's the DC power input – the Li-Poly battery can be charged and the MPro120 used simultaneously – and the A/V port. 3M supply various adapters for the AC plug, suitable for travelling, together with both a composite video cable for use with a standard source (plus RCA converters so you can plug, say, an iPod A/V output cable directly into the MPro120) and a VGA adapter cable for plugging in a notebook or netbook.
Setup is straightforward, and instantly benefits from both the better quality build and the new optics. The focus dial is less prone to drift than on other pico projectors we've used, but doesn't go so far to the other extreme that it's impossible to tweak without jerking the MPro120 all around the table. Meanwhile the new LCoS (liquid-crystal on silicon) optics require less space in order to create a bigger picture, so you'll see a larger 640 x 480 VGA-sized projection than the MPro110 at the same distance. You might lack the resolution of a 32-inch HDTV, but you can readily achieve the scale in a smallish room, making the MPro120 ideal for hotel rooms and the like.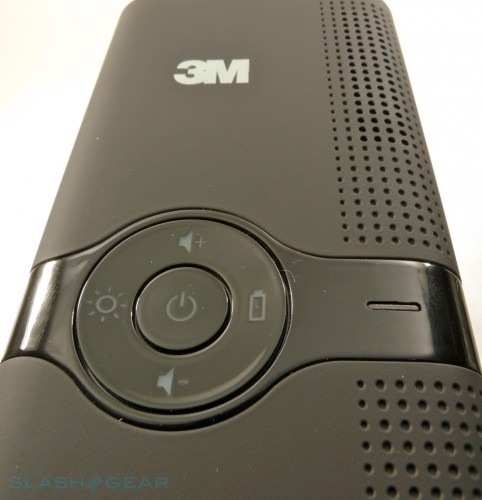 With a mere 0.5W from each stereo channel, the MPro120's speakers aren't exactly setting out to knock you off your feet. There's no 3.5mm headphone socket, but given 3M haven't granted the pico an onboard media player, as on some of the rival projectors we've seen, that's not likely to be too much of an issue. Sound quality, though, is pretty loud all things considered, and while at the top end there's increasing amounts of distortion, the MPro120 does a decent job keeping up with film soundtracks.
Also keeping up is the new battery, which offers two power settings. If you want to get close to 3M's four hour prediction you'll need to leave the MPro120 in "normal brightness" and play it cool with the speaker volume; "high brightness" mode, meanwhile, will drain the pico in half the time. Still, we came close to 3M's suggested times in both settings, either of which is enough for a good few episodes of your favorite TV show download or even a feature film. Since you can run the MPro120 while recharging it – something sadly lacking in some rivals – battery life needn't be an issue if you're near an AC point.
Sample shot: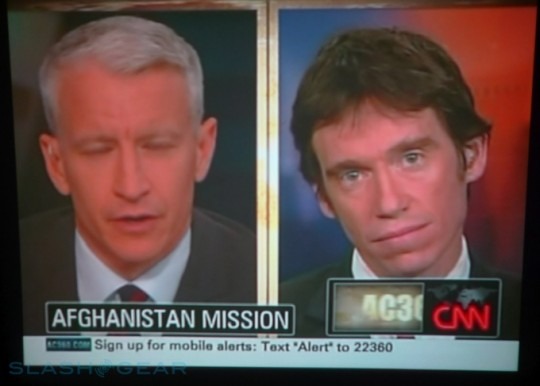 Despite a mere 12 lumens of brightness and its limited resolution, the MPro120 puts up a decent fight. Presentations lack some clarity around smaller text, but faster moving scenes and bright colors are both handled well. Darker colors and areas of strong shadow continue to be a problem, with murky greys more likely than true inky blackness, but it's certainly ahead of many other picos.
At $350, though, it's still priced as a luxury, and one we reckon few will be able to justify. What's hopeful is the fact that the MPro120 is light-years ahead of its predecessor, and yet the pico manufacturers are still telling us that technologies like LCoS – as well as other systems – are still in their infancy. We won't see 1080p any time soon, but it's not beyond the realms of possibility to expect twice the resolution offered by the MPro120 in devices arriving next year. Still, if you want a pico projector that's capable of both notebook content and A/V, with impressive battery performance and build quality to the point where you're happy to dump it in your laptop bag and not worry it will have fallen apart, the 3M MPro120 projector ticks all our boxes.
3M MPro120 Unboxing and walkthrough video:
[vms 58a9fcaf239cc55d5336]
3M MPro120 Sample videos:
[vms b0cbbf816bbb65d56947]