3M MP220 Mobile Pico Projector hands-on
Pico and pocket projectors have continued to evolve and improve and are become increasingly popular. While just a few short years ago the thought of having 50 lumens of brightness on a battery powered device seemed out of reach. 3M has continued to bring the latest and greatest in projectors to the table. It might not be the brightest, or last the longest but they've found a great happy medium with the MP220.
What sets the 3M MP220 apart from the rest isn't that its fully portable and battery powered, or that it offers 2 hours of battery life. What's important is they've managed to offer an impressive 50 lumens of brightness AND 2 hours of battery life in one compact and portable package. We recently reviewed the AAXA P4 that offered 80 lumens of brightness, and it was impressive but only lasts 70 minutes if you're lucky.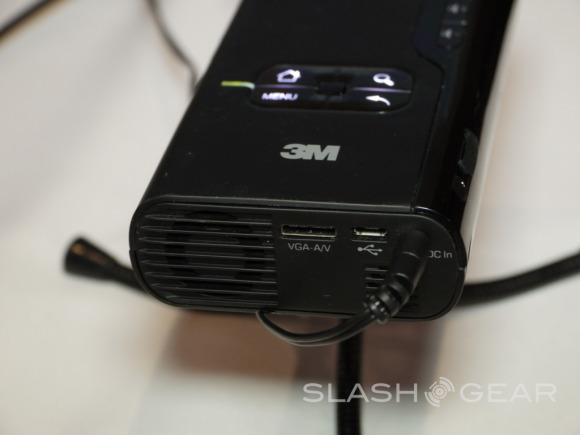 The 3M MP220 has all the features we've come to expect from our pico projectors too. Offering 2GB of internal storage with option micro-SD for expanded storage, micro-USB, and plenty of AV and VGA inputs. Projecting all that across a 65" screen and a WSVGA (1024 x 600) native resolution. The MP220 also comes equipped with stereo speakers, and a 50 lumen engine that lasts up to 20,000 hours all weighing under a pound.
Like we said above, it might not be the brightest or the smallest — but offering portability, quality, brightness, and that all important battery life all-in-one is the key difference here. The LED-lit navigation buttons were a nice edition as I've used a few in the past and trying to find the right button in the dark can be a challenge. The only con from my initial impressions is the lack of HDMI options — a feature many pico's have been missing.
The 3M MP220 Mobile Pico Projector is slated for a late April launch and will come to market priced around the $479 mark. Expect a full SlashGear review soon!