32 New York City Parks Getting WiFi Access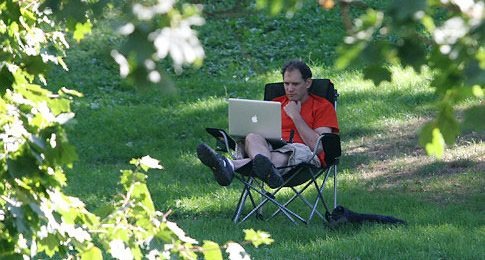 WiFi is something that a lot of people need now a days. For others, it's a luxury that they love to find randomly throughout their day, from one location to another. While some establishments, like McDonald's and Starbucks, have made WiFi a normal every day occurrence, there are still some frequented locations out there that have yet to get the treatment. For 32 parks located inside New York City, you'll now be able to access your email on your laptop, right from the grass, thanks to some new WiFi coverage being implemented there.
But, it's not all good news. While unlimited WiFi at a park, for free, sounds great, and that's indeed what you're getting here, it's not always free. In fact, you only get 30 minutes of free WiFi access per month. And it's not in a 30 minute increment, either. You get 10 minutes per access, and then you have to take a break. The WiFi access itself will be supplied by Comcast and Time Warner, which means an exchange was made: for their efforts, the two companies get a ten year extension of their city cable contracts.
After you finish up your 30 minute access, probably sooner than in that month time, you'll have to pay 99-cents to access the WiFi network. This probably means that the companies involved will see a boat load money, considering 99-cents doesn't seem like all that much to get that extra access — especially considering you're (hopefully) in a nice park. We'll see how this pans out — it will probably start popping up all over the place soon enough.
[via NY Daily News]