3 year old "space whiskey" yields unprecedented flavor profile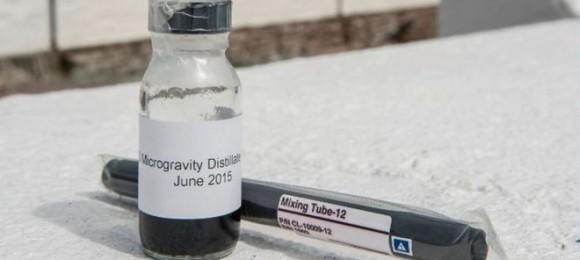 Space and food, especially liquids, have always been a puzzle for scientists and engineers and a conundrum for astronauts. And apparently now a source of new flavors for breweries. Ardbeg Distillery sent a vial of its unmatured malt whiskey to the International Space Station in 2011 to study how near zero gravity could affect the flavors of food, and in particular the maturation of wine. It finally got back that vial to compare it with a sample from a similar batch kept here on Earth, and the results were, well, out of this world.
Unsurprisingly, the Earth-based whiskey tasted just as Ardbeg had intended it, with a woody aroma and hints of cedar, sweet smoke, and balsamic vinegar.
"The sample had a woody aroma, reminiscent of an aged Ardbeg style, with hints of cedar, sweet smoke and aged balsamic vinegar, as well as raisins, treacle toffee, vanilla and burnt oranges.

"On the palate, its woody, balsamic flavours shone through, along with a distant fruitiness, some charcoal and antiseptic notes, leading to a long, lingering aftertaste, with flavours of gentle smoke, tar and creamy fudge."
The "space whiskey", on the other hand, had a particular "antispetic" tang to it, with a more intense and longer aftertaste.
"Its intense aroma had hints of antiseptic smoke, rubber and smoked fish, along with a curious, perfumed note, like violet or cassis, and powerful woody tones, leading to a meaty aroma.

"The taste was very focused, with smoked fruits such as prunes, raisins, sugared plums and cherries, earthy peat smoke, peppermint, aniseed, cinnamon and smoked bacon or hickory-smoked ham. The aftertaste is intense and long, with hints of wood, antiseptic lozenges and rubbery smoke."
At the heart of this experiment was the observation of terpenes, the organic compounds responsible for flavor in foods as well as in wines and whiskey spirits. As with almost everything, micro gravity has an effect on the behavior of these compounds, which would in turn affect the maturation process and flavor of substances like wine.
It's not necessarily a bad taste, but definitely a stronger one, with subtle differences in hints of earth-based spices and scents. To Ardbeg, it opens up the doors to newer and more complex flavors than it already has in its portfolio, but one that may require sending more such samples to space. That might take a while. The 2011 launch was from an invitation from NanoRacks, a Texas-based space research company. There is no word yet on what Ardbeg plans to do with its discoveries. Perhaps in the future, when SpaceX's vision of cheap space travel as been fulfilled, such space food and beverages will become a more feasible, but also more expensive, delicacy.
SOURCE: BBC