3-In-1 Mouse Adds A Speaker And Microphone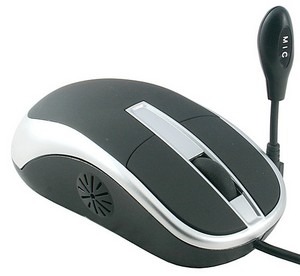 This 2-button plus scroll wheel mouse has a couple of other functions as well, namely it has a built in speaker and microphone so you can use it for VoIP calls. The mouse is a low 800dpi optical mouse, but that should be sufficient for on the go as you probably wouldn't be caught dead with one of these unless you were on the go.
The mic is detachable and you can simply unplug the speaker cable to disable it, so you could just use it as a regular run of the mill mouse. On the other hand, the mic looks to have a standard 3.5mm audio jack so plugging it directly into your computer might be an option as well provided your laptops microphone port isn't on the back of the laptop.

If for some reason you want this highly functional, yet exceptionally drab mouse, you can get it for $15.99. And, as I said, it wouldn't be a half bad investment if you are a business user frequently taking calls via VoIP while you are on the bus, in the airport, or otherwise on the go.
[via redferret]