2GHz ARM Cortex-A9 Dual-Core Processor Unveiled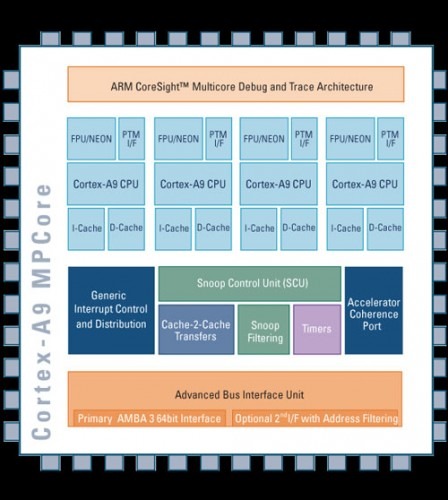 ARM processors have found their way inside all sorts of electronic devices that we know and love today from Smartphones to MIDs. ARM announced a new version of its Cortex-A9 processor today with dual cores capable of running at 2GHz and built from the TSMC 40nm-G process.
The processor is speed optimized for running at 2GHz and higher frequencies and will come in two different macro implementations. ARM replaced the advanced physical IP techniques in critical circuits with highly tuned logic cells and memories that help increase performance while lowering overall power consumption.
The Cortex-A9 power-optimized hard macro implementation delivers peak performance of 4000 DMIPS and consumes under 250mW per CPU when selected form typical silicon. Both of the hard macro versions share a seven-power domain, dual-NEON technology configuration supporting symmetric multiprocessing OS' with up to 8MB of L2 cache. Both the speed-optimized and power-optimized macro versions are available to license today with deliveries expected in Q4.