21-foot X-Wing replica - It really flies!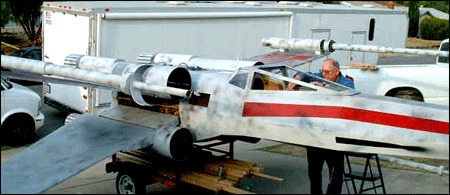 If you're a major Star Wars geek like me, you likely have more than one starship replica. However, if you've got a lot of time and knowledge of rockets, you build one that actually flies.
Andy Woerner is obviously a dedicated Star War fan. He (along with a small team) has constructed a 21-foot long X-wing replica which does indeed fly. Granted, you won't be taking off or landing vertically or blowing up the Death Star with this baby, but it does have four rocket engines attached to it.
Next week Andy is going to be taking it out for a test run (it's going to be unmanned, don't worry) out in California. Lets hope that it survives the maiden voyage. A crash would likely create a great disturbance in the Force.
Man Creates 21-Foot Working X-Wing Replica [via gearlog]