2021 Mercedes-AMG GLA 45 packs a 382hp turbo four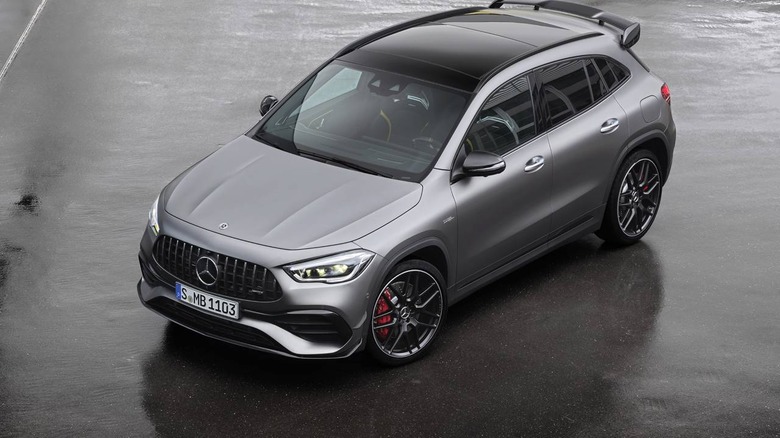 Mercedes has announced the 2021 Mercedes-AMG GLA 45 today, and the car is hailed as having the most powerful turbocharged four-cylinder engine in series production in the world. The M139 2.0-liter four makes 382hp and 354 lb-ft of torque. Mercedes says each one of those engines is built by hand by a single technician.
The engine sends power out via an AMD Speedshift DCT 8-speed dual-clutch transmission. Mercedes also fits the car with AMG Performance 4MATIC+ all-wheel drive that distributed power to the rear wheels selectively using AMG Torque control. The goal is to provide ideal traction for all environments. The fully variable all-wheel-drive system is a new feature for the car.
Other features fitted to the GLA 45 include a two-stage fuel injection system. The first stage is fast injecting using piezo injectors at pressures up to 200 bar. The second stage Is intake manifold injection using solenoid valves to attain the engine's high output. Mercedes uses a sophisticated cooling system for the engine, turbo, and charge air. The high-end cooling system helps keep the engine cool and running better.
The suspension of the car is optimized for dynamic handling with high directional stability and highly dynamic cornering characteristics with low body roll. Mercedes uses an aluminum double-wishbone to reduce unsprung mass, and the brake calipers are radially bolted on the front axle, something learned in motorsports. High-performance brakes stop the car, and it can be equipped with an optional AMG Dynamic Plus package that adds larger brakes. The GLA 35 and 45 will land in late 2020 at an unannounced price.
Mercedes also has the standard 2021 GLA 250 with the FWD and 4Matic versions landing this summer. They will use a 2.0L inline-four, making 221hp and 258 lb-ft of torque. All versions are fitted with lots of driver assistance systems.