2021 Jaguar F-Type gets new design and tech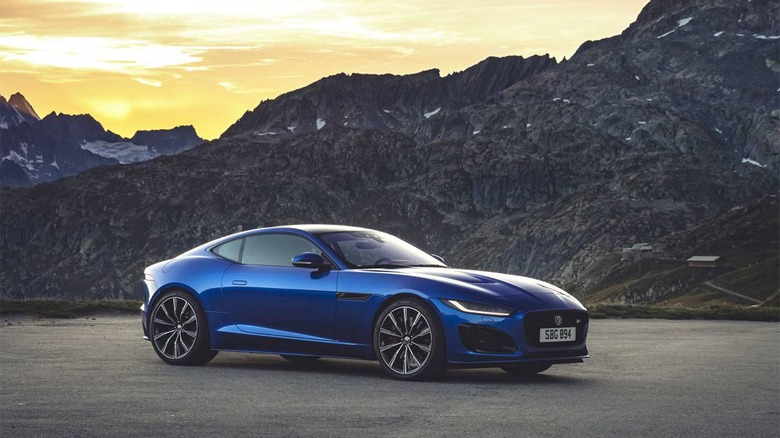 Jaguar has unveiled the revised 2021 year model F-Type sports car. The 2021 model gets a new design that Jag says is purer, more sculpted, and assertive. The ride has a new hood, enlarged grille, and unique front bumper design. The car has new super-slim LED headlights.
The new headlights are paired with "Calligraphy" signature J daytime running lights with slender LED tail lamps. The car can be had with a range of engines, including a four-cylinder, six-cylinder, and eight-cylinder engines. All are paired up with an 8-speed transmission with paddle shifters.
The turbo four-cylinder engine makes 296 hp with a single, central, quadrilateral exhaust finisher. The supercharged V6 produces 380hp and has two large round tailpipes. The R gets a supercharged V8 that has 575hp and quad, outboard exhausts.
The car also gets a reconfigurable, HD 12.3-inch TFT instrument cluster, Touch Pro infotainment system with Apple CarPlay and Android Auto as standard. The system can be updated OTA for new features down the road. Buyers can choose from a pair of Meridian sound systems.
Jaguar is offering 16 new colors in the SVO Premium Paint Palette in gloss or satin finishes. Colors include Ligurian Black, Ethereal Silver, Ionian Silver, Sunset Gold, Petrolix Blue, Velocity Blue, Tourmaline Brown, Desire, Sanguinello Orange, Atacama Orange, Sorrento Yellow, Constellation, Icy White, Flux Grey, Malachite Green and Amethyst.
Performance numbers for the turbo-four model include a 0-60 mph time as low as 5.4 seconds and a 155 mph top speed. The supercharged V8 version has all-wheel drive. The F-Type R with the supercharged V8 can reach 60 mph in 3.5 seconds and 186 mph on the top end. The new V8 offers 25 hp and 14 lb-ft more than the outgoing R model.