2020 Kia Niro Hybrid and 2021 Kia Seltos Debut in LA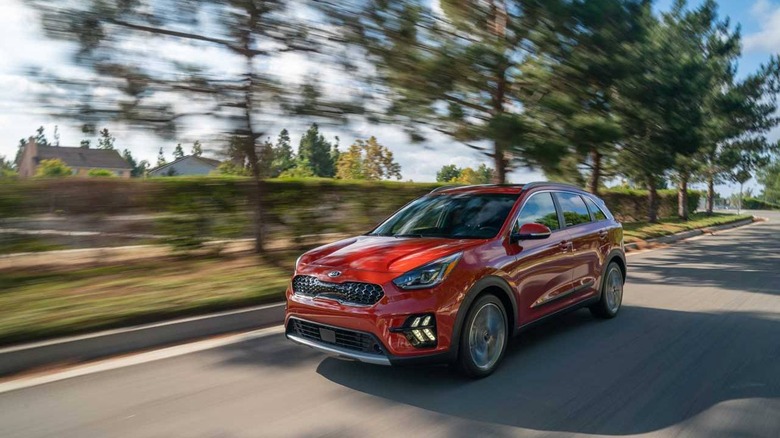 Kia has unveiled a pair of vehicles in LA that includes the 2020 Niro Hybrid and the 2021 Kia Seltos. The Niro Hybrid has received enhancements for its mid-cycle refresh that give it new projector-type headlamps and fog lamps. The grille has a diamond pattern and dual chevron-shaped LED running lights.
Niro Hybrid gets a wider and more pronounced faux rear skid plate, and rear LED combination lights. Kia also offers new 16-inch and 18-inch alloy wheel designs. Powertrain, exterior, and interior dimensions and capacities are the same as the previous model. The Niro Hybrid also gets Kia Drive Wise Advanced Driver Assistance with newly added Lane Following and Lane Keeping assist and high beam assist.
Pricing will be announced closer to launch, and Kia notes that the 2020 Niro Plug-In Hybrid will get the same enhancements. The other vehicle that Kia is showing off is the all-new 2021 Kia Seltos aimed at the entry-level SUV segment. The Seltos is designed to offer modern styling and sophistication while being well-engineered.
It will slot in the line between the Kia Soul and the Sportage. Power options will include a 2.0-liter engine or a 1.6L turbo-four cylinder. The turbo four makes 175 hp, and all-wheel drive is an option. Kia will offer the car in five different trims, including the LX, EX, S 2.0L, S 1.6T, and SX.
Kia says that the Seltos will launch into one of the fastest-growing segments in the industry in the first quarter of 2020. Complete pricing details will be offered closer to the on-sale date of the vehicle. However, the LX AWD will be priced below $22,000, and the S FWD will sell for a similar price. The vehicle will have a design theme similar to that of the Telluride and will have 7.2-inches of ground clearance.