2020 Honda Civic Type R gets a new color and datalogging app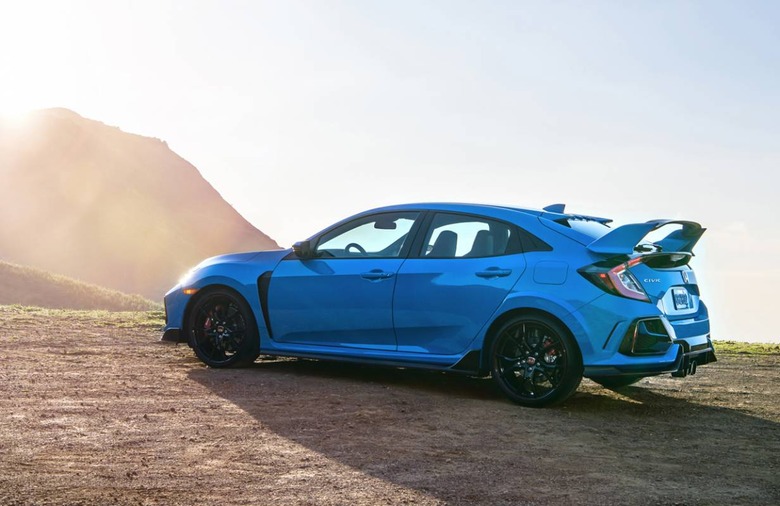 Honda has announced that the 2020 Civic Type R will arrive in dealerships in the United States on February 28. For 2020 the car brings with it some upgrades to the ride and handling as well as improved braking performance and engine cooling. One key new feature is the first-ever performance datalogging application for Honda that is exclusive to the Type R.
The new color available for 2020 is called Boost Blue. The 2020 Type R will sell for $37,950, including the destination charge, but you can bet dealers will tack on market adjustments as they have in years past. Other improvements for 2020 include a ten percent larger opening for the radiator that helps cool the car up to 18F better than past years. Honda revised the suspension with the Adaptive Damper Systems control software evaluating road conditions ten times faster than previous models.
The car also gets stiffer rear bushings in the lower B-arm for improved cornering. The suspension also uses lower-friction ball joints for improved steering film better control. Honda fits the car with new two-piece brake rotors with pads made from a more fade-resistant material. Inside the car gets a new Alcantara wrapped steering wheel with a new shift lever and suede shift boot. For 2020 the car also gets Active Sound Control to enhance engine sound naturally.
One of the big features of the car is the new performance datalogger that is a first in any Honda automobile and is exclusive to the Type R. The system is called the Honda LogR, and it combines the car's onboard computer and sensors with a smartphone app to help drivers monitor and record performance parameters when driving on a track or closed course. The app will be available for iPhone and Android users.
When driving, the LogR is displayed on the audio screen with more data available after the phone is unplugged from the vehicle. The center screen in the car allows the driver to see things in real-time such as oil temperatures, oil and atmospheric pressure, engine intake air temperature, and gear position. A G-Meter is also integrated. The system can also record lap times and gathers data on braking, cornering, and other parameters.