2020 Ford Super Duty truck has 1,400-pound front plow rating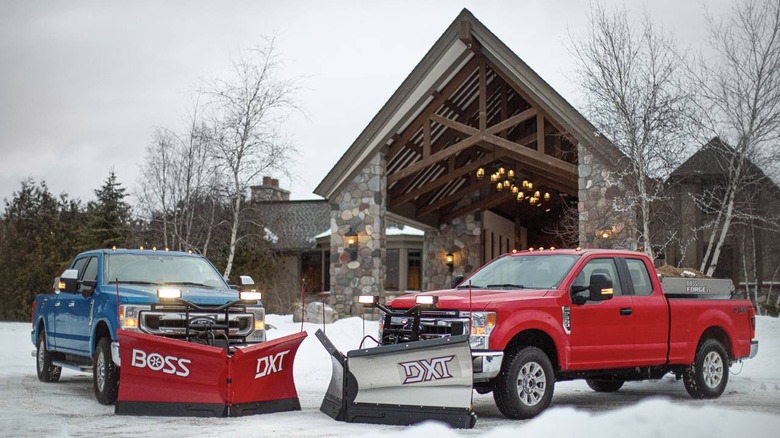 The 2020 Ford Super Duty line of pickups has a best-in-class 1,400-pound snow plow rating that includes the mounting hardware. Ford is bragging about the rating as it is an important feature for truck owners who live in snowy states where plowing their own roads or plowing parking lots as a business is a big deal.
The 2020 Super Duty is available with a Snow Plow Prep Package that readies the truck for up to 1,400 pounds for the gas version of the truck and up to 1,290 pounds for the diesel version. The Snow Plow Prep Package is available for 4x4 pickups and includes heavy-duty springs specific to each configuration and an up-rated alternator to deal with heavy electrical loads.
Snow clearing is big business in the US, with estimates pegging the value of the industry at $18 billion. The industry is also growing at about 3% annually. In the US, there are more than 22,000 commercial contractors and more than 75,000 sole proprietors. Survey data has indicated that the F-Series is the overwhelming choice for this industry.
The Ford F-Series owns nearly 50% of the market in the snow removal industry. Super Duty trucks have windshield wiper de-icer that preheats the windshield under the wiper blades to keep them free of ice to make the truck ready for cold weather. The vehicles can be had with a heated steering wheel and heated front and rear seats.
Ford offers optional white or amber LED strobe lights on XL, XLT, or Lariat trucks to take a step out of upfitting. The trucks also have a deep snow/sand drive mode on a version with the 10-speed heavy-duty TorqShift transmission.