2020 Audi RS6 Avant US launch confirmed: Here's the details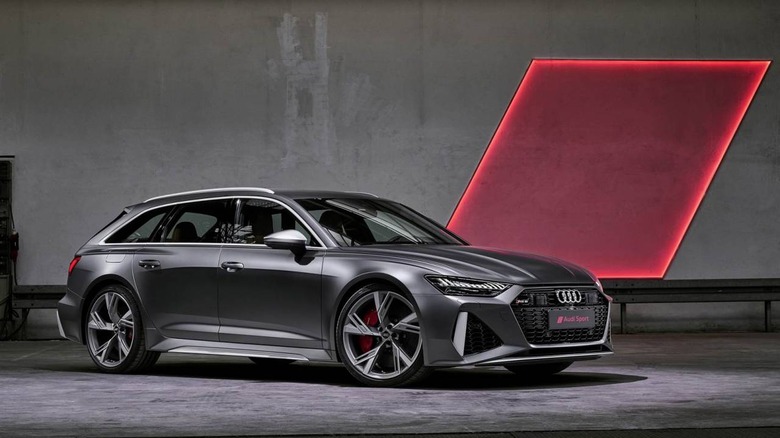 Welcome to America, 2020 Audi RS6 Avant! The unicorn with near-mythical status in the US makes its debut stateside for the first time later in 2020, the German automaker has confirmed, now in its fourth-generation and packing some serious V8 muscle along with a mild-hybrid powertrain. Frankly speaking, it's still a mystery to me why station wagons lost their allure in the US. It must be everyone's thirst for big, hulking land yachts or maybe the stigma of being seen in a boring, plebeian family car. I'm here to tell you first-hand that the 2020 Audi RS6 Avant is going to be anything but boring.
For starters, this isn't an ordinary A6 Avant with its five seats and plenty of space under the liftgate. no sir. "Throughout our 25-year RS history, the Audi RS 6 Avant is one of our absolute icons with a large global fan base," said Oliver Hoffman, Managing director of Audi Sport GmbH. This high-performance Avant is engineered for sportiness and practical benefits, which actually makes a ton of sense.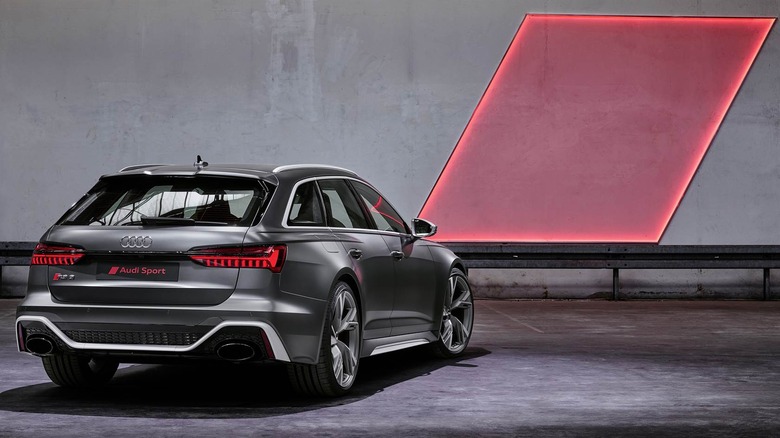 "This is what our customer wants to have. He or she wants to have a car for 365 days a year, for all situations: for the daily trip to the office, but can also take the whole family skiing on the weekend," explained Michael Binder, Product Manager for the RS6. "It really is a perfect car for daily usability."
Based on looks alone, every fiber in me screens this car going to be wild to drive. I'm yet to get behind the wheel – stay tuned for that report – but based on my previous experience with Audi Sport's RS cars, performance and handling are unlikely to disappoint.
If the phrase "station wagon" brings on memories of rusty, lumbering, wood-paneled boxy clunkers, it's time for a recap. The new RS6 Avant is not merely a go-fast version of the humble A6 Avant. Wider and more aggressive – both of which are pretty evident upon first glance – the RS6 Avant is stretched by 1.6-inches on each side, to give the car a broader stance.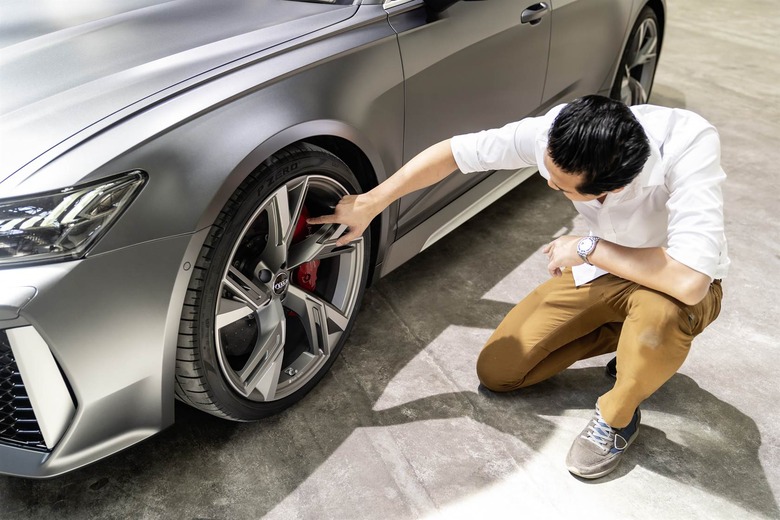 22-inch wheels are housed under flared wheel arches, further accentuating the outsized proportions of the car. The RS6 gets a new power dome hood and the front headlights of the A7, which can be optioned with RS Matrix LED laser lights. They flank a three-dimensional honeycomb Singleframe grille in gloss black.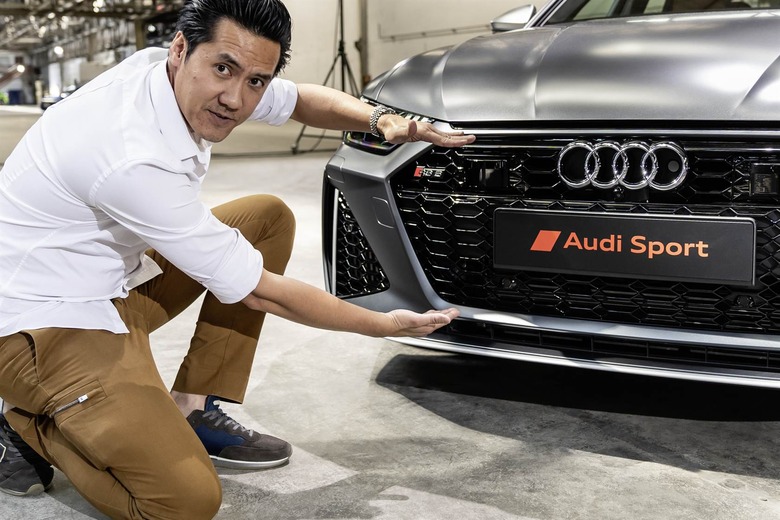 Interestingly, there are side inlets under the standard LED headlights, resembling the front-end of the Audi R8. Viewed from the side, the new RS6 Avant looks primed and ready to pounce. The long hood, straight roofline, flat D-pillars, roof-edge spoiler, and rear diffuser all contribute to the RS6 Avant's visual performance pedigree.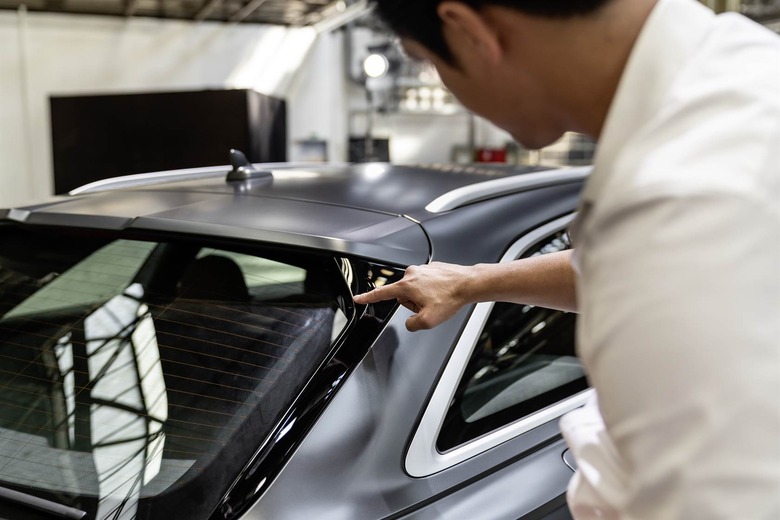 Dare I say the new RS6 Avant is the most compelling RS6 of all time? Hell yes! If you really don't like station wagons, no amount of prodding will change your mind. But, should you be open to the possibility of ditching a hulking SUV for a prettier and sportier alternative, the 2020 RS6 Avant will blow your eyes into submission, not to mention the competitors on road or track.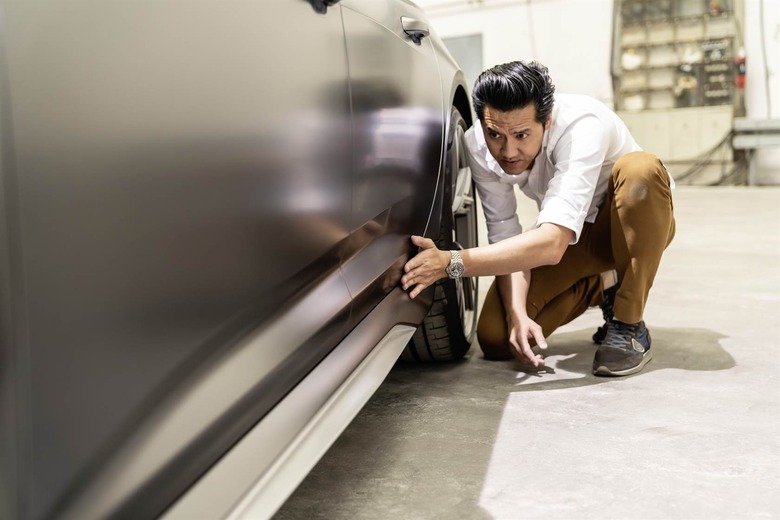 You see, that long, powerful, and the bulging hood is there for a reason. Underneath lurks a 4.0-liter twin-turbocharged TFSI V8 engine good for 591 horsepower (600 PS) and 590 lb-ft of torque (800 Nm). The engine produces max torque from 2,100 to 4,500 rpm, netting you a 0-60 mph time of just 3.6-seconds.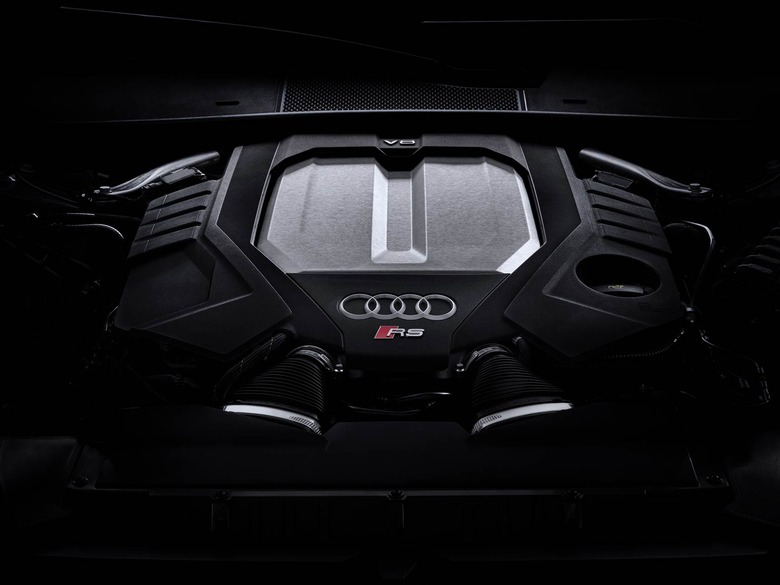 If my calculations are right, your "potential" family station wagon can rush from zero to 124 mph (200 kph) in just around 12 seconds, which is astonishing however you slice it up. With the Avant, you can drop the kids off at school, take your spouse shopping, and have a blast on the track without switching cars. And with a top speed of 155 mph (250 kph), you'll arrive sooner to your destination as fresh as morning dew. Just make sure you don't get caught.
Should you crave for something faster? Audi has you covered with the optional package plus, which bumps the speed limited up to a heady 189.5 mph (305 kph). Frankly something unheard of in a sporty yet practical station wagon.
The V8 also comes with cylinder on demand, or cylinder deactivation, to save fuel. Sadly, I must be the bearer of bad news that this feature won't be available stateside. However, it's still worth noting that the system shuts off four cylinders when coasting at higher gears, though by pushing down on the gas pedal you get the full V8 power automatically.
Like many of Audi's other recent cars, the 2020 RS6 Avant comes with a 48-volt main electrical system utilizing a belt alternator starter system. It recovers up to 12 kW of energy during light deceleration, power being stored in a separate lithium-ion battery. The goal is to allow the car to coast or recover energy up to 40 seconds each time with the engine switched off. This mild-hybrid system allows start/stop operations at speeds up to 14 mph, and Audi claims that this system alone can help save 0.8 liters of fuel per 100 kilometers in everyday driving. Mind you, this is not a significant amount compared to a full hybrid, but it's a nice thing to have if your station wagon is packing a thirsty V8 motor.
Power is routed via an eight-speed Tiptronic automatic to the standard Quattro permanent AWD system. In normal driving – think soccer practice or dance class – torque is distributed 40:60 front and rear, via an all-mechanical center differential. Drive it the way Audi Sport meant it to be driven, though, and the system can feed up to 85 percent of torque to the rear wheels, and up to 70 percent to the front wheels for normal driving conditions.
The standard wheel-selective torque control automatically applies the brakes to opposite wheels, while the optional Quattro sport differential in the dynamic package can shift varying degrees of torque between the rear wheels to further improve traction and stability. I also dig the standard RS adaptive air suspension with controlled damping. Say what you want about air suspension, but no system produces a more isolated and subdued ride than air springs. Audi claims the new RS6 Avant's system is equipped with a new air spring module, with a 50-percent higher spring rate.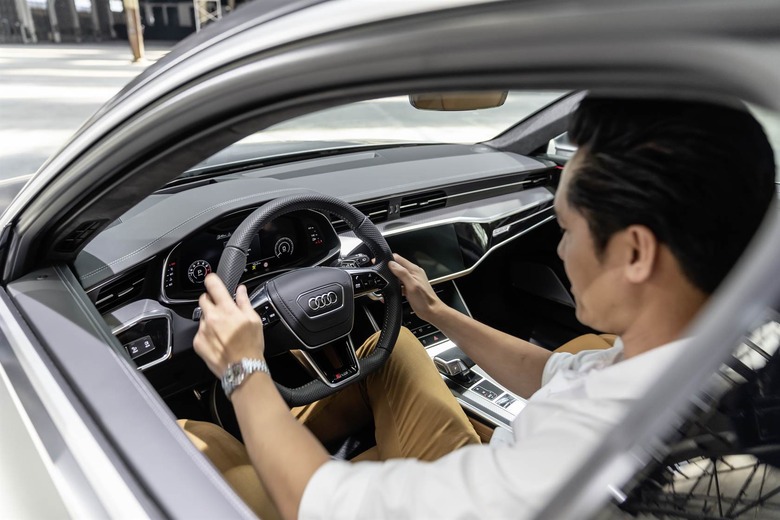 This contributes to a top speed of 189 mph with the dynamic package plus, which is a first for RS models with air suspension. "This new generation of the air suspension allows us to travel 305 kph (189.5 mph) while the predecessor was only limited to 174 mph (280 kph) with the old air suspension," said Binder. If you don't like the complicated nature of the air-sprung system, mind, you can choose the optional RS sport suspension with dynamic ride control.
Consisting of three-stage adjustable dampers and steel springs, the firmer ride quality ultimately leads to better handling. The dampers are connected to each other via diagonal oil lines and a central valve to regulate the oil flow. This reduces the pitch and roll movements as you attack a winding corner at speed.
So, I've established that the RS6 Avant looks amazing, it's fast, practical, and of course V8-powered. What about the interior, you might ask? You won't be disappointed. The sporty DNA gets a high dosage of premium luxury, like the new flat-bottom sport steering wheel wrapped in perforated leather. The RS shift paddles – which are still mounted on the steering wheel – are crafted from aluminum, while the tiller is home to an array of buttons to directly command RS1 or RS2 driving modes in the Audi drive select system.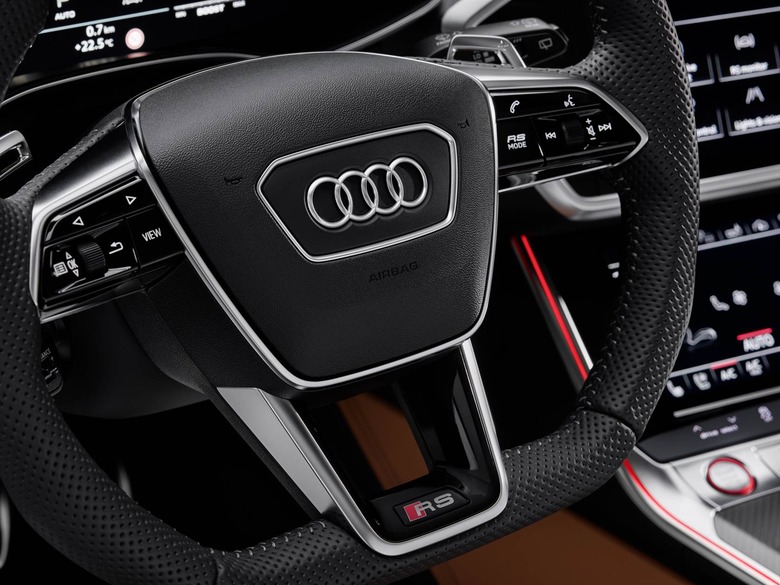 The sport seats are adorned in black pearl Nappa leather and Alcantara, while the front door sills are illuminated as well. You can choose perforated Valcona leather in a honeycomb pattern, or select from two RS design packages to personalize your RS6 Avant.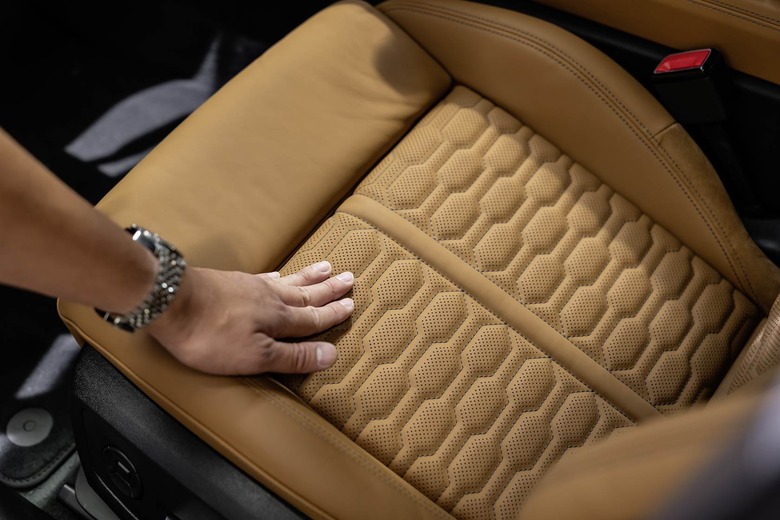 For me, one of the many reasons to seriously consider the new RS6 Avant is the interior and cargo room. The loading width in the luggage compartment is now 1.05 meters (3.4 feet), while the capacity is now 565 liters (20.0 cubic feet). Fold down the rear seats and you have 1,680 liters (59.3 cubic feet) to play with, which is more than you get from most crossovers. It even has a power tailgate with a foot gesture to open the hatch without your hands.
Audi says the 2020 RS6 Avant should go on sale in Europe in the first quarter of 2020. Meanwhile, you can expect the RS6 Avant at your nearest Audi US dealership later next year. Pricing and other specs will be announced closer to launch date, so stay tuned for more details.