2019 Ram 1500 flashes its grille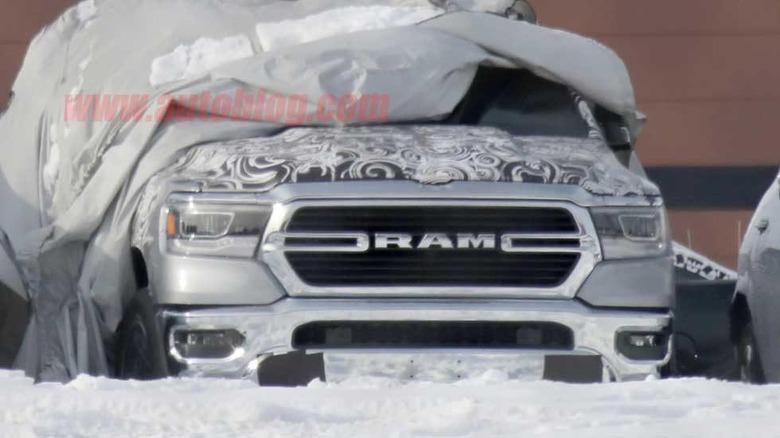 The refreshed 2019 Ram 1500 truck is set to get official at the Detroit Auto Show in a few weeks. That doesn't mean that fans of the truck aren't wanting to know what it will look like right now. Some new spy shots have turned up that give us our best look yet at what the refreshed truck will look like.
In these shots we see a camouflaged front end that gives us a good look at the grill of the truck. The Ram logo its in a little space in the middle of the grille surrounded by chrome bars. We assume that much like the current generation Ram trucks, this won't be the only grille to adorn the 2019 model.
There are different grilles for different trim levels and editions right now, but whether that will continue with the new truck remains to be seen. The headlights fit right in with the shape and flow of the grille with turn signals that match up well.
There are some things considered fact at this point. The truck will have a 5.7L V8 engine and likely the base engine will be a gas V6. With Ram fans being big into diesel power, you can expect a diesel V6.
One interesting tidbit came in the form of a spy video that turned up. That video shows that the doors and hood of the new Ram are aluminum while some of the body of the truck is steel. This was confirmed thanks to a little magnet.
SOURCE: Autoblog