2019 Chevy Suburban RST Performance Package features 420hp 6.2L V8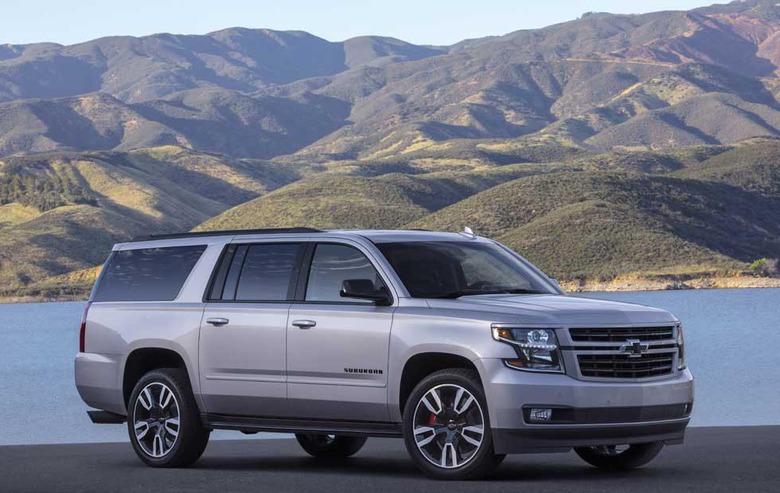 Chevrolet has unveiled the sporty Suburban RST for 2019. The Suburban RST slots into the line with the Tahoe RST that has already been available. The key upgrade for the Suburban in RST Performance Package is the 6.2L V8 engine making 420hp.
A big V8 isn't all the package brings, it also has Magnetic Ride Control with performance calibration and a Hydra-Matic 10L80 10-speed automatic transmission. Chevy will begin offering the 2019 Suburban RST later this summer and that big V8 packs 460 lb-ft of torque along with the 420hp. The engine uses direct injection, Active Fuel Management, and other tech for performance and efficiency.
The RST's 10-speed automatic has smaller steps between each gear ratio to maximize engine power and acceleration. Chevy's Magnetic Ride Control suspension changes the damping in the suspension as quickly as 5ms to control body motion and improve cornering.
Other features in the RST package include a custom tuned dual-side exit exhaust system by Borla. It has tips with a carbon-fiber look and promises to improve exhaust flow by 28%. One catch is that Borla is the warranty firm for that exhaust, not Chevy.
Nearly all shiny chrome trim is removed from the RST. The RST also adds body-color grille surround, door handles, and gloss-black grille and mirror caps with black roof rails, and window trim. The bowtie emblems are also black, and the RST gets 22-inch wheels with Bridgestone P285/45R 22 tires. The truck can tow up to 8,100 pounds; pricing is unannounced at this time.
SOURCE: Chevrolet