I took a class in the 2019 Corvette ZR1's 755hp schoolroom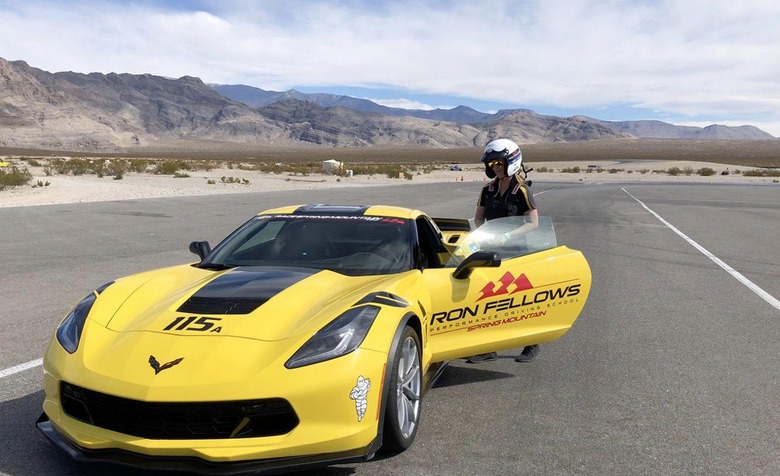 An hour from Vegas, past rolling brown hills and more than a few tumbleweeds, you'll find Spring Mountain Motor Resort and Country Club. A racing-enthusiast's oasis in the desert. Unlike most oases, though, this one can get seriously loud.
If you arrive in the evening you'll be struck by how eerily quiet and dark it is. With the sleepy town of Pahrump being the nearest neighbor, you won't hear dogs barking, distant car noise, or even crickets chirping. Just silence. But come dawn you'll be woken by engines revving, as cars and drivers begin warming up, eagerly anticipating the opening of the track.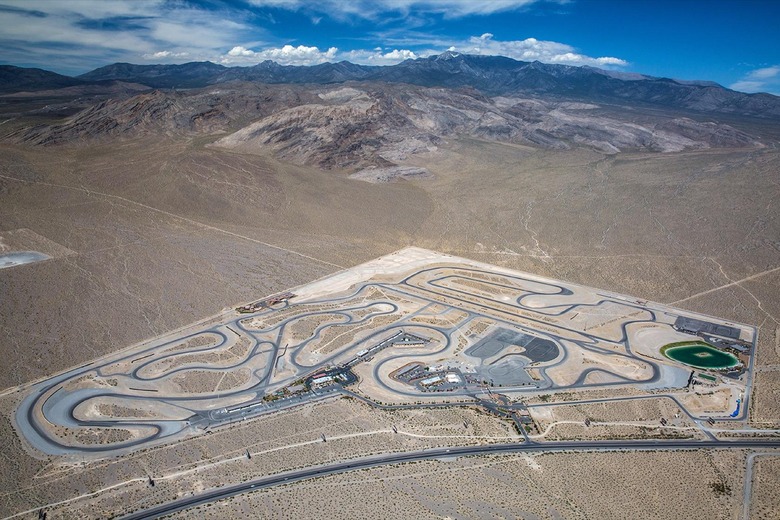 Spring Mountain hosts the Ron Fellows Corvette performance driving school, the Cadillac V-Performance Academy, as well as a racing school that caters to track newbies (such as myself) right through to experienced racers.
Chevrolet want new Corvette owners to really understand and enjoy the capabilities of their new cars, so when you buy a new Corvette, Chevy will cover between 60 and 100 percent -depending on the car you buy – of your two-day tuition at the Ron Fellows Performance Driving School. New ZR1 owners get their entire program fees covered along with accommodation and meals. With a fleet of 100 of the latest Corvettes on site, no matter what you've just purchased you're guaranteed to be able to drive that model during your training.
Having never driven on a track or indeed climbed behind the wheel of a Corvette of any kind, I was more than a little nervous, and also fairly curious to see how the cars – and I – would handle each of the activities.
We started our program with a few minutes of class time before getting equipped with helmets and head and neck support harnesses, tethered to your helmet to prevent excessive spinal damage in the event of a crash. As we were shuttled over to the tarmac and the waiting 6.2L LT1 V8 Stingrays, things started to feel real, and I was filled with excitement and nervousness in fairly equal measure.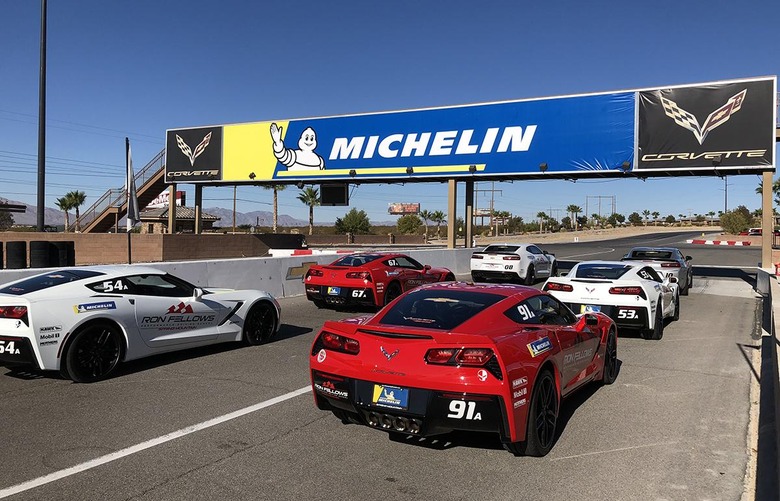 Sensibly, you're not just let loose on the main track from the get-go. Our first exercise was practicing cornering between cones on the tarmac to get used to the cars and develop our visual skills in assessing cornering lines. I started with great apprehension, but the instructors were so calm and professional that my confidence increased quickly, along with my speed.
After twenty minutes of cornering practice, our group was the first to go out on the track in the 6.2L LT4 V8 Z06. I'll admit to thinking they were all insane when they told us there wouldn't be an instructor in the car with us, that we'd be let loose in the 650hp monsters, with just a radio by our side and instructor in the lead car — especially given the chat I'd just had with the organizer about the cost we'd personally incur should we damage a car or part of the track. But after a few laps, taking turns behind the instructor to copy their line and speed I started having fun, and I mean REALLY having fun.
It was invigorating and thrilling to push the car harder and harder with each lap and feel it respond effortlessly. Plus, every 2019 Corvette navigation system is equipped with a Performance Data Recorder (PDR) accessed via an SD card in the glovebox. What this means is you can record video of your drive along with interior sound, telemetry, and 30 channels of information from the car. So, I was able to record my progress as my confidence increased through the laps.
All too soon we finished and moved onto the next exercise, but with promise of another go around later in the day I begrudgingly got out of the Z06 and back into the shuttle car.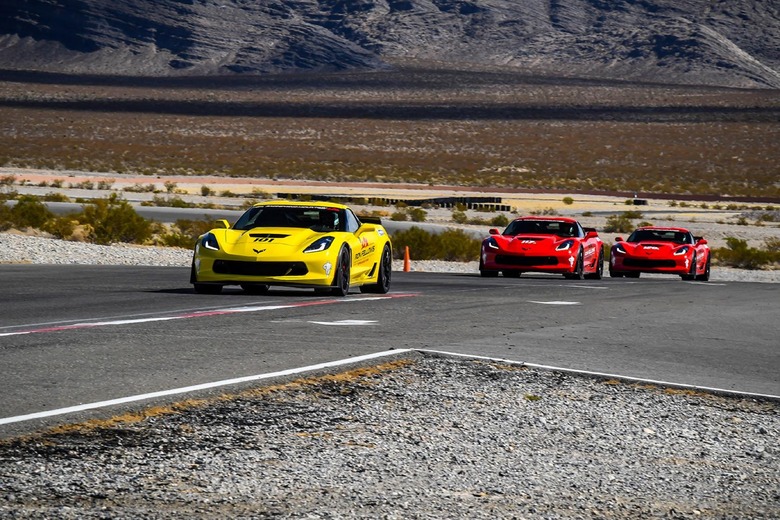 Next up was a barrel race. If you've ever been to a rodeo and seen the horses race through a complex obstacle course, then you'll be able to picture this exercise. Just replace the individual horses with 460 horsepower Grand Sport Corvettes.
Out on an expanse of tarmac the course was mapped out with orange cones, and we took turns racing through it to get the best times. Left around the first cone then floor it to the top of the tarmac to swing around the next cone with the steering wheel at hard lock and tires screeching, trying to kick the back out without losing traction for too long: that's only a shortcut to losing valuable time. Tearing over to the next cone as fast as possible, then hard wheel lock again before lining up the finishing box, foot to the floor, throwing you back in your seat before braking harder than you've ever had to brake before to make sure you don't overshoot the finishing line (and lose points).
I didn't think anything else we did during the program was going to be more fun than time on the track, but I was wrong. The barrel races were insanely enjoyable and you could let loose in a way that you couldn't on the track, knowing that the worst damage you could do would be taking out an orange cone. The barrel races were where you really got to know the car, and feel it come to life.
After a quick lunch break back in the club house, we regrouped and headed out to the tarmac again for slalom runs in the Stingray. We completed the slalom course as fast as we could without hitting any cones, first in Tour mode, then Sport, then Track to experience the marked difference in the suspension, steering and overall handling within each of the modes. I don't think I stopped smiling once while pushing the tires to their absolute limits.
Lastly, we were shuttled to where the 2019 ZR1s awaited, chomping at the bit to be unleashed on the track. Again we completed lead-follow laps, taking turns being behind the instructor car to learn from their lines. Initially I was incredibly nervous getting into the 6.2L Supercharged V8 ZR1 with 755hp (that's 105 more horsepower than the Z06), especially because I was already losing traction around several corners during the morning track session in the Z06.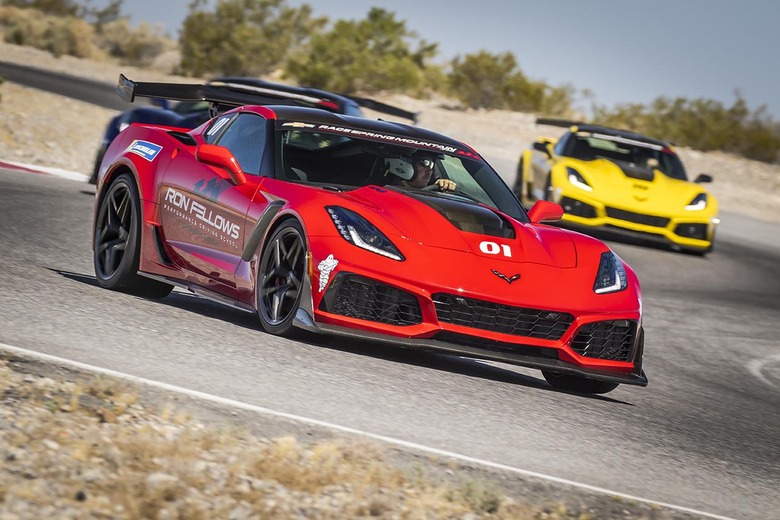 But while Chevy place the ZR1 between a Ferrari 812 Superfast and Porsche 911 GT2 RS in terms of drive, performance and comfort, I was pleasantly surprised to find that, while you have to be respectful of all that power, the ZR1 is incredible on track. It just stuck to the corners, and roared down the straight in a way that had me giggling like a little kid. I will say that I was definitely thankful for the Brembo carbon ceramic brakes in more than a few instances.
There were a lot of track virgins at the event with me. While I won't speak for everyone, I certainly found the instructors so capable and calming that my nerves were quickly settled and I came away from the course with increased driving skills and knowledge that have proved useful both on and off track.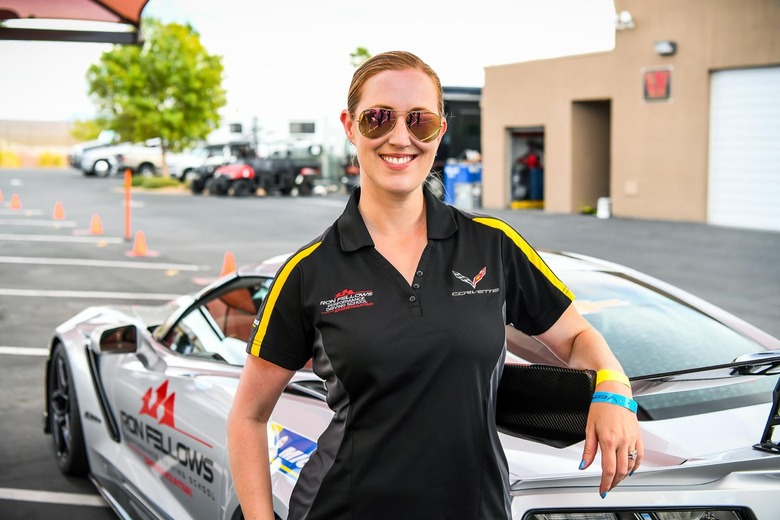 It's no surprise I didn't want the day to come to an end, and I found myself doing the math in my head to see if I could afford a new Corvette and Spring Mountain membership. Turns out I can't, at least not without selling my firstborn. But if you're interested, membership will cost you $60,000 to join as an individual then $6,000 in membership dues each year. That gets you 16 track days every month and access to the clubhouse, two-lane indoor pistol shooting range, pro shop, gym and the man-made Spring Lake where you can lounge in a cabana, go paddle boarding, use a jetpack, or just sit at the Tiki Bar and enjoy the sounds of the track from across the way.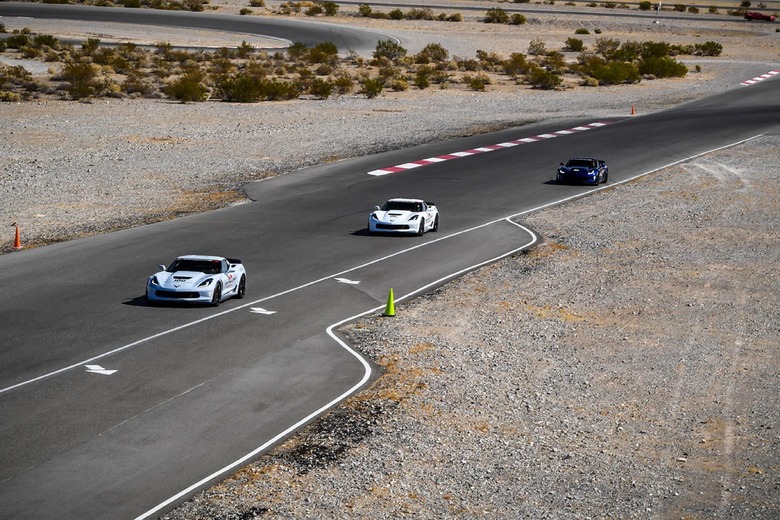 That's not all either, Spring Mountain is set to expand in a big way next year. They already boast the longest track in the USA, at 6.1 miles but they're expanding to a total of 16 miles which will make the track longer than the Nürburgring in Germany. There is also a Go Kart track going in, along with a Hyatt Place hotel, casino, gas station, cafe, restaurants, movie theatre, RV park and more.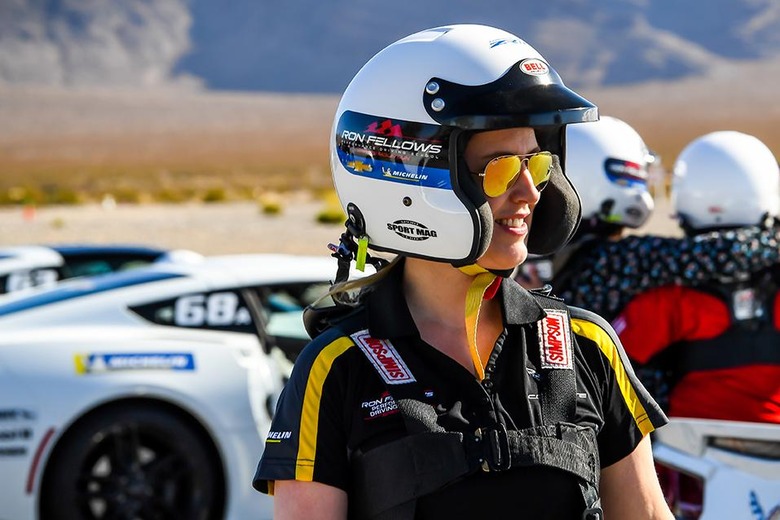 And if you want a more permanent place to stay at Spring Mountain you can build your own house. They've opened up 80 plots of land, starting at $300,000 each. You do have to be a member to purchase land, and 50 of the lots are already spoken for. It might be easier to head down to your nearest Chevrolet dealer, get yourself a new Corvette, and experience the Ron Fellows Driving School as you simultaneously learn how to get the most out of your new beast.