2018 Toyota Camry First Drive: Potent family sedan shrugs off SUV onslaught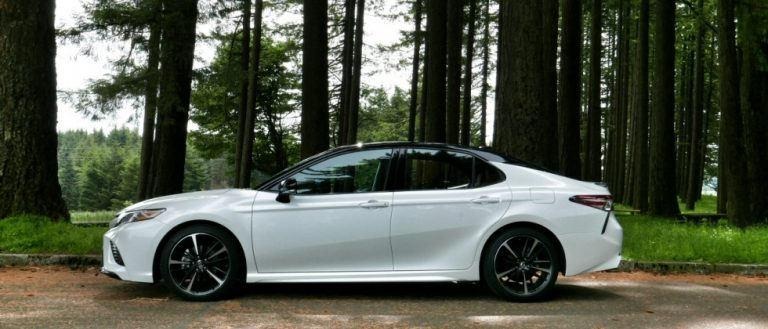 Is it hard to get excited about the all-new 2018 Toyota Camry? After all, this is a car that has been at the top of the mid-size sedan heap for decades, reaping handsomely the rewards having sown so much loyalty amongst families seeking affordable and above all reliable transportation. How much better can it get, really – and how noteworthy would an improvement actually be when it's already such a dominant force in its class?
All things being equal it might have been possible for Toyota to coast into the latest generation of its flagship model, but times have changed dramatically since the Camry first went on sale in the early 80s. Parents with budding broods are more likely to consider an all-wheel drive SUV than park a four-door commuter car in the driveway, and even those without children to haul are increasingly turning away from the traditional mid-sizer that has been the industry's bread and butter in favor of visiting crossover country.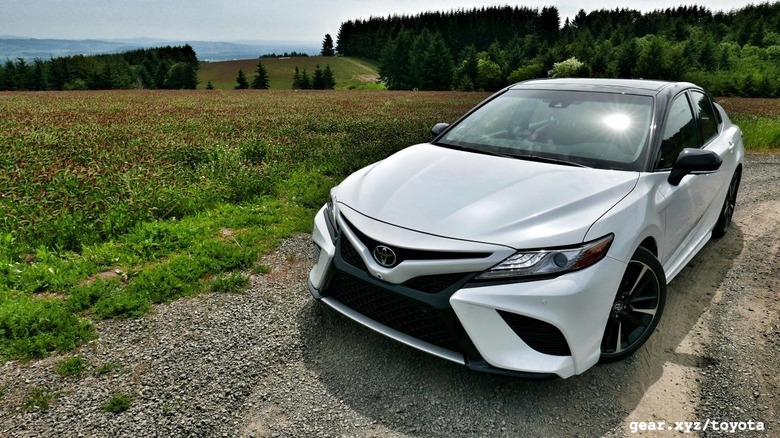 This is bad news for Toyota, because while the company does offer a highly competitive line of sport-utilities, it's fair to say that a dip in Camry numbers would be as catastrophic to the brand as a slowdown in F-150 pickup sales would be devastating to the Blue Oval. Toyota may be a lot of things, but above all else Toyota is Camry, which leaves little room for do-overs in a suddenly hostile-to-sedans environment.
One of the great things about being one of the largest automakers in the world, however, is the ability to hire and cultivate exactly the engineering and design talent required to ride out any trough in customer tastes. The 2018 Toyota Camry isn't just more of the same expected excellence, it's a new level of refinement and driving experience from a car that continues to elbow its way to the front of the pack.
As before, there are three distinct flavors of Camry drivetrain to sample at ordering time, salted with five trim levels split between them. The most affordable way to get into Toyota's sedan is by way of the four-cylinder L model ($23,495), and while few will order this more stripped-down version of the car its new 2.5-liter, direct-injected engine is available all the way up to the top-tier XLE and XSE editions. With between 206 (XSE) and 203 (everything else) horsepower on tap, combined with as much as 186 lb-ft of torque and an eight-speed automatic transmission, the four-cylinder remains defiant in the face of mightier turbocharged options that have infiltrated the segment. Expect close to 40-mpg on the highway from the thrifty four, along with nearly 30-mpg in city driving.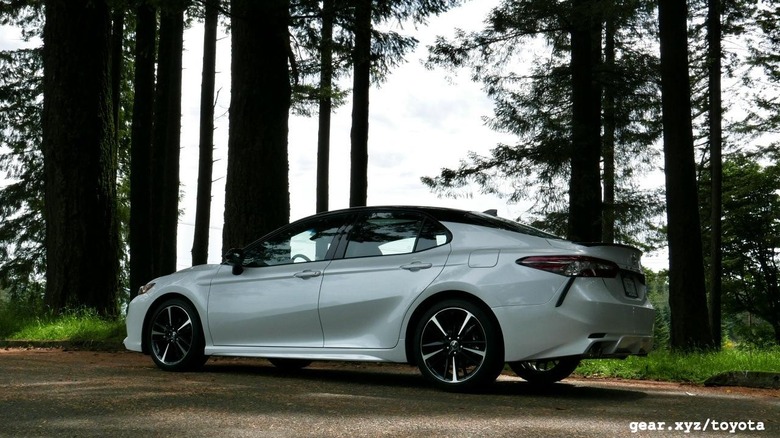 Most Camrys will leave the factory with the four-banger between the front fenders, but more discerning mid-size shoppers – perhaps 20 percent in total – will order either the Toyota's 3.5-liter V6 or four-cylinder hybrid setup. Despite offering the same 3.5-liters of displacement as it did in the previous model, the new six-cylinder Camry pairs direct injection with a host of other improvements that together make it a fresh design. Output jumps by roughly 20 ponies to 301 horsepower in total, while torque checks in at 267 lb-ft, and like the 2.5-liter Camry an eight-speed automatic is standard.
The Camry Hybrid, on the other hand, aims high for its 52-mpg EPA combined rating, providing 208 total system horsepower from its pairing of a 2.5-liter four-cylinder gas engine with a single electric motor. In an unusual move, Toyota has outfitted the Hybrid with one of two battery designs, depending on which trim level is ordered: entry-level LE's get a lithium-ion pack, while SE and XSE gain a nickel-metal hydride setup that's advertised as higher performance despite being heavier than the Li-ion setup. That in part explains the extra six miles per gallon offered by the LE over its weightier siblings. Toyota has elected to move the battery directly under the rear seat as well, freeing up significant trunk space and lowering the car's center of gravity.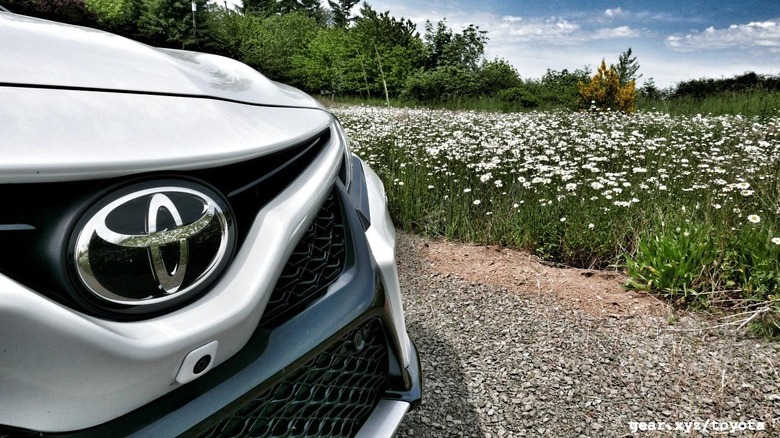 Driving all three powertrains back-to-back-to-back delivered both the expected and the unexpected in terms of character. The four-cylinder Camry is perfectly adequate for daily driving, if a bit noisy when pushed, while the V6 rolls out tire-chirping power that is most appreciated when passing at speed. The biggest surprise comes from the Hybrid, which provides ultra-smooth switching between all-electric and battery-assisted driving while at the same time feeling far more gutsy than its on-paper power rating would seem to indicate. This is particularly true when driven in Sport mode, which is available across the Camry line-up.
Toyota is making a big kafuffle about how much more engaging the 2018 Camry is from behind the wheel as compared to its predecessor, and it's true that there are certain models of the car that carve a corner with greater confidence than one would predict given its milquetoast mission statement. All versions of the sedan have been significantly stiffened, and a new double-wishbone suspension at the rear improves stability even when deliberately trying to upset the car. Still, if you want to avoid as much body roll as possible in the corners, you'll need to make sure your Camry has an 'SE' somewhere on the trunk lid, whether it's preceded by an 'X' or not, as that grants you access to the sportiest shocks and springs that have ever been outfitted to Toyota's mid-size champion.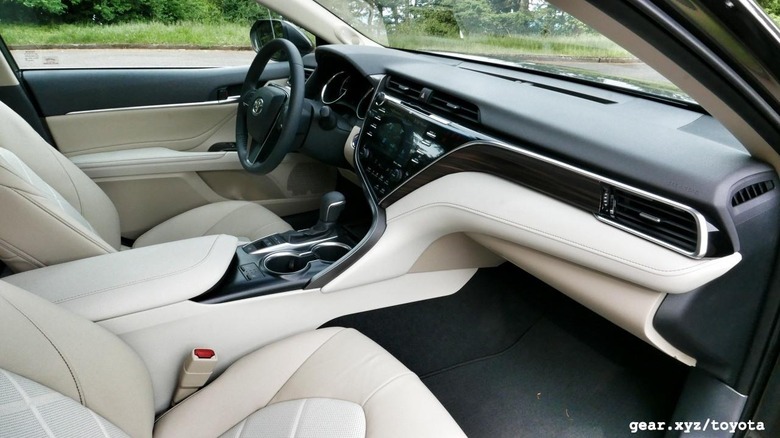 With a drive that's definitely not boring, the 2018 Toyota Camry has been given a styling makeover that suggests as much to the casual observer. Most of it works – the sleeker, more expressive body shape combines with an updated color palette and an unusual two-tone black roof / C-pillar option on certain models – but the mandolin front grille can look a little busy from certain angles, to say nothing of the SE / XSE editions' quad exhaust tips (of which only one per side appeared to be functionally necessary).
Inside you can opt for your traditional light / dark pairing of leather and plastics, or go all-out and order the XSE's available bright red cowhides and trim. Given that the cars I drove were pre-production 'prototypes,' it's harder to knock some of the quality issues found throughout the cabin, including fairly low-rent buttons for the heated seats and 90s boombox-quality speaker covers on the doors. The cars available to us also displayed substantial door skin flex on closing, all of which will presumably be taken care of once the car hits the showroom. What did work according to spec was the improved Entune infotainment system, which can be had with either seven or eight inch touchscreens, and which brings Toyota closer to the status quo when it comes to graphics and menu design.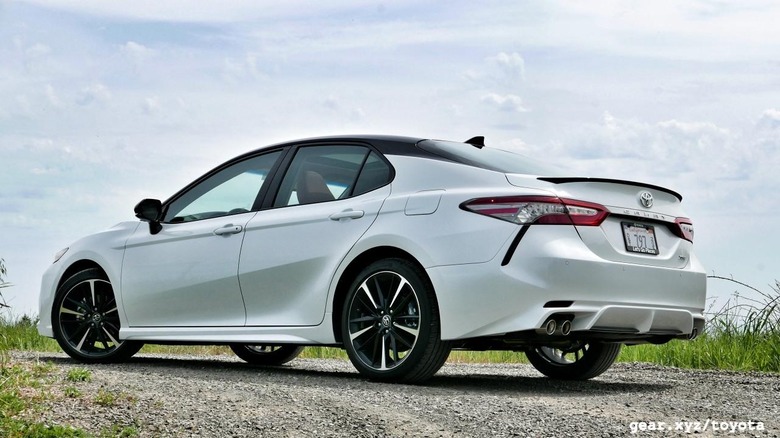 The 2018 Toyota Camry's top-to-bottom redesign and laudable improvement in driving character speak to just how real the SUV threat is to the brand's sedan business. Toyota feels that by building the best product it possibly can, it can help collectively buoy all mid-size boats on a (hopefully) rising tide of customer interest. In truth, there are so many great four-doors out there right now – including the Honda Accord, the Hyundai Sonata, the Kia Optima, and the Ford Fusion – that it's not easy to see how the Camry alone will do much to stem the tide of crossover chaos that's enveloped the entire auto business. That doesn't take away from what Toyota has done here with this excellent edition of the Camry – but it might indicate that moving forward, fewer families will get the chance to find out just how good the car really is.[timeline]