2018 Samsung 4K QLED TVs are almost invisible with ambient mode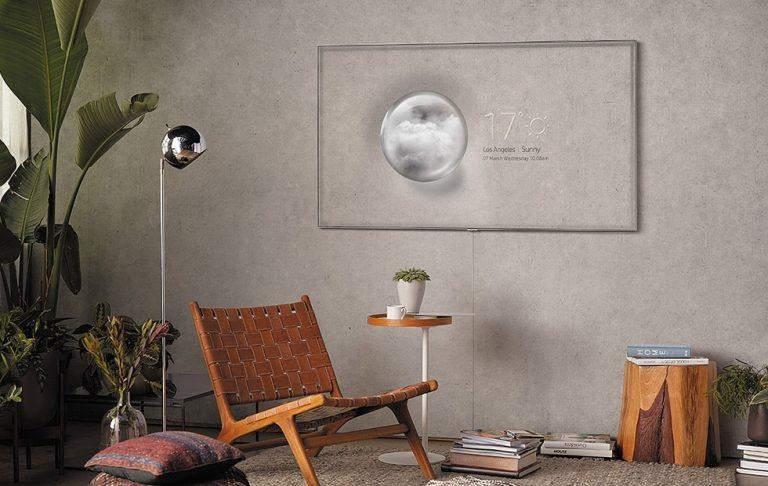 Samsung has taken the wraps off its 2018 television lineup, introducing consumers to its flagship QLED TV offerings, as well as its new Ultra HD, Premium Ultra HD, and Ultra-Large Screen televisions. Samsung has packed a bunch of features into this year's lineup, including things like an Ambient Mode for displaying useful info during the day, Smart TV features with Bixby integration, and more.
Among everything Samsung has to offer with this year's TVs, Ambient Mode is the most interesting. With this, and as demonstrated in the image above, users can set the TV so that its background mimics the pattern on the wall upon which the TV is mounted. This gives the panel an "invisible" appearance, making it appears like a pane of glass with data on it rather than a big TV screen. As mentioned above, owners can set the TV to display info like traffic data, weather, news, and more throughout the day.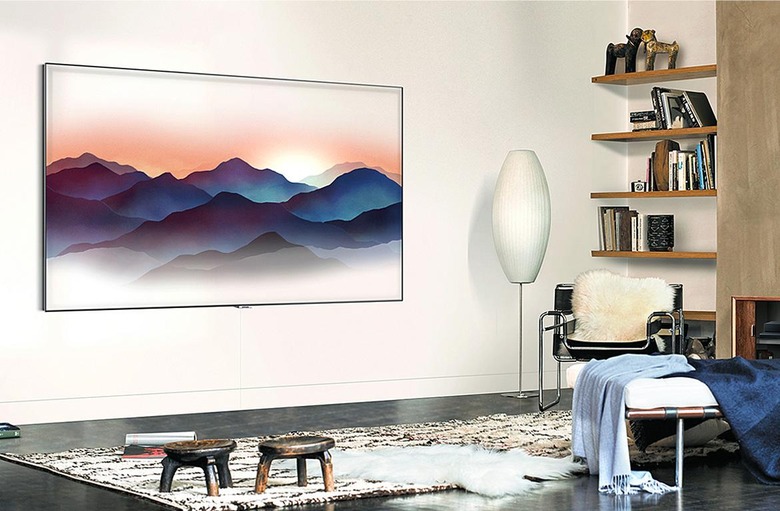 Joining Ambient Mode is something called One Invisible Connection, which is a single cable that brings both power and A/V to the television. This cable is available at lengths up to 15m / 50ft, making it possible for owners to have a clean, clutter-free installation while enabling them to mount the TV anywhere (available on the Q7 and greater models with the exception of the Q8F).
As mentioned above, this year's Samsung Smart TV offerings bring Bixby support, though there are some limitations. Samsung says Bixby mobile control will be available to the Galaxy S8 and greater handsets in certain countries; as well, the Smart TV Bixby service only supports English, Mandarin, and Korean. The Smart TV offerings also include Effortless Login for rapidly signing into TV apps, plus a Universal Guide for finding content across multiple services and channels in a single place.
Finally, as far as TVs go, Samsung's Q8F and Q9F models in particular boast Direct Full Array tech, which is comprised of a series of panel zones that adjust and control backlighting automatically, the end result being purer whites and deeper blacks.
All QLED models will offer HDR10+ support, enhanced contrast and color, Smart TV with Bixby Voice enhancements, Ambient Mode, One Invisible Connection support, and One Remote Control. Sizes depend on model, but span 49-inches to 88-inches. The Premium UHD models, meanwhile, will offer HDR10+, dynamic crystal color, Smart TV with Bixby Voice, One Remote Control, and "clean cable solutions." Finally, the UHD lineup will support Smart TV features, 4K resolution, HDR, and the same clean cable solutions.