2018 Porsche 911 Carrera T is for Touring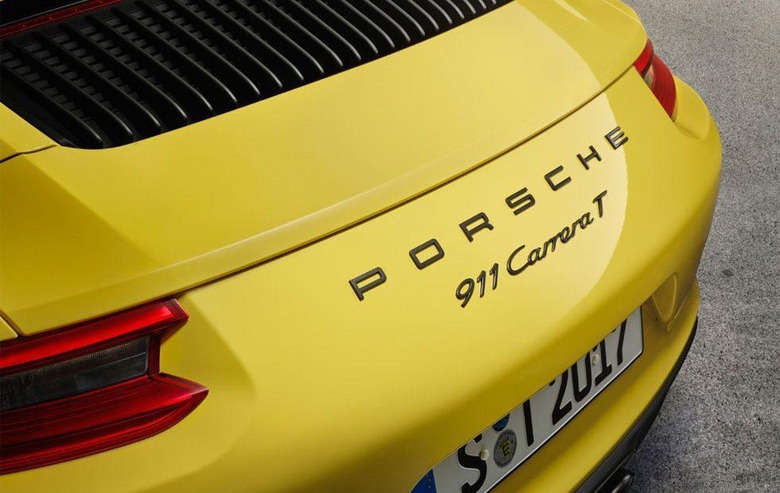 Porsche has unveiled a new flavor of the venerable 911 sports car. This is the 2018 911 Carrera T with the "T" standing for touring. This car is a modern version of the 1968 911 T. Porsche says that the new car has less weight, a manual transmission, shorter constant transaxle ratio, and standard mechanical rear differential lock.
The car comes standard with PASM Sport Suspension boasting a 0.39" lower ride height. Shortened gear lever, seat centers made of Sport-Tec material. Buyers can also get optional rear-axle steering on the car. The car is based on the 370 hp 911 Carrera Coupe.
Other features include the rear windshield and rear side windows made of lightweight glass. The doors have opener loops rather than conventional door openers. Sound insulation is removed in an effort to bring the car down to 3,142 pounds making it the lightest model in the 911 Carrera range.

The car has aero tidbits with a front spoiler. The SportDesign mirrors are painted Agate Grey and the car has 20-inch Carrera S wheels in Titanium grey. The Sport Exhaust System is standard and has black exhaust tips.
Buyers can get the car in lava orange, guards red, racing yellow, white, and Miami blue. Metallic options include white, jet black, and GT silver. The interior can be ha with contrasting colors in racing yellow, guards red, or GT silver. The engine in the car makes 370 hp and 339 lb-ft of torque. It will start at $102,100 plus $1,050 for delivery and will reach dealers in March 2018.
SOURCE: Porsche