2018 Porsche 718 Cayman GT4 is a dirty girl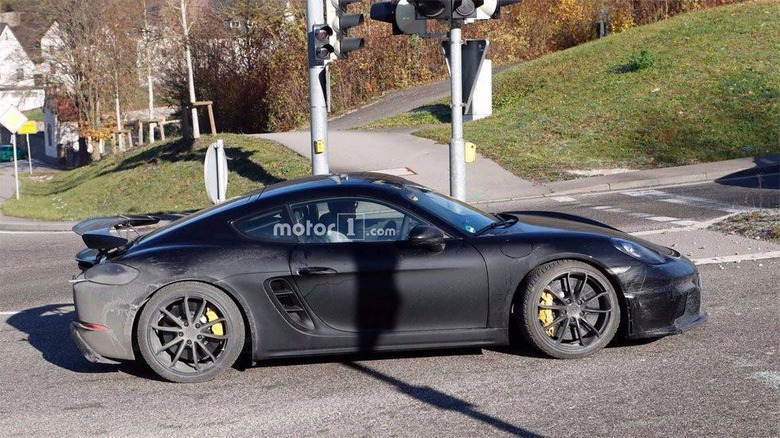 Porsche appears to be getting a mildly changed 2018 Cayman GT4 ready for the limelight. This very dirty pre-production GT4 was caught out in testing and appears to be in near-production form. The car has subtle aerodynamic enhancements with a lower fascia that has redesigned air intakes.
It's not clear if those intakes are the real bits or if they are wearing some sort of camo to hide their true design. The side air intakes also have some extra vents and look to be the same ones on the Cayman GTS. Outback, under all that dirt, is a modified rear diffuser and exhaust tips that are more to the sides of the car.
The taillights are also modified to fit in with the style seen on the 2018 Cayman GTS. It's hard to see inside the car, but word is there is a roll cage in there definitely making this a GT4 version. As for power, we aren't sure just yet.
What we do know is that the Cayman GTS has 365hp and the old Cayman GT4 had 385hp. The refreshed Cayman GT4 is expected to have over 400hp. Yet another rumor has tipped that the GT4 will make that over 400hp without resorting to forced induction.
Both the flappy paddle Porsche PDK and a real manual transmission are expected to be offered. With this test car pretty much naked except for a copious amount of dirt, the official unveil could be coming soon.
SOURCE: Motor1